Upcoming Releases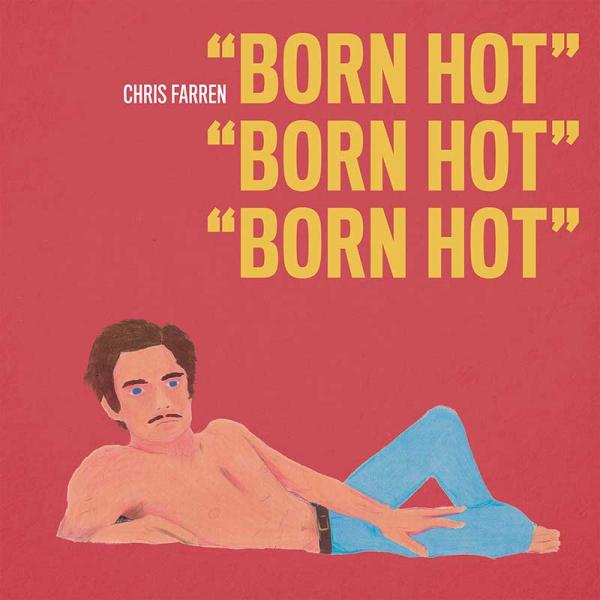 on
Wednesday, August 14, 2019 - 13:15
Why do I feel out of place in my own outer space?
It's something that Chris Farren has spent much of his life trying to understand, and although his new album Born Hot may not fully answer the question, it ultimately nudges the listener towards a greater self-acceptance––or, at the very least, a more pronounced patience with their own messy feelings. Recorded on his own in his L.A. home, Born Hot finds Farren putting his inventive spin on classic power-pop, with flashes of folk, punk, and even '50s doo-wop.
Born Hot marks Chris' first album since his 2016 debut Can't Die, and it's also his first for esteemed independent label Polyvinyl Record Co., home to bands and artists like Alvvays, Vivian Girls, Jay Som, as well as his unstoppable indie-rock project with longtime friend and collaborator Jeff Rosenstock, Antarctigo Vespucci.
One of the album's standouts is a song called "Search 4 Me," streaming everywhere today. It's accompanied by one of the greatest music videos of all time––produced and directed by Clay Tatum, "Search 4 Me" stars Chris as owner of the internet-famous #ResistCat, and features guest appearances from comedian Johnny Pemberton, Laura Jane Grace (Against Me!), Jeff Rosenstock, and more.
Undoubtedly, Born Hot embodies the sensitive-goofball dichotomy found in all of Chris' recent work, especially his exuberant live show: a solo performance in which he plays to live-recorded backing tracks while projecting purposely wacky visuals (his own face duplicated thousands of times, text that reads "ANOTHER PERFECT SET" at the end of each closing song). By the same token, Farren went full-on tongue-in-cheek in choosing Born Hot's title and cover art—a crudely drawn self-portrait that captures him lounging shirtless, looking every bit the '70s-pop Lothario.
"In my lyrics there's so much self-examination that teeters on self-loathing, and I like to juxtapose that with an aesthetic that's completely the opposite," says Farren. "It's a defense mechanism, because I feel embarrassed talking about my feelings so very plainly, but at the same time I also just find the idea of having that much self-confidence really funny."
photo by Erica Lauren
Elsewhere on Born Hot, Farren shifts from exacting introspection to more outward reflection, exploring life-changing matters like the recent death of his father-in-law and his wife's experience of the ensuing grief. In each moment on the album, he instills his lyrics with the resolute sincerity he's embraced since immersing himself in songwriting at the age of 17.
And the result is a clear message to his fans and listeners–– "I just want people to feel good, like they're understood or less alone, because that's what the music I love does for me. I want people to come away feeling like, 'Oh good—I'm not the only one who feels like this.'"
Track listing:
Bizzy
Love Theme from Born Hot
Search 4 Me
Too Dark
Domain Lapse
Does The Good Outweigh The Bad?
I Was Amazing
R U Still There?
Surrender
Space In Yr Love
Floruit De Maga
Credits