Upcoming Releases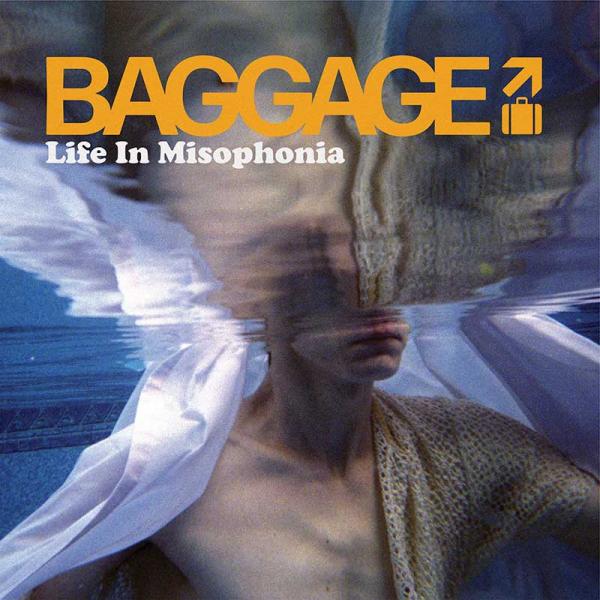 on
Thursday, June 20, 2019 - 11:50
It took Jonathan "Jono" Diener, who fronts Flint, MI's Baggage, nearly a decade to get a formal diagnosis of misophonia, a condition characterized by the literal hatred of sound. For those who experience it, mundane auditory experiences become weaponized, triggering intense anxiety, discomfort, or anger. It is a very disorienting and frustrating experience––especially if you make sounds for a living.
And so, Baggage's debut album Life In Misophonia is essentially Jono's life story, weaving masterfully throughout a saga of sleepless nights, broken-down vehicles, poorly-attended shows, missed opportunities, and faltering optimism. It expresses the frustration, disappointment, and defeat that come with being both a musician under capitalism as well as a person at war with their own senses.
Luckily, Life In Misophonia ends on a more positive note than it starts, with lessons learned and a "to be continued" sign looming large. Sonically, the album cycles between jubilant, driving Jeff Rosenstock-ish punk rock, Nada Surf's throbbing outcast anthems, and the introverted affect of midwest emo bands like Braid.
"This is my story, and I just finished a chapter in it," Jono says. "I don't know what's going to happen next, but thank god something can happen next."
One of the album's immediate standouts is "Misophonia." This is the first moment on the record where we're introduced to Jono's misophonia and the ways in which it disrupts his everyday life. It also spotlights the album's impeccable ability to jump between Jono's physical and emotional frustration, as he reflects on the years he's spent in bands that never quite went the distance.
"The stars align and I look up at the wrong time.
It's kind of nice seeing stars in your eyes.
I had them too.
Used to be just like you."
photo by Bryce Mata
Baggage is a Michigan band and Life In Misophonia is a Michigan record, through and through; it was recorded with long-time collaborator Marc Jacob Hudson (Taking Back Sunday, Laura Jane Grace & the Devouring Mothers) at his studio Rancho Recordo, located in a Flint suburb.
Keeping the project within state borders made sense for Diener, who has been working in Flint's independent music scene for almost two decades. He began by volunteering and working at sober all-ages venue Flint Local 432. And after the dissolution of his beloved pop-punk band The Swellers, Diener turned to his community, putting together a compilation called Not Safe To Drink which featured songs from over 80 bands like Propagandhi and Taking Back Sunday. The proceeds from the comp—around $10,000—went to the Flint Child Health and Development Fund.
"Baggage exists because of Flint, Michigan," he explains. "The city helped launch the career of The Swellers and ever since we split up, I wanted to do whatever I could to give back to the place that gave so much to me. So when I feel like I can't help myself, at least I can help others using the contacts I've made over the last decade."
Jono's efforts to use his platform to give back to his city and the people of this country who need it the most show no signs of slowing down. This past spring, he released his first comic book titled, HOPE: A Comic For Flint, with profits directed to helping disabled and disability-identified adults in Flint.
And just this past week, Jono announced that a Baggage-inspired comic he wrote would be featured in the upcoming Everything Is Going Wrong comic anthology about punk rock and mental health, alongside comics from Keith Buckley (Every Time I Die), Adult Mom, and Tini Howard (Thanos for MARVEL). It's available to pre-order now, and all proceeds will be donated to The Trevor Project and MusiCares.