Upcoming Releases
The General Strike (10th Anniversary Edition)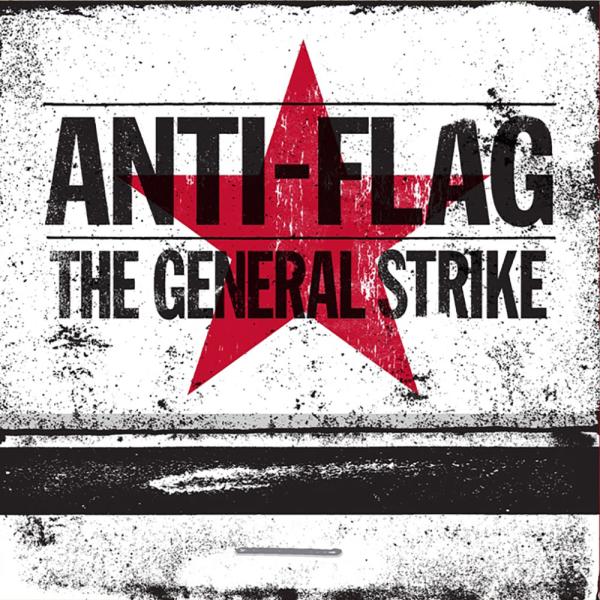 on
Thursday, August 18, 2022 - 10:39
SideOneDummy Records will be commemorating the 10th anniversary of ANTI-FLAG's politically-charged 8th studio album The General Strike with a 10th Anniversary Edition. The limited edition release will be pressed on red vinyl and include two previously unreleased tracks, all new gatefold artwork, as well as a 10x10 poster. Preorders are underway and physical copies will be available in stores on October 14, 2022.
"Ten years of The General Strike," shouts Chris #2, vocalist and bassist. "It's unfortunate how many of the themes that we were feeling and writing about on this album are some of the most arduous issues we are facing today. History, power structures, and the abuse of the working class and poor are all too often cyclical in nature. The band was just heading the warning of community organizers and protest movements, we were trying to document that struggle with these songs. We are grateful that people are still finding solace and hope for a better way forward in them today."
Recorded in the Pittsburgh studio that Anti-Flag built with money they made from dissolving their deal with RCA, The General Strike was literally forged inside a monument to the redistribution of corporate wealth. This collection of songs is equal parts reggae and hardcore, modern folk-punk and traditional Clash-influenced dance-punk. It's reckless and tight, aggressive, experimental and unabashed in its influences.
The General Strike is a rallying cry that shares a sentiment with a lot of Anti-Flag songs, the call to arms of private citizens to stand up to governmental power and corporate injustice. The difference is that this album, born in the midst of the biggest wave of mass protests the U.S. has seen in over 40 years, is speaking the language of the kids who are already occupying parks, lobbies and plazas all across America. The General Strike finds Anti-Flag right where they belong, out in the crowd, alongside the occupying protesters in every major city in the increasingly dissatisfied modern world, screaming their pointed, politically-charged slogans over some of their most ambitious tracks to date.
The General Strike track list:
Controlled Opposition
The Neoliberal Anthem
1915
This is the New Sound
Bullshit Opportunist
The Ranks of the Masses Rising
Turn a Blind Eye
Broken Bones
I Don't Wanna
Nothing Recedes Like Progress
Resist
The Ghosts of Alexandria
Whistleblower (previously unreleased)
SKATE (previously unreleased)