Upcoming Releases
Love In The Time Of E-mail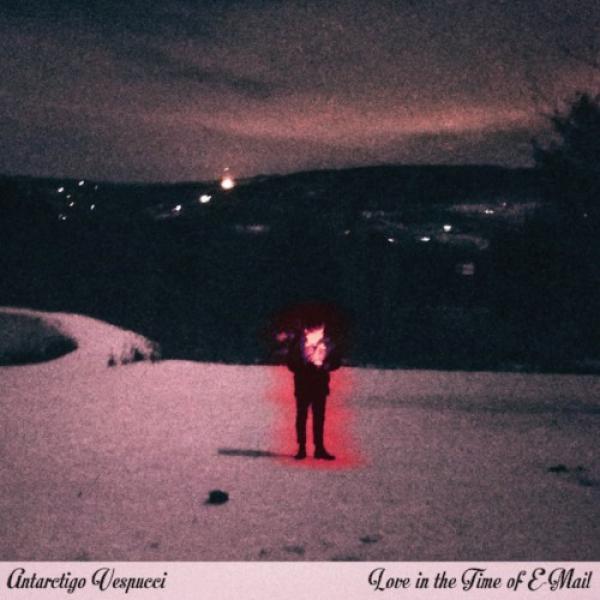 on
Thursday, September 6, 2018 - 20:45
The long-awaited new album from Antarctigo Vespucci (ft. tourmates turned best buddies Jeff Rosenstock and Chris Farren), Love in the Time of E-Mail, will be released October 26 on Polyvinyl Record Co. Like the non-existent explorer they're named after, here, Antarctigo Vespucci chart a map of something at once new and familiar: missed connections, texts lingering on "read," and the words that go unspoken. Love in the Time of E-Mail marks the first new Antarctigo Vespucci music to exist since 2015's Leavin' La Vida Loca, with first single "White Noise" leading the pack.
While by this point there is something of an established Antarctigo sound, thanks to two EPs and a debut LP, Love in the Time of E-Mail finds the group expanding their sonic palette in exciting ways, reaching out further to unabashedly embrace all their poppiest instincts. "I wanted to see you, to see if I still wanted to see you," Farren sings, quoting Jean-Paul Belmondo on the insanely catchy "Breathless on DVD."
The mid-album track might get its bridge lyrics from Godard, but with its shimmering synth pads and Tom Tom Club-esque chorus, its lineage is equally New Wave pop as it is French New Wave cinema. Elements like that are littered throughout Love in the Time of E-Mail, some flying by so quickly you might miss them on the first pass. And while the raw material for songs like "Another Good Thing," "So Vivid!," or the restless "Freakin' U Out" could have easily fit on a solo record by either musician, the studious pop flourishes here bring them both to new heights.
In 2013, singer-songwriter Chris Farren found himself at a crossroads. His band, Fake Problems, had just broken up, so he went to New York in search of collaboration and inspiration. He met up with Jeff Rosenstock, who at the time was fronting the band Bomb the Music Industry!, a Brooklyn-based collective that Chris had crossed paths with on tour. They decided to give writing together a try, and thus Antarctigo Vespucci was born.
Throughout 2015-2017, Antarctigo Vespucci remained more a side project for both musicians, as each launched successful solo careers, Chris's defined by "pure power-pop goodness" (AV Club), and Jeff's leading to Pitchfork calling him "one of punk rock's greatest, most effusive living songwriters." But while the entire project may have all started on a whim, Antarctigo Vespucci has now blossomed into something much, much bigger.