Features
on
Thursday, March 31, 2016 - 08:10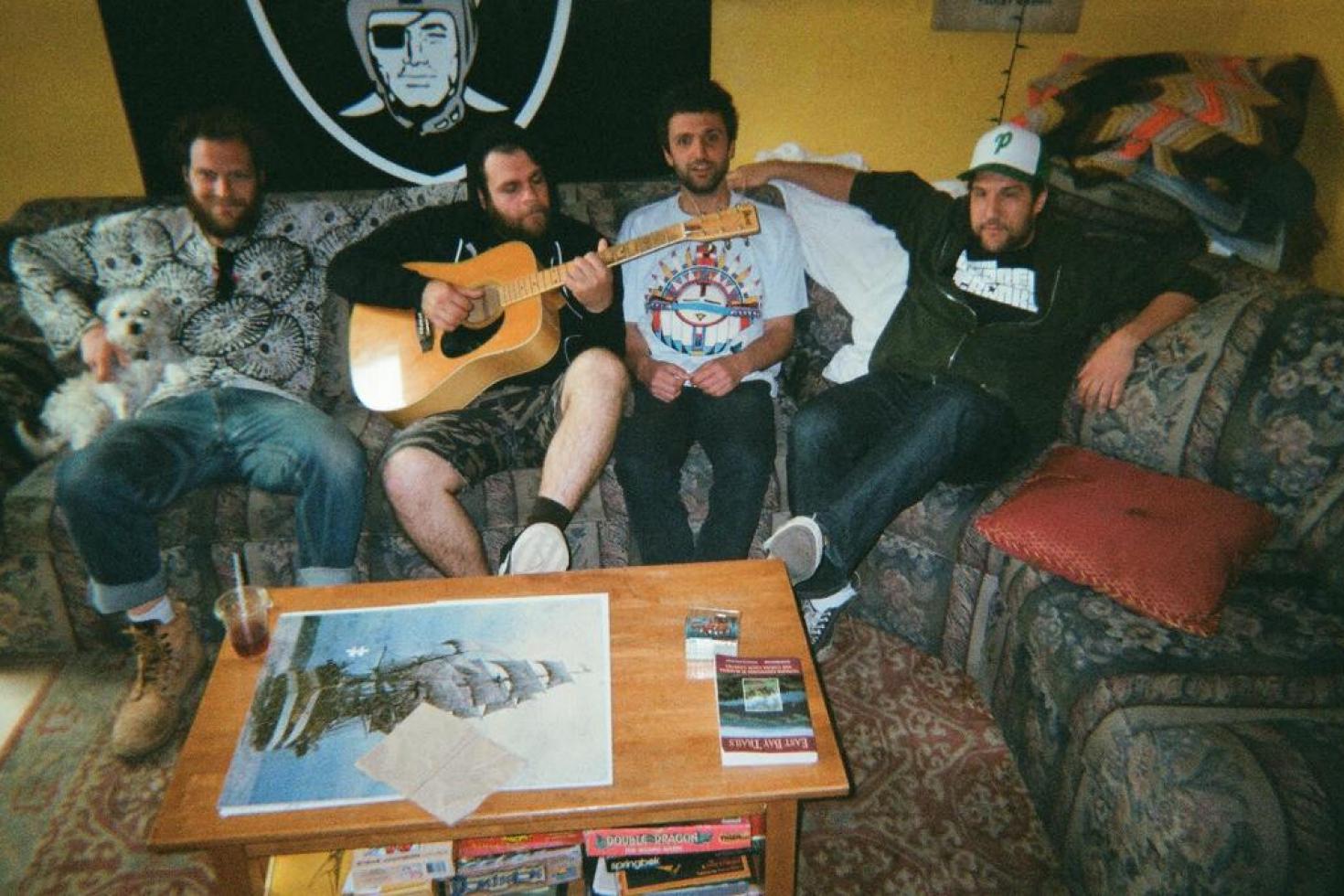 Meet Mike Bell & The Movies. You might not have heard of this Philadelphia-based band just yet, but you probably know these dudes through their other bands: Dogs On Acid, The Superweaks and Year Of Glad. They are out to bring back power-pop and listening to "Room", I have to say they're doing a good job of it. The album will be out tomorrow via Lame-O-Records, but you can already read this interview with guitarist/vocalist Mike Bell today.
PRT: Can you give me the history of the band written in the form of a tweet?
Mike: This is a good question. I like this question. Within seconds of reading this question, my phone was in my hand and twitter was open. Turns out I can't count to 140 without the negative red numbers appearing. Then I got bored…and what came next? Twitter led to Instagram, led to Facebook, which led to Tinder, which ended in Words With Friends. Within the span of twenty minutes I had completely forgotten why I was on my phone. By the time I had realized what happened, twenty minutes had been lost, unaccounted for, gone. 
What I'm getting at is; I don't know how to sum anything up in 140 characters…especially the history of our band/any band really. I don't think any complex thought can be summed up or characterized in a finite number of words, let alone characters. That's also what makes Twitter so interesting; could you imagine the long winded babble that would infect the internet if Twitter were infinite? I mean, this answer, this would be a tweet. 
So, let's act like Twitter is infinite; my above answer would be our bands history and our ultimate demise.
PRT: For the people out there that haven't heard Mike Bell & The Movies just yet… if Mike Bell & The Movies was the lovechild of two other bands, which bands would have had sex and which position were you conceived in?
Mike: Superchunk and early/mid-90's Lookout! Records catalogue. As for position; would toss up between the Face Off or the Pretzel Dip.
PRT: With all of you being in other bands like Dogs On Acid, The Superweaks and Year Of Glad as well, where does Mike Bell & The Movies fit in exactly?
Mike: We are four friends who love making music. Sometimes together/sometimes apart. The beauty of this project, about any of our projects really, is that they are all very important to us at different times for different reasons. I feel like people focus so much on bands, that bands are what are important. If, however, you take the focus off the band and on the people within…you'll find a treasure trove of possibilities. Endless even. It has taken me two decades of musical exploration to realize this.
PRT: Your new album is called "Room". Can you tell us a little bit more about the idea behind it?
Mike: The name "Room" came to fruition after an exchange with Barclay, guitarist/singer of Business Models, when the band [Business Models] was finishing up their album. They were looking for a name and my idiot brain exclaimed "Room." A deal was struck; if Business Models named their album "Room" the Movies would too. 
PRT: You came up with the album title first and only then started writing songs, which – I think – is the opposite of how most bands go about it. Is that a way for you to end up with a more cohesive album?
Mike: It is interesting; when I made the deal with Business Models I was totally lost. I had just gone through a hellish break up that I directly attributed to the recording of our first record [Nothing Works]. The album was taking forever and causing major issues within the band about direction and personal roles. I was also, unbeknownst to myself, dealing with major anxiety issues caused by these stressors. Trying to hold a band together and yourself is a nearly impossible task; I was taking on many unhealthy and dangerous vices. 
Needless to say that all took me down a rabbit hole, the kind they tell you to steer clear of, the self destructive one that can do irreparably damage. It was a visit to a friend in the hospital that sparked my initial climb out of the hole. The album is dedicated to his memory; his struggle makes mine looks small in comparison. 
It sounds very pretentious and narcissistic; however, what you learn in moments like that is shared experience. The most embarrassing part of humanity is feeling that you're processing an emotion alone, that no one else could ever understand what you are going through. The thing you realize once you start conversing with people, especially your closest friends, is that no matter what age/gender/race/creed/etc we all deal and process the same bullshit…no one is really all alone. 
We all share the same space, the same air, the same room. The name helped conceptualize the themes; to talk frankly about the people and places that pulled me clear of destruction. The rooms where the pain was slowly alleviated and quote the people who were there and the words that stuck with me.
PRT: I read that the first album left you feeling disillusioned. What was it that made you keep going? And was "Room" easier to make?
Mike: Our first record took a year and change to make, it took me six month to do the vocals. I didn't know what the album was about anymore, what the songs meant. I couldn't sing them. Musically, I am very proud of what we did on that album. The band killed it and I started feeling like I was letting them down. I froze up and you can hear it in my performances on that record.
We recorded "Room" in four days; with minor overdubs here and there over a month or two. It was mastered six months after it was started. We set out to capture what our band actually sounded like, not what we thought people wanted us to sound like, and I think that's what we accomplished. Major credit has to be given to Chris Baglivo (of The Superweaks), who engineered/mixed the album, for making this album look easy. 
PRT: If you could have one of your songs on the soundtrack of any movie ever made (or to be made), which movie would it be and why?
Mike: Better Off Dead. 
When I was a kid our local video store had a 7 for 7 deal; seven movies for seven dollars. I would go there every week during the summer and pick a new batch of movies. The constant, however, was Better Off Dead. No matter what, it would be six new movies and Better Off Dead, I can't explain it. That movie was highly influential and the titular song on the soundtrack is power pop perfection. If any of our songs could be on any soundtrack…it would be that one. 
PRT: I'll be in Philadelphia in a couple of months for the first time ever, what is one place where I definitely need to eat and one place I should definitely go watch a show?
Mike: John's Roast Pork for a legit cheesesteak
Blackbird for a vegan cheesesteak
Viet Huong for Pho (get the 140, it's Evan's favorite)
Little Babies Ice Cream (Mimi from Year of Glad is an ice cream maker)
Honey's for breakfast
If you can catch a show at Everybody Hits! do; that's the best place on earth run by the greatest dude alive, Dave Gavigan. It's a functional batting cages, so, make sure to grab a bat and whack some balls.
PRT: What's up next for Mike Bell & The Movies?
Mike: Let the album breathe a bit, for sure. I emptied the tanks on this one and want to let it sit for a bit. There's no rush for us to get to that next place, and for once, that feels fucking great.