Album Reviews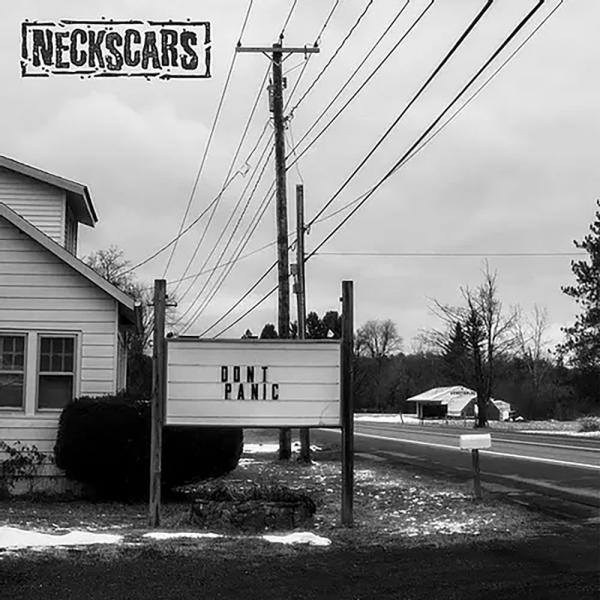 on
Saturday, September 11, 2021 - 10:22
Formed in New York in late 2018 by scene veterans Will Romeo (vocals/guitar), Justin Parish (guitar/vocals), Colin Harte (bass), and Craig Sala (drums), Neckscars play the kind of gravelly-voiced, melodic punk rock that should please fans of everyone from Hot Water Music, Seaweed and Small Brown Bike.
 On their debut album 'Don't Panic', Neckscars come out swinging with ten tracks worth of nostalgia-laced lyrics, hard-hitting drums, and groove-laden bass lines alongside some very solid guitar leads. Fun trivia game: 8 of the songs were recorded pre-COVID, while the other 2 were recorded months later. Try and find them and celebrate with a shot.
These guys start things off strong with opener 'In Front Of Me,' a mid-paced bruiser that's equal parts moody and melodic. Next up are 'Born Sick,' which comes at you like a gruffer Gaslight Anthem, and the bass-driven 'Jarring,' which packs some of the best singalong parts, before 'Not Enough JPM's' - which we were happy to premiere a while back - rounds out the album's strong first half.
Neckscars keep things moving on the second half with 'Temporary' and 'Let You Down', but it's when they aim for something slightly slower and darker with 'Loaded' and 'Running Man' that things grind to a momentary halt. I can't exactly pinpoint why, but things just aren't clicking into place there.
Overall though, there is plenty to enjoy on 'Don't Panic', which sounds more like a band's second or third album rather than their debut.  
Don't Panic track listing:
In Front of Me
Born Sick
Jarring
Unfinished
Not Enough JPM's
Temporary
Loaded
Running Man
Let You Down
First Time, Long Time