Album Reviews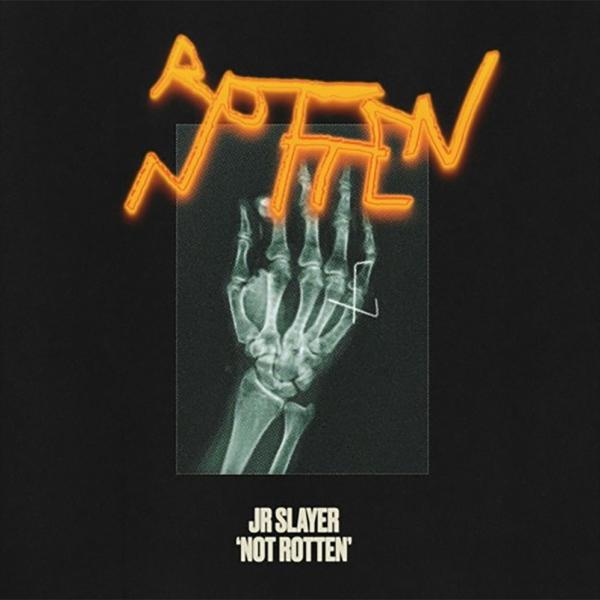 on
Thursday, November 24, 2022 - 10:16
Turns out I've been pronouncing this band's name wrong the whole time. It's not Junior Slayer, it's pronounced 'jay-arr'. JR Slayer started out as an illustration before evolving into a creative catch-all for Cody Votolato, after having spent decades in bands like The Blood BRothers, Head Wound City, Jaguar Love, Telekinesis and Cold Cave. 'Not Rotten' is the 5-song debut EP, out now on Will Yip's Memory Music, and it is chock full of mellow indie rock.
Opener and title track 'Not Rotten' starts off with the line 'I think the world is gonna die before I do,' which is not a very hopeful sentiment. But the songs that make up this EP deal with falling into the kind of earth-shattering love that makes you forget all of the shit that is going on in the rest of the world. Or as Votolato croons it slightly more poetically over a soaring guitar lead, 'All of the things we thought were rotten, are suddenly just forgotten'. Later on, the songs blooms wide open into a beautiful chorus. Elsewhere on the EP, the sun-drenched 'Back When' is driven forward by powerful drums and a simple, staccato riff, 'The Only One You Are Left With Will Be You' is the EP's most straight-forward rock song and 'The Fade Out' fuses synths with guitars in the best possible way before they round things out with the delicate yet poppy piano ballad 'You Will Never Be Alone'.
On 'Not Rotten,' Votolato is being helped out by Deaf Club's Jason Klein (bass) andTigers Jaw's Ben Walsh (drums) while his sister Brandi Jo Votolato helps out in the vocal department. Votalato also credits Yip with many of the EP's melodies. It's a match made in heaven and based on this EP, I can't wait to see what's next in store for JR Slayer.
Not Rotten track list:
Not Rotten
Back When
The Only One You're Left With Will Be You
The Fade Out
You Will Never Be Alone