Features
on
Monday, October 29, 2018 - 11:42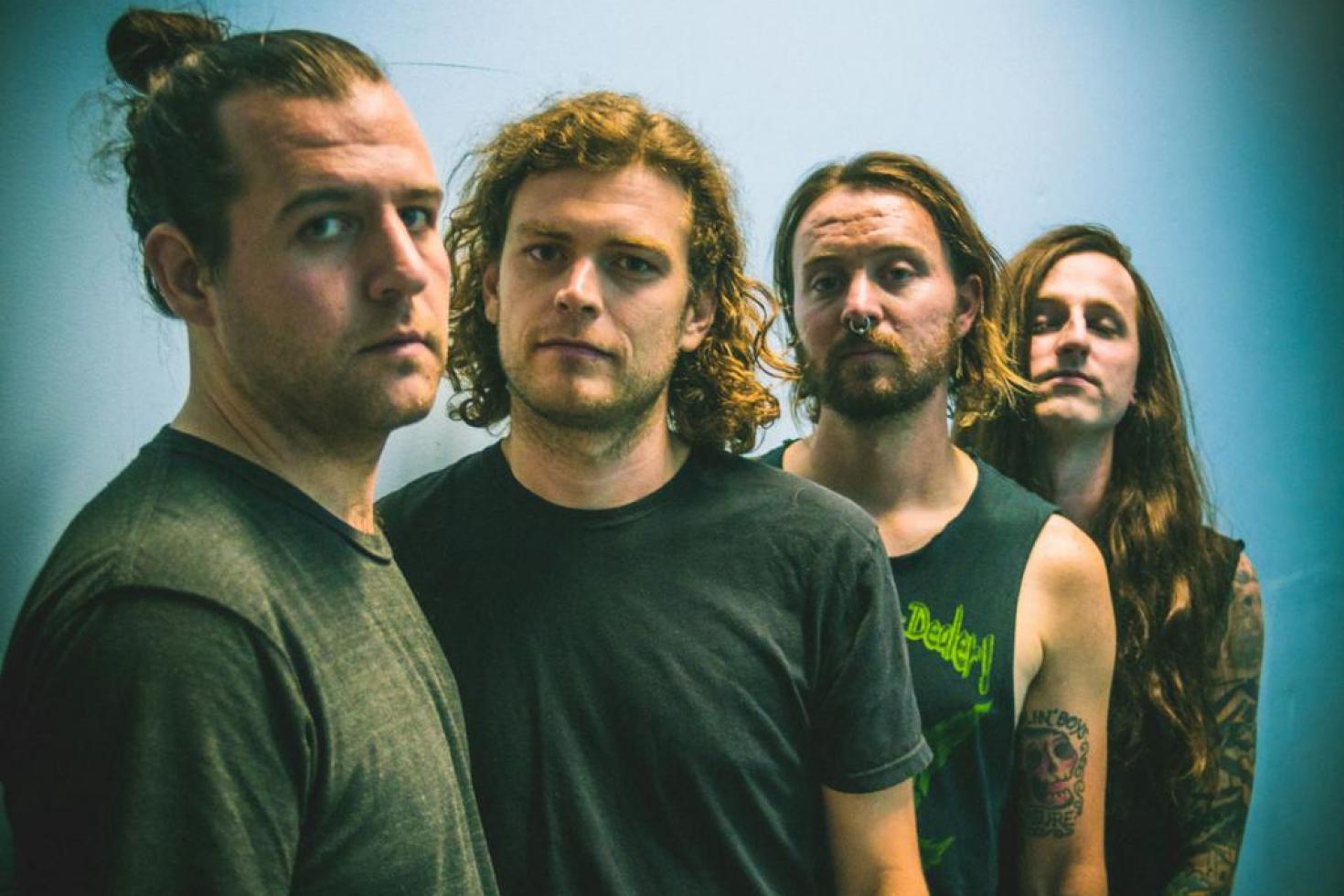 'Nothing Blues', Typesetter's new album, came out just a couple of days ago via 6131 Records. If you haven't picked up a copy yet, feel free to do so right now. You will not regret it. We caught up with bassist/vocalist Alex Palermo and guitarist/vocalist Marc Bannes to talk all things 'Nothing Blues', The Fest and their upcoming tour plans with Red City Radio and Kali Masi. (photo credit: Sam Porter)
PRT: First of all, congratulations on 'Nothing Blues'!! It sounds absolutely amazing! 'Nothing Blues' is a diverse yet cohesive album with honest, very personal lyrics. Was this an easy album to write and record?
Marc: Thanks for the kind words! It was relatively easy to write, but difficult to execute. We wrote a ton of material— almost 20 songs. We put a lot of work into refining and recording, editing and mixing. Lyrically, I stress a lot about finding the right balance of narrative and impressionist content. I like painting the picture of a feeling or experience.
PRT: You have guest vocals on 'Nothing Blues', there are keyboards, trumpet, interesting time signatures, three guitars …. Is that you trying to break free from the mold?
Alex: We love listening to bands with those "bigger" sounds. We love to experiment with new instruments in general. I think it was just the next natural step. We've said in the past "when we become a six piece or seven piece..." kind of tongue in cheek but we're really not joking. We want to be able to expand and have more musicians and instruments layering up our sound.
PRT: Looking back at your discography, I feel like you can clearly see a band that has grown consistently as songwriters. Do you feel a constant need to challenge yourselves while writing new music?
Alex: I certainly think so. We've always kind of found it to be a bummer when a band churns out the same record over and over. It's cool to have your own sound but I think it's important to expand and try new things.
Marc: The impetus for Typesetter has never changed for me, which is to write really interesting stuff and be our own favorite band. I used to feel a much stronger need to be challenging, to shoehorn elements into a song to make it weird or interesting, but for Nothing Blues it was really about trying to do right by the song.
PRT: How did the collaboration with Lydia Loveless come about? It doesn't seem like the most obvious collaboration on paper, but it worked out beautifully.
Alex: Lydia is an old friend of ours. Kyle and I had a band with my brother about a decade ago and we all went on tour together. Lydia has always been a sweet friend and an amazing singer/songwriter. When Lydia said they were down it was a no brainer. They totally knocked it out of the park.
PRT: While there is quite a lot going on in the songs, things never sounds overcomplicated or overthought. Is that something you were guarding over?
Alex: Our band tends to listen to a lot of bands that pull that move (off the top of my head—Alvvays, The National). It's certainly a part of our influences these days. Like, have a ton of cool stuff going on but try to find a way to make it not seem crowded or overworked. We're really happy with how all that landed on these recordings, for sure.
Marc: I think that's a very high compliment. It's very easy to add too much and overcomplicate things, especially if you're working with dense arrangements and a variety of instruments. Not saying we nailed it 100%, but yea it's important to be aware of that.
PRT: One of my favorite songs on the album has to be 'Marigold,' which is kind of buried at the back end of the album. Can you tell me a bit more about where that song comes from?
Marc: I saw a cemetery in Sayulita, Mexico where all the crypts were adorned with beautiful decorations and multi-colored marigolds. Cemeteries here are usually solemn, morbid places—which is interesting and inspiring in its own right—but this one looked like a party. A tricycle and toys surrounded a child's grave. I started writing some words about the weird ways we interpret death and how we define life's important things against that. Musically it's a big, bright, punk-adjacent tune that sounds like a celebration, much like that cemetery.
PRT: 'Nothing Blues' is your first release on 6131 Records, whose roster kinda reflects your sound in terms of being diverse yet solid. Is that what made them seem like a good match?
Alex: Without a doubt. 6131 is a label that was at the top of our list of people to contact for that very reason. Their catalog has covered so much ground yet it all still makes a lot of sense together. We're more than pleased to be a part of the family.
PRT: You just had Fest where you played at The Wooly with the likes of Mock Orange, City Mouse, Look Mexico, and Mobina Galore. What has been your favorite Fest memory so far?
Alex: I think every year of The Fest is special in its own way but the most memorable for me would probably be in 2015. Our record first record had been out for a full year and I wasn't sure how the crowd would be for us. We loaded on to the stage and the club was totally empty and in the blink of an eye the room was at capacity. It just felt validating as a newer band like "WHOA people really do care about these songs" The whole set went on to be a sing-a-long and had us all smiling ear to ear.
PRT: And what has been the most random thing that ever happened at Fest?
Alex: Haha, well… Everyone has a ridiculous Fest story in our band, like the time we were on mushrooms side stage while watching Superchunk, or the time The Menzingers were playing in a hotel room and it started to downpour and a handful of us just ran out to start dancing naked in the rain and swimming in the parking lot pot holes.
PRT: After Fest you have some dates coming up with Kali Masi and Red City Radio… what's up after that for you guys?
Alex: We're very excited to be hitting the road with both of those bands. They're old friends of ours and it's going to be a total blast. As for afterwards we're shooting to demo out some newer songs during the holidays but after that we want to hit the road again as much as possible. Definitely trying to get out east and over to Europe again ASAP.
Tour dates:
10/30 - New Orleans, LA - Santos #
10/31 - Houston, TX - The Secret Group #
11/01 - Dallas, TX - Gas Monkey #
11/02 - Corpus Christi, TX - Boozers #
11/03 - Austin, TX - Beerland #
11/05 - Scottsdale, AZ - The Rogue Bar #
11/06 - San Diego, CA - Soda Bar *
11/07 - Los Angeles, CA - Viper Room *
11/08 - San Francisco, CA - Above DNA Lounge *
11/09 - Sacramento, CA - Press Club *
11/10 - Portland, OR - Tonic Lounge *
11/11 - Seattle, WA - The Funhouse *
11/12 - Boise, ID - Deathproof Coffee #
11/13 - Salt Lake City, UT - The Underground #
11/14 - Fort Collins, CO - Surfside 7 #
11/15 - Denver, CO - Moon Room #
11/16 - Omaha, NE - O'leavers Pub #
11/17 - Chicago, IL - Sleeping Village#  
# w/ Kali Masi
* w/ Red City Radio and Kali Masi