Features
Track-by-track: The Ex-Optimists talk 'Drowned In Moonlight'
on
Thursday, September 27, 2018 - 08:32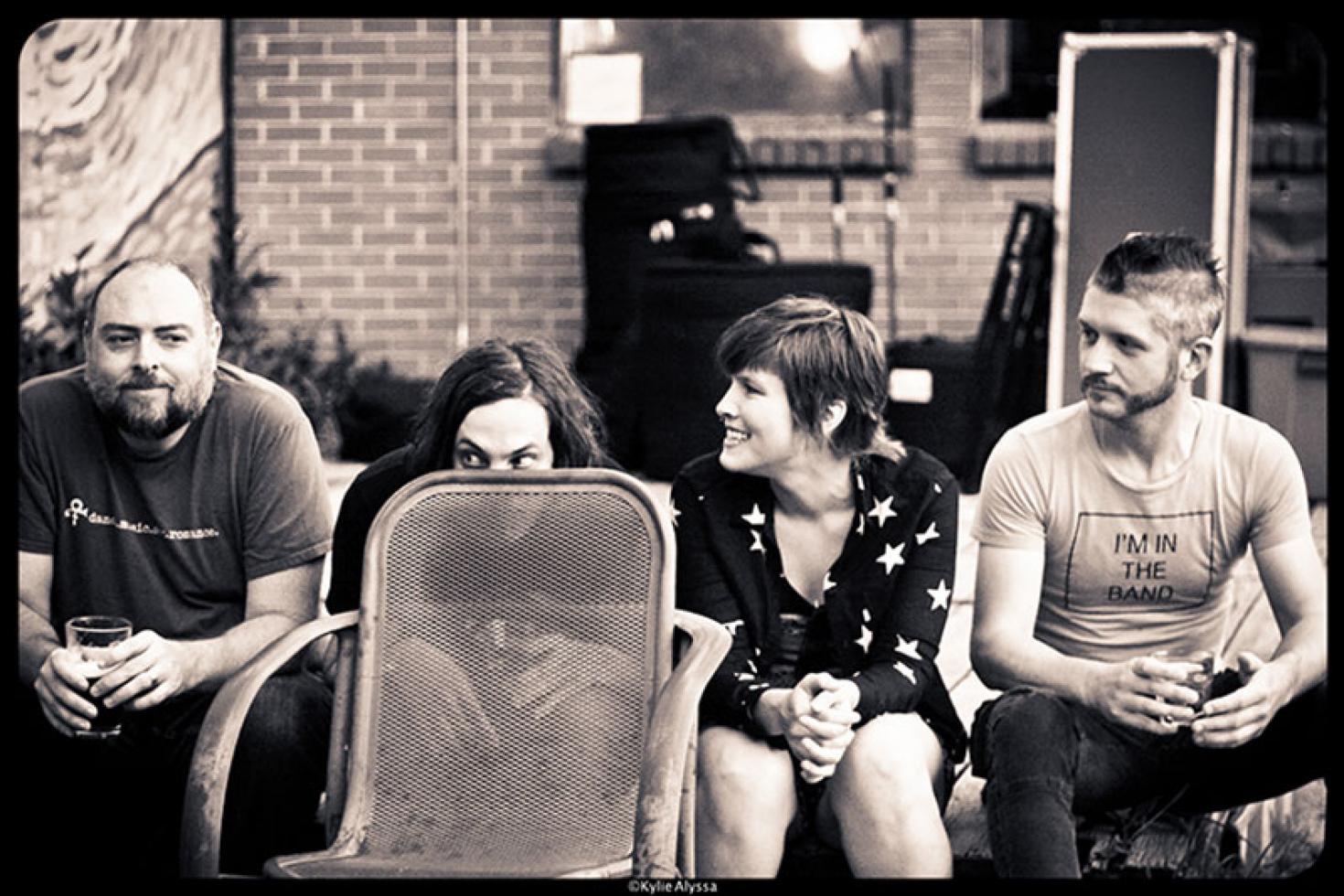 Meet Bryan, TX's The Ex-Optimists. When asked, they describe their sound as "college radio 1992," with elements of classic indie rock, shoegaze, dream pop, and grunge. What's left is part noise rock, part pop-oriented punk. That's a lot of styles right there, but they manage to make it all work on their new album, 'Drowned In Moonlight'.
Don't take our word for it though. The album won't be out until tomorrow, but you can already listen to the whole thing below while reading this track-by-track by singer/guitarist Kelly Minnis. If you like what you hear( (you will!), don't forget to head over to Shifting Sounds Records' Bandcamp page to pick up a copy of the album. (photo credit: Kylie Kinsolving)
'Nights and Days of Rain'
I wrote this song while working in West Seattle in the winter of 2006, watching it rain and blow sideways outside a picture window at work.  I knew I was leaving Seattle in defeat but I knew the sun would shine on me again someday.
'My New Normal'
'My New Normal' is a satirical look at finding oneself in a hole in one's long term relationships.  Sometimes it feels like there's no way out.  There's always a way out but sometimes when you're in that moment you can't see it.
'The Joe Jackson Self-Destruct'
We came up with this riff that reminded us of something from the Look Sharp/I'm The Man era Joe Jackson records so we decided to follow that direction to its ridiculous conclusion, and of course, pay patronage to the lineage with the song's title.
'Make It Through the Night'
'Make It Through the Night' is an older song revisited for the album.  Always liked the song musically but it took nearly ten years and reading a stack of old war novels to finalize the lyrics. 
'42 & Blustery'
Sometimes in Texas it gets iron gray and blowy like it does in Seattle.  It's wonderful to stare at it out the window and pretend it's 45 degrees colder than it really is in an effort to feel at home away from home.
'I Drowned In Moonlight'
I Drowned In Moonlight is an homage to Carrie Fisher, written the morning I learned of her passing.  The lyrics and title reference a quote of hers when asked about her own obituary she wished it would say "Carrie Fisher drowned in moonlight, strangled by her bra".   We obliged.  Sleep well, princess.
'Swept Away'
Swept Away was written about Xops' guitarist Michael's experience cleaning up his grandmother's place in Baton Rouge after historic rainfall flooded her out of her house.  Very little was salvageable and the house had to be torn to the studs.  Little did I know right after writing this song that we would experience nearly the same scenario first hand through Hurricane Harvey's near drowning of Houston last year.