Features
Track-by-track: Bridge City Sinners talk 'Unholy Hymns'
on
Thursday, September 2, 2021 - 08:11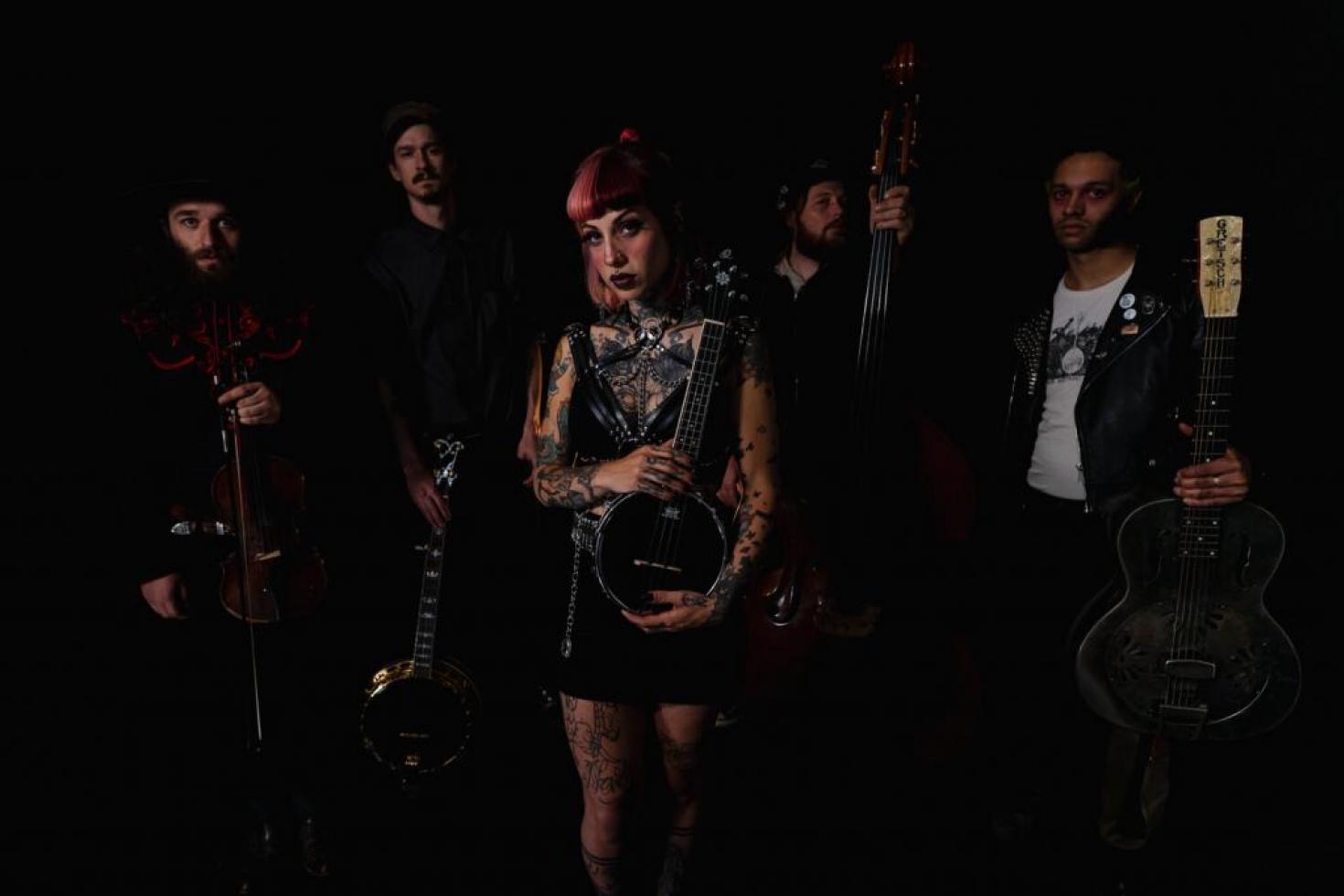 From the misty, pine-covered hills of the Pacific Northwest hail the Bridge City Sinners, who efffortlessly string together genres like prohibition era jazz and Appalachian death folk. Is it Dark Folk? Pre wartime era Jazz? Murderfolk?  Folk Punk? Blackgrass? This traditional string band bends the meaning of the word genre, playing festivals from Punk Rock Bowling, to Muddy Roots, to Oregon's Bluegrass String Summit. They started their journey by busking on sidewalks across the country and are now ready to take things to a whole new level on their new album, 'Unholy Hymns,' which has been divided up into two distinctly different sounding halves.
The first half  of Unholy Hymns, "Book l", relies heavily on their normal dark yet playful, folk and jazz roots, and at the same time expands upon their discography with complex subject matter including addiction and mental health issues. The second half of the album, "Book ll", leans much deeper into the darkness. An epic of terror and woe, this short concept album within an album is full of orchestral arrangements and evil screams of despair.
The Sinners were kind enough to walk us through the new album. Read on to find out more about how the album came to be or stream the whole thing below.
The Devil's Swing (the start of Book I)
This is the epitome of our classic jazz stylings. It's a song about dancing with the Devil on top of a traditional speakeasy chord progression. It's a transition from our earlier work into our new instrumentation and buttoned-up sound.
Rock Bottom
This is a little glimpse into some pretty true feelings we have all experienced. Loneliness, depression, sometimes there's comfort in knowing you aren't alone.
Departed
Departed was essentially written to be the anti-St. James Infirmary, which is the tale of a down trodden scoundrel on their deathbed who is rattling off a list of luxurious demands for a funeral that's larger than life. Instead of leaning on the cliché, I wrote Departed as a response to that sentiment. I don't need a 12-piece jazz band on my funeral march. I just want to be remembered for who I was when I was living. "When I'm departed, I'm gone."
Pick your Poison
Pick your Poison is a light hearted ode to substance abuse. Living in the punk community and being a musician both lend themselves to excessive drinking and drug use. Every band needs a party anthem, and this song is ours. Enjoy responsibly.
Devil Like You
Finally we are able to showcase the voice of our fiddle player Lucas in this duet about a tale as old as time, A love story gone wrong! It is a fictional telling of marriage, money, and murder.Oooooo so juicy.
Love of Mine
Another love story gone wrong. Just a sweetly sung reminder that life is sour, short, and full of secrets. This song is from the perspective of a dying wife who has tried, but failed to be a truly "good" woman. It is a sad and sorry good bye.
The Legend of Olog-hai Pt. 1 (the start of Book II)
Taking a page from the book of Black Metal, this story of terror and despair takes a path somewhere between folk music and something much darker (aka Trolls).
The Legend of Olog-hai Pt. 2
We are fans of fantasy and horror. I think we can all agree on that to some extent. This song is moving into a more cinematic expression of our typical dark imagery, and what better to lean on than some Tolkien lore.
The Fear
This song is just 15 different ways to say anxiety. In this day and age I don't think there's a person on the planet who hasn't felt that foreboding uncertainty that the modern age is just plagued with.
The Damned
Soft and sweet with a heavy frantic driving core, this song was written as a reminder that the human race has already been run and that we are not the winners.
Unholy Hymns
Our bass player Scott one day said "Unholy Hymns" would be a badass idea for a song. So we wrote an unholy hymn. We've all been trying to find a way to add more layers and more complex arrangements to our music. The climax at the end of this song is exactly that. There's like 20 layers of vocals and another 20 of strings. I don't know how well we will pull it off live, but I hope we can rely on our fans for most of the vocal parts.