Features
Stiff Richards: "Do what feels right"
on
Tuesday, July 18, 2023 - 16:28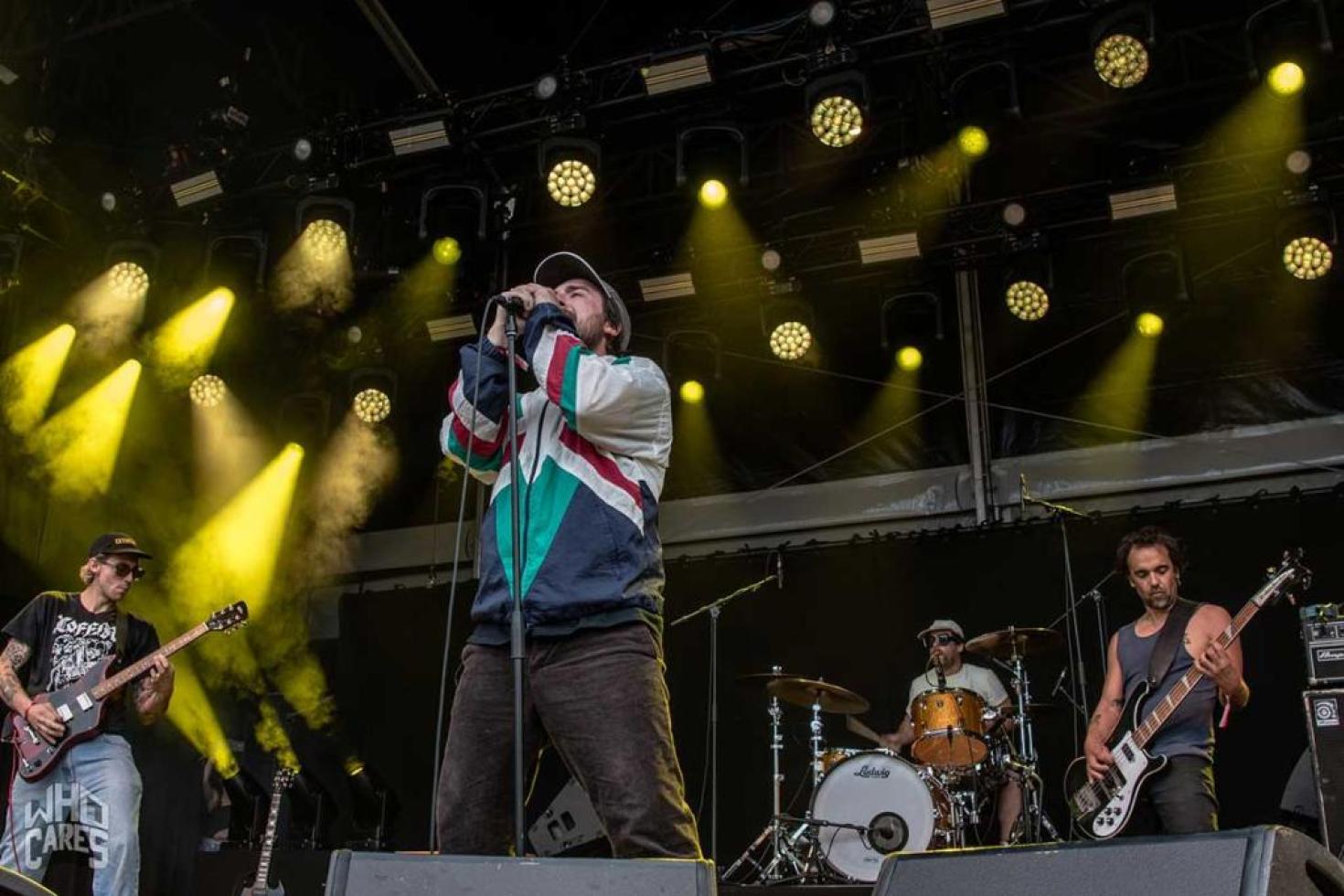 If you were at Sjock Festival earlier this month, you were lucky because Stiff Richards played their only European show this year at the Belgian festival. The Melbourne, Australia based fivesome plays garage-y punk rock tunes straight from the shed and doesn't like to overthink things. If you haven't already checked them out, please do yourself a favor. The band is hoping to release new music early 2024, but 2020's 'State of Mind,' is an excellent place to start. It's out on the band's own label, Legless Records. (photo credit: Luc Luyten)
PRT: You played Sjock last year as well. What is it about Sjock that you like so much? Other than that they keep inviting you.
Sjock Fest seems to really balance the line of a big and small festival vibe. You can play along side some kind of insane headline acts you'd only expect at a massive festival but still have a super personal experience with everyone at the place. Everyone's nice, and Belgium rules.
PRT: This is your only show in the whole of Europe this year… why come over for just one show?
The opportunity popped up and timed in really well with holidays and other stuff we had on over here. My other band Split System have a month long tour starting late July but the reason for no extra dates was due to having family and work commitments that didn't quite sync up for us all.
PRT: Does being from Australia put you at a disadvantage, purely in terms of logistics?
Logistically it's definitely a disadvantage, it's such a long way to travel and costs so much that it's pretty hard syncing everyone up and making things work but I think as you tour more things start to become easier. 
PRT: It's not that you're like this well-kept secret, but it also doesn't seem like you are going out of your way to promote yourself online. How does Stiff Richards fit into your lives?
We're all best friends before we're a band and we kind of take that approach with most things we do. Promotion and marketing can feel quite disingenuous to us so we usually focus on positive and memorable interactions for our momentum or exposure. Do what feels right.
PRT: Am I right in saying that Stiff Richards is the five of you having a good time without overthinking things too much?
That's exactly what it is. Obviously there is always some stuff to think about but we usually just follow what feels best. 
PRT: Does the not overthinking things part apply to Legless Records as well?
For sure. I think creativity flourishes its best when it's not dictated by expectations. Expectations that we put on ourself and get from others. We've had some incredible experiences, created relationships and projects we're all super proud of and most of that has happened  through just supporting each other and having fun.
PRT: When you first started out, you released three albums in three years between 2017 and 2020, but we haven't heard anything new in a while now. Is that thanks to the pandemic or just other obligations getting in the way?
The pandemic definitely had effects but we all have other projects and also family stuff that is equally important to us. We probably have an entire 4th album's worth of tracks that are feeling pretty good but we will get to recording stuff when it feels right. I'd hope to see something finished by early 2024 but let's see.
PRT: In the last couple of years there seems to be an explosion of Australian bands. Is there really an explosion though, or is it just the world finally taking notice?
Haha good question! Australia has always had great bands so it's probably more the fact it's in the spot light at the moment and people are noticing more. 
PRT: If you aim for the stars, what is one thing you would still like to achieve with Stiff Richards?
Honestly the cup is full at the moment which is actually quite a beautiful feeling. When we started this together the dream was to experience touring overseas together and to have a record pressed on vinyl. I guess helping mates bands experience that same thing and continue hanging out in the stars together would be all that could top it.