Features
Speedy Ortiz's guide to Philadelphia
on
Friday, May 11, 2018 - 17:11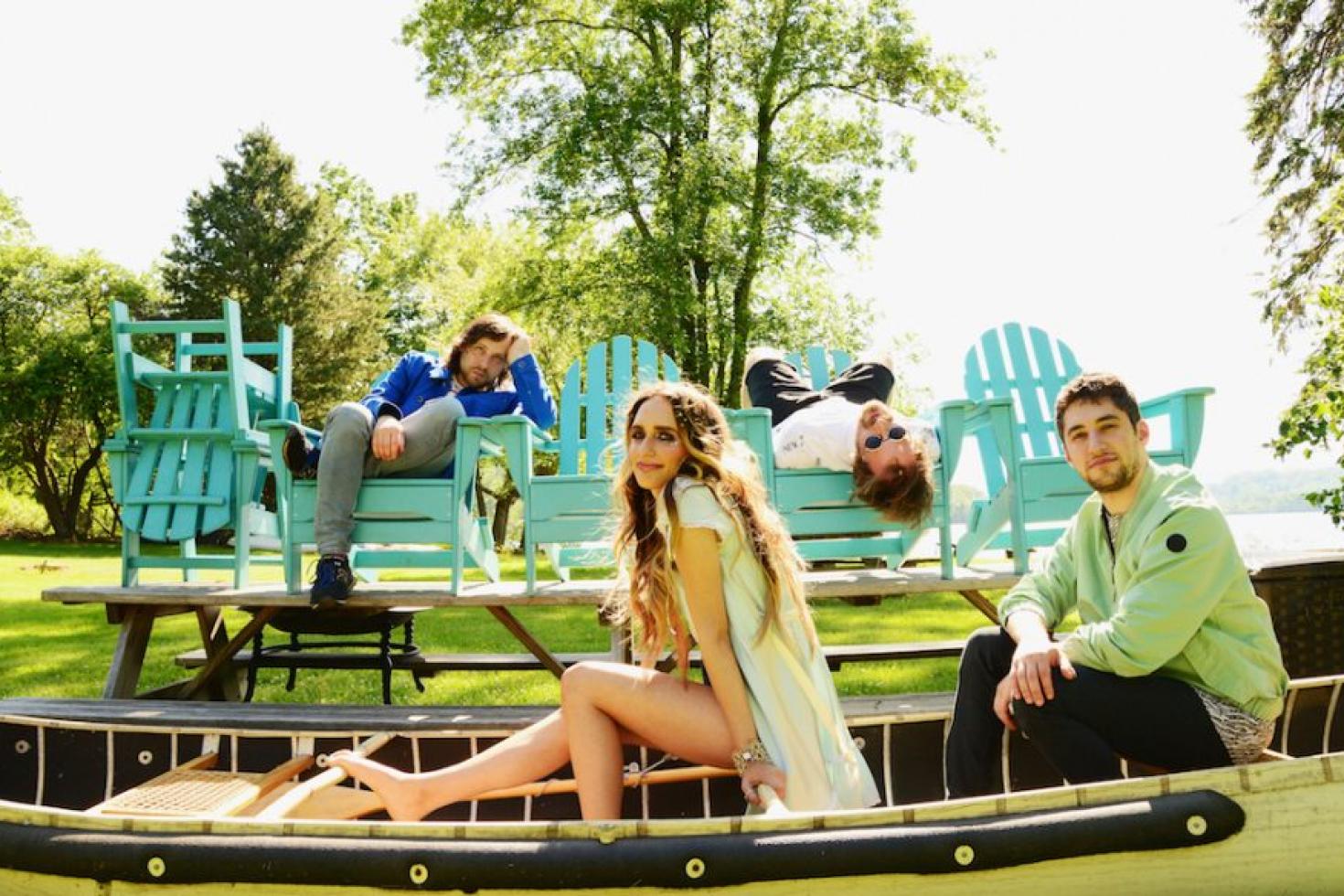 We recently caught up with Sadie Dupuis, Mike Falcone, Darl Ferm and Andy Molholt - collectively known as Speedy Ortiz - to talk about all things Philadelphia. Check out the band's favorite haunts below and don't forget to pick up their recently released third album, the irresistible 'Twerp Verse'.
PRT: What made you first fall in love with the city?
Sadie: I love the cherry blossoms and parks and beautiful old Victorian houses in West Philadelphia--taking a walk in this neighborhood feels so nice, especially in Spring. Whenever Speedy came through here on tour and spent mornings getting bagels and coffee at Satellite, a punk & vegan-friendly café under the bike shop, I really enjoyed exploring the neighborhood. So when I decided to move to Philly, I knew it would be to West Philly.
PRT: If you had to come up with a marketing slogan for the city, what would it be?
Andy: "The City of Brotherly Smells"
PRT: Best place to play?
Sadie: Johnny Brenda's is really special to me because when I was a teenager following my favorite bands along the east coast, they'd inevitably hit Johnny Brenda's and I'd take the train down to Philly to see them. I never thought I'd get to play there, so the first time we sold it out felt like an accomplishment. Now that I'm a little older I know that it's a small venue, but it's still one of my favorites to see shows. I love how friendly everyone is there, plus its photo booth and its french fries!
PRT: Best place to go for a late night drink after the show?
Andy: "Best" is a subjective term here, but the spot that my friends & I always end up at, especially if we are in my neck of the woods is the El Bar. It's essentially the shitty "Cheers" of Philadelphia, and I love it very much in the same way that I love the broken down moped that sits in my backyard. They also popularized "the special" (don't let anyone tell you it's called a "citywide"- they're a narc) which is a shot of whiskey & a PBR for essentially $0.
PRT: Best place to go for a late night snack after the drink after the show?
Sadie: Dahlak is an Ethiopian restaurant and bar in West Philly--they serve cheap cocktails, a nice outdoor space to sit, and very tasty injera rolls for $3. They also do karaoke on Tuesdays and the whole neighborhood comes out.
PRT: Best touristy thing to do in the city?
Andy: My favorites are probably the Mütter Museum (if you aren't squeamish) or the Magic Gardens if you want to spend a nice afternoon with the family. Mütter is like...crazy medical oddities that veer into the extremely garrish, notably featuring a preserved tumor from former US President Glover Cleveland. Magic Gardens is a labyrinthian broken tile mosaic sculpture garden type area created by notable Philly artist Isaiah Zagar. Both very rad spots!
PRT: Best hidden spot in the city?
Andy: Graffiti Pier. It's a really amazing abandoned concrete loading dock on the Delaware River. Unfortunately it's less and less "hidden" these days, to the point where the police are apparently cracking down on people visiting. It's technically always been private property, but we threw a generator show out there once a few years back that was one of my favorites of all time. Sincerely hoping that the city of Philadelphia will recognize the amazing potential of this place & keep it preserved as a public park of some kind instead of inevitably turning it into riverfront condominiums.
PRT: Favorite Deli?
Darl: Hands-down Fu-Wah. Best spot to get a Bahn Mi sandwich, and I say that after having done very little research. A lot of memories were formed sitting right outside Fu-Wah in that area where you can eat the sandwiches on the other side of the sidewalk. Don't sleep on this one!
PRT: One thing you would like to see changed in the city?
Sadie: A change that's underway but still has a long way to go is prison and parole reform. Of America's 10 biggest cities, Philly used to have the highest per capita incarceration rate. We elected Larry Krasner, one of America's most progressive District Attorneys last year, and Philly's incarcerated population has dropped 33% (leading to no increase in crime in the city). There has been bail reform, and police have begun to treat drug-related offenses with treatment clinics rather than jail time. However, Pennsylvania still has America's second-highest rate of people on parole or probation, and Philly has the highest percentage of folks in jail for parole violations. There's still a lot of work to do, and so engagement with local elections really do matter.
PRT: Where in the city did you get your heart broken?
Darl: At the infamous recording studio, The Sex Dungeon. Damn you Dan Angel, damn you!
PRT: What's your best memory about the city?
Mike: I know Sex Dungeon is getting mentioned in this by Darl, but the best thing I've ever seen in Philly is definitely a group of 4 or 5 people at Sex Dungeon throwing a giant 50-inch TV from the '80s off a balcony and watching it land into a junkyard and disintegrate before our eyes.
PRT: Is there a historical fact about your city that makes you chuckle?
Andy: Not many people know this one, but while participating as a delegate during the writing of the United States Constitution, Benjamin Franklin would keep mice as pets in his Philadelphia basement. As legend tells it, whilst deep into the throes of debate with his fellow founding fathers, Mr. Franklin would grow hungry, it was his custom to pluck one unlucky mouse from his collection, cook it up in a pan and eat it whole, served with a side of butter. This was for years referred to as the "Dirty Franklin," and in some deep South Philly bars if you stay past close you can still order one.
PRT: Favorite songs about your city you'd like to share, either yours or someone else's?
Mike: My favorite Philly-related songs are:
Nazz "Forget All About It" (1969)
Daryl Hall & John Oates "Say It Isn't So" (1983)
The Dead Milkmen "Smokin' Banana Peels" (1988)
DJ Jazzy Jeff & The Fresh Prince "Summertime" (1991)
Ween "Freedom of '76" (1994)