Features
PREMIERE: Stream Thirsty Guys' new album 'Parched' in full
on
Thursday, August 15, 2019 - 18:13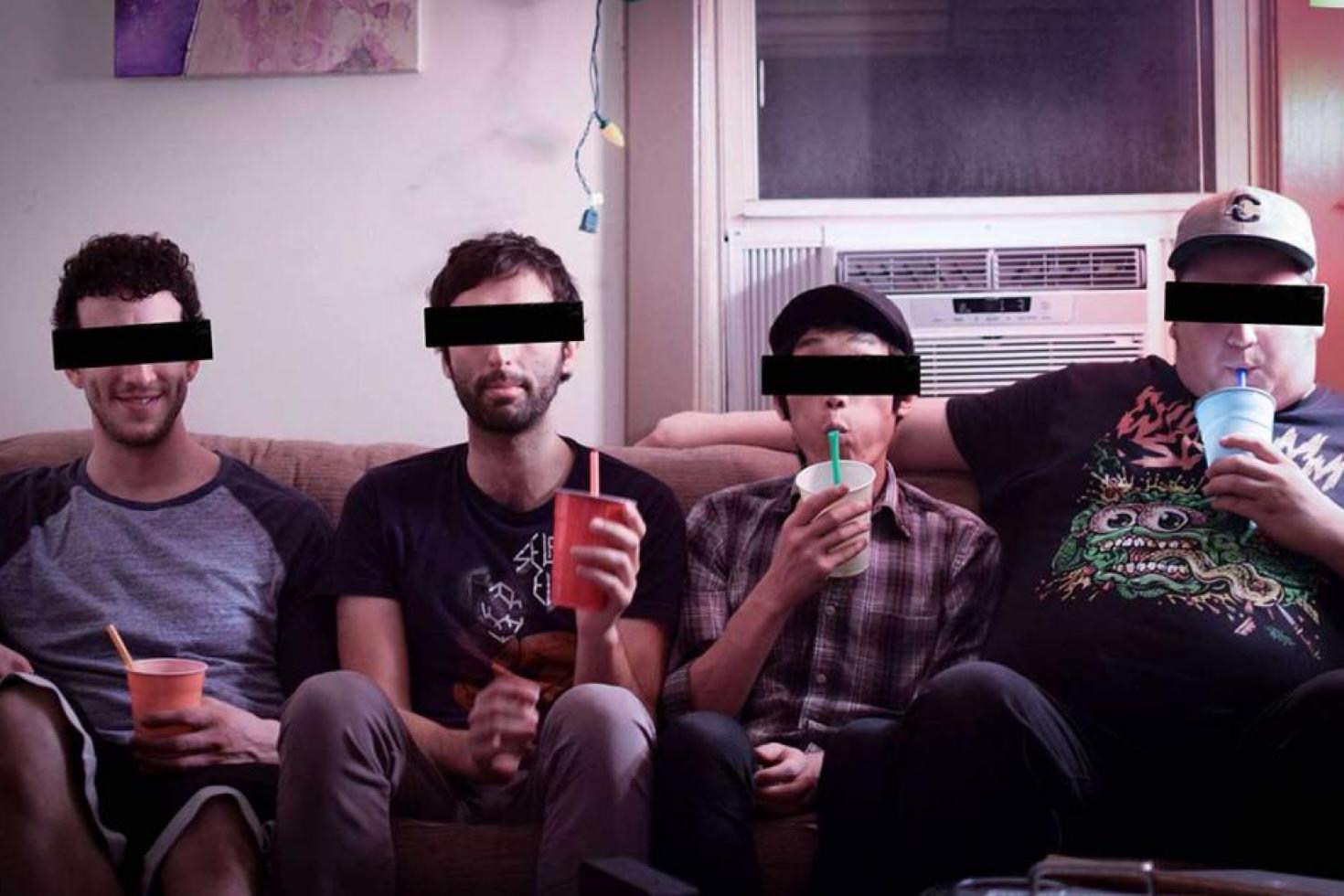 - by Will Malkus
Thirsty Guys is a New Jersey-based ska-punk band in the vein of Bomb the Music Industry! and the Suicide Machines who just signed to the young-but-growing Bad Time Records label. 'Parched' is their first full-length release, and while the titular thirsty guys have their roots firmly rooted in ska this album wanders all over the board, occasionally dipping into hardcore on one track and emo on another before nestling back into the comfortable breakneck upstrokes that they call home. We caught up with 3/4 of the band to talk about 'Parched', package tours, and trying to play the Gathering of the Juggalos. The album will be out tomorrow but you can stream it in its entirety below.
PRT:  I think the question on everyone's mind is: why are these guys so thirsty? Are they dehydrated or are they like, thirsty thirsty?
Joe: First off Will thanks so much for doing this interview with us, we really appreciate the time you put into reviewing our album and into Punk Rock Theory. I'm sorry in advance because despite being a goofy band name the origin of it is sort of a bummer:
"Thirsty Guys" was a funny thing that popped into my head whenever our other band The Best of The Worst would tour. I have Crohn's disease and at times in my life it's pretty severe. I've done tours before where I was one bad meal away from getting sent to the hospital. I've been hospitalized a bunch in my life from food triggering my Crohn's so on tour when it's acting up I'll skip meals. Thirsty Guys is a reference to not eating all day then finally hitting a rest stop just to buy 3 different kinds of drinks. It was a way for me to make of light of how fucked I was.
Not to demystify it though; if you wanna think we're a party band that's thirsty for beer, that's cool too. The goal of the band is to be dumb and literally have as much fun as we possibly can, so I'm not about to cherry pick anyone's interpretation.
PRT: Thirsty Guys is made up of members of Hub City Stompers and The Best of The Worst. How did the project get started? Is it a supergroup, a side project, or does it accomplish something completely different?
Joe: Yes.
Jay: Just trying to be in as many ska bands as possible. They all are a different flavor between Hub City Stompers, The Best of The Worst and Thirsty Guys. But we all play in/have played in a shitload of bands both together and separately (both ska related and not) so it was really easy when we started jamming on these songs. It felt natural.    
Cheech: Who wouldn't want to be in as many ska bands as possible?
PRT: There's a lot of varied instrumentation on the record. Does your writing process start with lyrics or music, and is one more important to all of you than the other?
Joe: I'd say they're both equally important. We ended up covering a lot of different grooves that are common in ska/punk music which helped keep it interesting for us.
Our drummer Dreads is a beast. He played in a rock/post punk band that we've been tight with for years, and he also played in a reggae/jam band for a long time. I think him coming from this side of the music spectrum helped us open up our ideas a little more and made everything flow naturally.
I actually play drums in a handful of bands too and this is the first group I've ever been in where I'm not. So it was exciting for me to talk some shit, track keyboard, and play some trumpet for this record.
PRT: The songs on 'Parched' swing between being really funny and irreverent like "Not Playing Fest" and full of emotion and commentary like "Weekend at Bernies". What's the ratio of humor to heart as you see it, or are they equally important?
Joe: Lyrics wise I'm mostly just trying to write whatever I'm feeling. Sometimes a vocal line will pop into my head...I'll write it down and base a song around it. 
"Weekend at Bernies" was the first song that existed by this band. Cheech sent me a song that didn't sound like a The Best of The Worst track. I was delivering bread part time at this point and listening to a lot of AM radio covering the 2016 election primaries. The only time I'd turn the radio off was to listen to Cheech's instrumental ska track. Eventually some vocal ideas popped in my head and I demoed then in GarageBand.
"Not Playing Fest" originally was a song I wasn't trying to release because I felt it was too complain-y and came off as butthurt. I showed it to Jay and Cheech one day and they said we had to do it. Besides, I think it's healthy to poke fun at everyone every now and then (including ourselves).
PRT: I think the standout hit of what people have heard of 'Parched' so far is "Not Playing Fest", which is a scathing indictment of bands that are solely focused on success and take themselves too seriously as well as the people in the entertainment industry who prey on musicians. Was there a direct inspiration for that message?
Jay: I can't speak for Joe but I think being in/around the punk (or punkish) scene for as long as we have, we've seen people come and go and get wrapped up in things that aren't as important, even to the point of being taken advantage of. At this point in our lives we want to make music for the sake of making music and if people are into it, that's great. 
Joe: Yea exactly. There is one band who actually gets a direct reference in the song. They were not very good but highly marketable and got on a handful of package tours when they were active. They inspired a couple lines, but overall it's more of a general statement.
PRT: How did you get hooked up with Mike (Sosinski) and what's it been like working with Bad Time Records? Was it different releasing through a label as opposed to doing it all yourselves?
Jay: First off, Mike is awesome. We had this record about 90% recorded when we sent him bounces and the fact that he jumped at the opportunity to press something by a new band that has only played a handful of shows is pretty sweet. We met Mike touring with The Best of the Worst in 2013, which is crazy. We have played a lot of shows with his band Kill Lincoln over the years and he's been a great friend. What he's doing with Bad Time is really cool and we're just glad to be a part of it. 
Cheech: It's only been a few months and Mike's given more of a fuck than anyone else I've ever worked with. Way better than when The Best of The Worst signed to a Juggalo label cause we thought they could get us on The Gathering.
PRT: The song that's most unique on 'Parched' (in my opinion) is "Falling on Deaf Ears". It has a very different sound and a very different energy than a lot of the other tracks. It's also my personal favorite off the album. Where did that song come from and was it a departure on purpose?
Jay: A few of the songs on the album are ones we wrote while jamming together while others are ones that Joe/Cheech wrote and brought to the band. "Falling on Deaf Ears" falls into the first category. When we started writing in a room together, the songs sometimes take a different turn and that kinda happened with this one. 
Cheech: "Falling" also has the benefit of being the last song we wrote before we went in to record. So we had a good two years of getting used to playing with each other before we wrote that. Compare that to the first song written, "Bernies"; where the album cut is almost a rerecorded version of what I wrote in my bedroom.
PRT: When is Thirsty Guys hitting the road on tour?
Joe: Mostly weekenders this year. But we do have shows set up for the fall in NJ, MA, and MD so hit us up if you're trying to come hang.
If it all works out, we're probably gonna try to do another album and a tour with The Best of The Worst next summer. It's 75% the same members so it makes sense. Liz Fackelman, who played trombone and sang on 'Parched', plays in The Best of the Worst too.