Features
PREMIERE: San Diego's miniaturized (ft. members of Pinback, Rocket From The Crypt, No Knife) debut new single 'Riots'
on
Thursday, February 23, 2023 - 09:37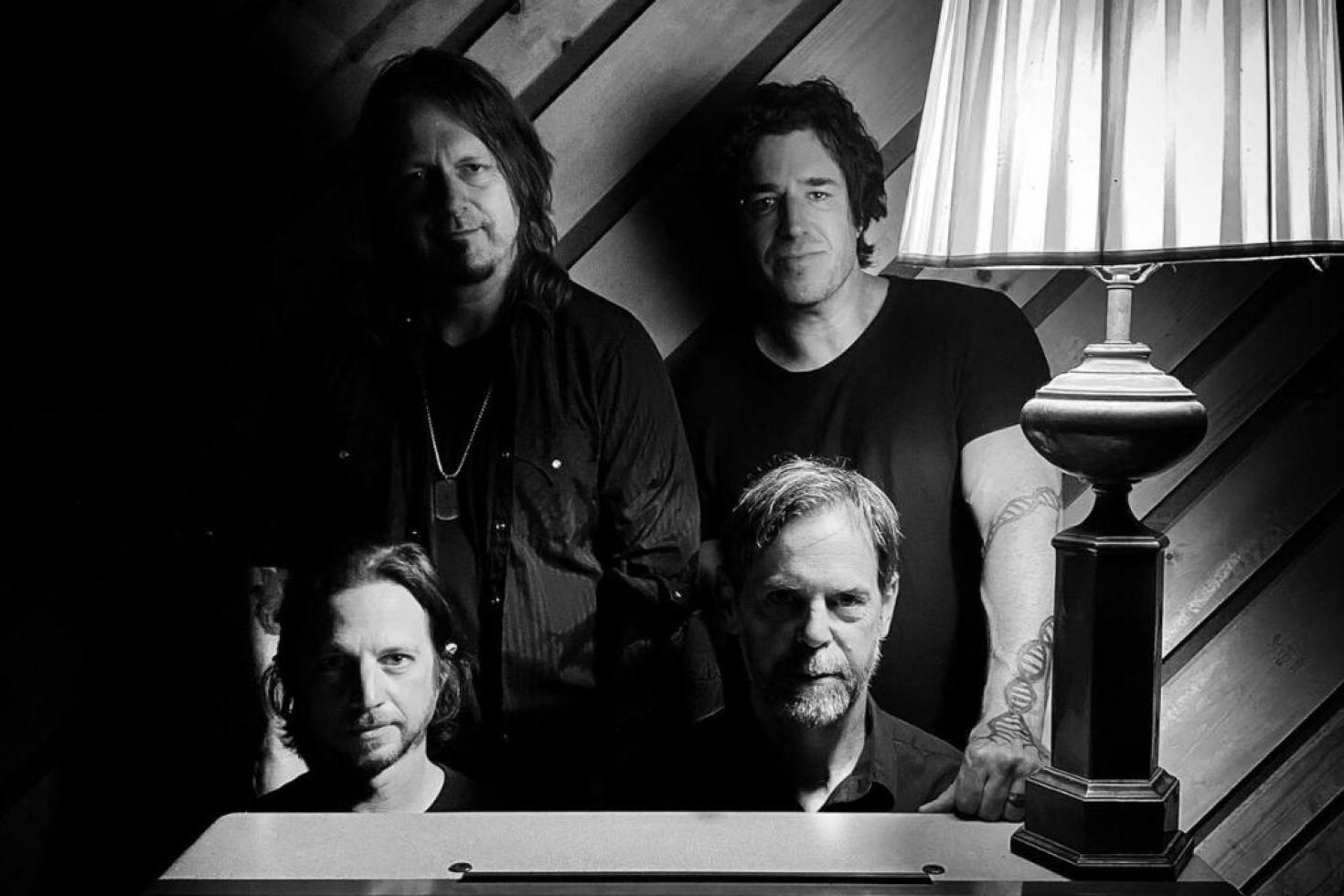 Born in 2021 from members of some of San Diego's most cherished acts (Pinback,  Rocket From the Crypt, No Knife, Buckfast Superbee), miniaturized was initially formed as a one-off project for a MusiCares charity show honoring Tom Petty. San Diego-based Timothy Joseph found inspiration from dissecting Petty's songwriting, coming to revelations about his own work as a musician in the process. With a sudden fresh perspective, he began composing all  original material that would shape the future of the band into something all its  own. miniaturized is, at its core, a rock band. Still, the sound is so sweeping and vibrant that it overflows, spilling into the more nuanced realms of pop and indie  rock and nods to iconic alternative rock of decades past such as Pixies, Built to  Spill, The Feelies, Jesus and Mary Chain, and early R.E.M. Today, we are premiering the video - directed by Patrick Spohrer - for the band's new single 'Riots' along with an exclusive interview with the driving force behind the band, Timothy Joseph.
Produced by legendary record producer, Mitch Easter (R.E.M., Pavement, Wilco), the band's self-titled debut album will be out March 31 (pre-save).
PRT: miniaturized formed as a one-off project for a MusiCares charity show honoring Tom Petty. How did that come about?
Timothy: Petty's music was ever-present in my life.  I've always been a true fan of his songwriting.  I had never seen him live, so my girlfriend and I got tickets to see him at the Hollywood bowl and went with some friends.  It was an incredible experience.  We had no way of knowing that it would be the second to last show he ever played.  He passed away less than two weeks later.  The idea for the tribute show came when my friend, Andrew mentioned his friend who ran the MusiCares charity for the Grammy Association and that they were looking to raise awareness for their work.  MusiCares is an organization dedicated to helping working musicians in times of crisis.  We agreed that it was a worthwhile cause and that we could put together a show in San Diego for them.  Playing Petty's songs in dedication was a no-brainer so I called a few other musicians I knew and immediately, everyone was onboard.  Tim Mays of the Casbah jumped on to present the show and we were off and running.
PRT: Probably next to impossible to choose, but what's your favorite Tom Petty song?
Timothy: Definitely a tough call. But if I had to pick one, I think 'The Waiting' might be it. Just something about how that chorus melody carries through over the guitar progression, it's just rock & roll magic.
PRT: Was that already with the same line-up as now?
Timothy: No, the lineup morphed from that show, to the recording of the album, to the live band.  Everybody is busy touring and such so starting a new project was a heavy task for any/all of us. 
PRT: How did the one-off evolve into a full-fledged band recording a full-length?
Timothy: Well, the show was such a success, we ended up doing it twice. So after the second show, I had some downtime and hit a writing streak. I would be remiss if I didn't say that dissecting Petty's songs didn't have an effect on how I looked at song structure and composition. There was just so much connectivity in his music and it inspired me to approach things in a different light. So I ended up writing and demoing around 30 songs in a relatively short period of time. I started sending the demos to the guys I did the Petty tribute with, suggesting that since we gelled as a live band, maybe we all could go into the studio and record these songs for fun. They were all into it. Getting everyone together proved difficult with all the different touring schedules with their other projects so I continued to work on the songs and refined the demos myself until we could work out a recording schedule. That wait proved to be lengthy. So one day, I was in the studio working on the demos and a friend stopped by to talk shop. When he asked what I was working on I played him the demos. I told him I was planing to record them with the guys from the Petty band whenever we could get the time. At that point, I was going to record and produce the songs myself and just have fun with my friends making music. He suggested that the songs were special and encouraged me to take it seriously as an album. Possibly get an outside producer so it didn't sound like another "San Diego' record. Not as if that sound is a bad thing, but I understood what he meant. I took his advice to heart and started thinking about it differently from that point forward.
PRT: You're the driving force behind the band, but how did you hook up with all the other guys?
Timothy: Mostly by playing being in the SD music scene together, playing with their bands and being on the road. None of us had played in a dedicated band together before miniaturized, but we all had a mutual respect and appreciation for our previous projects and collective musical talents. Playing music with your friends is how we all started. We did it because it was fun and it gave us a rush. That feeling is prevalent in a lot of musicians I know. When one of your friends is doing cool shit and asks you to participate, usually you jump right in. I have lot's of friends who just happen to be great players and have the same love and ethos for music as I do. So we all knew each other before, but it took us this long to actually form a serious project. I guess the timing was just right. 
PRT: The songs on the self-titled album have a very late 80s/early 90s kinda vibe. Is that the kind of music that you find yourself reaching back to? I know I do.
Timothy: Well, sure. I was influenced by my older brother during those years as he got into all kinds of cool bands like R.E.M., Pixies, Talking Heads, The Cure, The Smiths, Joy Division Jesus & Mary Chain, etc. Even super eclectic stuff like Captain Beefheart, Tom Waits, Cocketau Twins and the like. Hearing that stuff for the first time as a kid definitely had a massive effect on how I thought and felt about music. It was an emotional experience for me. As I got into my early teens, I mostly ignored the pop-chart stuff and sunk into more subversive and punk bands like Fugazi, Descendents and Bad Religion. All of that definitely gave me a wide foundation for songwriting. I do still listen to all those albums, so it goes without saying that music is part of my DNA.
PRT: You will be releasing your self-titled debut next month, produced by Mitch Easter (R.E.M., Pavement, Wilco). What was it that he brought to the table?
Timothy: This goes back to my friend who visited me in the studio that day. When he suggested that I use an "outside producer", he named off a few. One of those names was Mitch Easter. I laughed when he said it because Mitch was this mythical figure to me at the time. Hearing R.E.M.'s 'Murmur' for the first time on my brothers' stereo in the mid 80's was a turning point in my life. I was a little kid with limited music experience but I had never heard music sound like that before. It was almost like the songs surrounded you and engulfed you. That album had this ethereal but visceral feel. That sound made a huge impression on me. 
Later on as I started learning more about music, I learned that Mitch Easter had produced that album and was a big reason it sounded that way. So I was a lifelong admirer of his work. But since his name was mentioned, I figured I'd send him the demos. I mean, why not? A few weeks later, I got an email from him saying he dug the songs. I was floored. Before I knew it, I was picking him up at the airport and we started recording  at my studio in San Diego the very next day. He stayed at my place for 8 days and everyday we'd drive down to the studio and track the album. It was surreal to say the least.
Working with Mitch was an incredible experience. Being an engineer/producer myself, I was thrilled to get the chance to learn from him. We got drums/guitars and bass done for 13 tracks with various players coming in for the sessions. All the guys who came in to play (some from the Petty project and some others from great bands I knew) were stoked to record with him. The tracks from those sessions turned out really great. A few months later, I flew out to his studio in North Carolina and Mitch and I did vocals and overdubs for most of the songs. The coolest thing to me is that Mitch is playing an instrument in one form or another on every song on the record. He's an incredible guitar player and plays a few solos on the album. He also does percussion, keys and bass on some songs. He even plays drums on the track 'Gemstone'.  It was great getting to play alongside him. We didn't finish everything out at his place so the album had to wait for a bit. The pandemic was in full swing at this point so traveling to finish the album was out of the question for either of us. Eventually,  Mitch and I collaborated remotely and finished tracking. He mixed the album at the back half of the shutdown and suddenly, it was done. We've become good friends over the course of the last couple of years and he even asked me to fly out to NC last November to play some songs with him for his band, Let's Active's 40th anniversary show. It was an honor and.a thrill to share the stage with him and it was at that point that I felt things had really came full circle for me. Getting to work and play with one of your musical heroes is a beautiful experience.
PRT: We are premiering the new single 'Riots'. Do you feel it gives people already a good idea of what to expect from the album?
Timothy: Well, overall...it definitely hints at elements within the record. But the album is pretty sprawling musically. The songs all explore different sonic territory while not losing focus on the cohesive sound of the band. I'm super excited for it to be released into the world and to get out and play these songs live.
PRT: Speaking of playing live, you have only played a few select dates up until now. Is that something that you would like to see differently? Or is it hard to work out with the others' schedules?
Timothy: There has been a bit of wrangling with the guys' touring schedules, but things are solidifying now. We have one festival appearance the first weekend of March but Chris leaves for tour with Pinback shortly after. So dates are now being confirmed in May, April and June for the band up the west coast and we plan to play and tour heavily through the remainder of '23.
PRT: How about a tour featuring Rocket From The Crypt, Pinback, PLOSIVS and you? Just putting it out there :)
Timothy: Shit. I would love that. Why don't we add Hot Snakes on it while we're at it? Even better yet, we can all open for Fugazi and play a festival with a hologram of David Bowie! Let's go! The first round is on me.