Features
on
Wednesday, September 5, 2018 - 13:09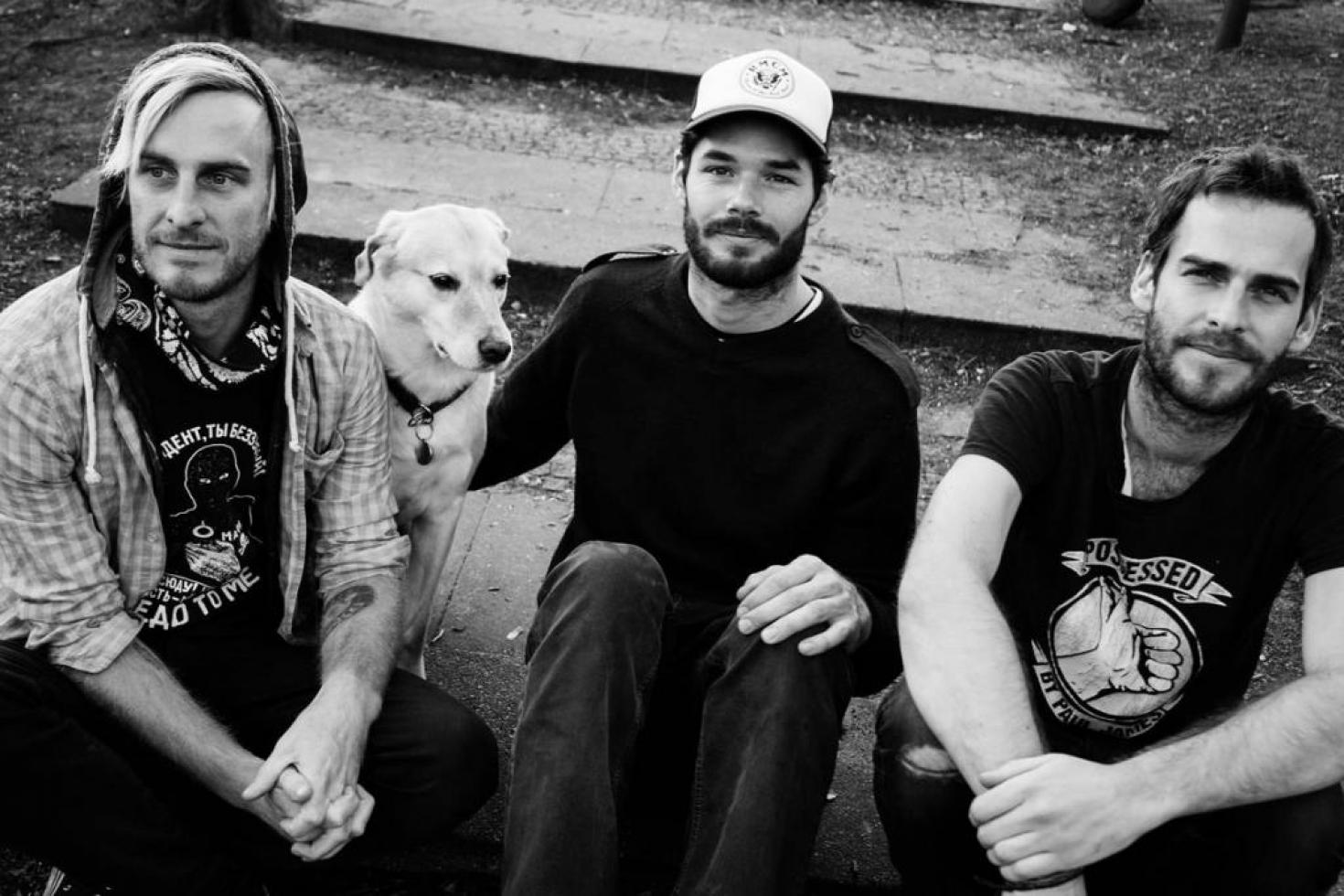 - by Christophe Vanheygen
Nowhere - featuring members of Freddy Fuddpucker and Laura Palmer - are a melodic punk rock band formed by three brothers originally from a small town in southern New Zealand and now operating mostly out of Berlin, Germany. They write songs about all of the world's big issues… you know, disease, the politics of international migration and bad 90s sci-fi.
Not only do they have a new EP ready for release in September 2018, they will also embark on their third European tour (check out the tour dates below). That's pretty much all the reasons we needed to catch up with these melodic punks!
PRT: First off, you state nowhere is currently based nowhere and eveywhere. Can you elaborate?
It's not really how bands normally work. Kitt lives in Wellington, Aotearoa/New Zealand, Tom lives in Berlin, Germany and I(Stu) live in Melbourne, Australia. We've all spent our adult lives moving around a lot, performing & travelling in various groups or individually.
PRT: The first record Cancer was made in Berlin. The second in Melbourne. how do you decide on your destinations?
We have to make rough plans in advance. None of us have a lot of money so we make plans and generally stick to them, budget for it and try & follow through. We got the band up and running in Berlin, wrote Cancer in 3 or 4 weeks then recorded it. It was where we all were together at the time. There's a mediocre master plan being played out.
PRT: Where do you plan on recording the next full length?
Hopefully we can get a bunch of songs worked out while we're on tour in Europe this year and possibly record them in the week or two we have together after that. I'm interested & excited to see where we go with the next one.
PRT: How do you remain a band when there are multiple continents between you three?
As I mentioned, we have a mediocre master plan. In the 4-ish years this band has existed we've probably only spent 8 or 9 months together, physically. All of that time is made up of intense writing, rehearsing, recording, touring/performing and enjoying each other's company. If we had done what we have in 8 months instead of 4 years it would be insane. I guess we're committed to this creative release together. It doesn't seem hard to remain a band despite the distance.
PRT: There were about 3 years between the first record and last year's VRFS. What have you been up to all that time?
Well, distance is still a factor. After recording & releasing 'Cancer' in 2014 we toured Australia & New Zealand extensively in 2015, then didn't do much till we recorded 'Virtual reality future suit' in January 2017 & toured Europe later that year. We all play in multiple groups or individually and we're committed to those projects as well. So if Nowhere's not busy there's probably half a dozen other musical acts around the world scamming away.
PRT: It's hard to be original and unique in punk rock. It has been since the late 80's, I guess. Still, you guys do sound very different from the usual punk rock. Somewhat lo-fi, if I may say so. Is that a conscious decision, or is there more or less to it?
Thanks, that's a nice thing to hear. I guess it's not easy to write original music these days but it depends on your mindset. I think because we have time restrictions & major financial limitations on what we can do, we write very quickly and all our recordings have been done live with a few overdubs. I would like to spend a couple weeks recording an album with Tom & Kitt, but we don't do that. Maybe one day we will, but for now all our music is very honest and somewhat straight forward, it has to be like that. My favourite types of music and art are deeply honest and I'd like to think we take influence from that.
PRT: Where do you get your musical influences from?
We all listen to a lot of different music, together and apart. We grew up together at the bottom of the world and have all been heavily involved in various punk rock scenes all over this planet. Together we like playing fast, pushing things a little more. We're all suckers for a good melody and Tom & Kitt are two of my favourite songwriters. We're hard on ourselves in a nice way and I think a major influence is simply each other, not just musically but the encouragement and the desire to do this together.
PRT: There's also a new EP on the way. 'Breathing' was already a very promising first track. What else can you tell about it?
We recorded 'Breathing' in November last year with our good pal Pesky at Music Corruption in Neukölln, Berlin. It was actually a very stressful, sad time for us. We had a very close friend who was very unwell at the time, another friend had just passed away. We were ok but genuinely sad. It comes across a little in the songs even though we didn't realise that at the time. Plus we lost the lyrics and had to rewrite them in half an hour.
We decided to cover a song called 'Be your Boy' by a New Zealand band, Voom, which I fucking love. It's just a neat pop song that we play twice as fast, I can't wait to do that one live.
PRT: Was it recorded especially for the Euro tour? Or is it just a happy coincidence to have it ready in time?
We just had time last year after our euro tour and we're lucky to have friends offer studio time & engineering skills for next to nothing. It's definitely fun to have a new release for this tour.
PRT: What are you most looking forward to during your Eurotrip?
Playing music everyday, it's all I want to do. Also, spending time with my brother's, seeing a couple of old friends I haven't seen in years and playing some shows in Scotland & England, I haven't played there since 2009!
PRT: You were on the road last year as well. How did that adventure turn out?
It was great. Like I said, we had some very hard, sad things going on with different friends of ours at that time. It was an awkward reality to be in, which is often the case for touring musicians.
But I think driving to the next show through rural Hungary at dusk, listening to H.P Lovecraft stories on the stereo with my best buds was the place for me, no matter how hard it might have been.
We had some great shows last year and we're heading back to most of the same spots plus a few new ones this year.
PRT: Where does your fascination for bad 90's sci-fi come from?
Sometimes I think it's because the world these days is kinda like a bad 90's Sci-fi series. Technology is getting 'crazy', everyone's questioning everything for good or bad, we're all doomed, bad haircuts & questionable fashion sense. Don't drink the water. It's very funny sometimes.
PRT: Are we talking Barb Wire, or Waterworld, or....? What would be your top 5 bad 90's sci-fi films?
We're talking the 90's TV series The Outer Limits. 'Virtual reality future suit' is a concept album on that show and some of its story lines. It's crazy bad, who was responsible for that? But we love it ya' know?
I can't list 5 favorite 90's Sci-fi films, but I can say Bio Dome & Encino Man(both starring Pauly Shore) are exemplary examples of the confusion human beings faced in the 90's and how technology helped yet hindered them reach this golden point in humanity we are at today.
PRT: If you could write, direct and star in your own sci-fi flick, what would it be about?
Well, seeing you mentioned Waterworld...for a few years I've been annoying friends with an idea to combine Waterworld and the Matrix. Kevin Costner is Neo, Dustin Hoffman is Agent Smith, the Waterworld is the matrix and dry land is whatever reality you can settle yourself in to.
PRT: And how will it end?
I haven't got that far and hopefully never will. But maybe like that big dance party in the second Matrix movie...? What the fuck was that?
Tour dates:
13.09. Rochlitz, DE @ Burgi
15.09. Bree, BE @ Nefast
16.09. Ostend, BE @ OHK
18.09 Dundee, UK @ Conroy's Basement
19.09. Edinburgh, UK @ Bannermans
20.09. Inverness, UK @ Market Bar
21.09 Warrington, UK @ Old Town House
22.09. Brighton, UK @ Cowley Club
23.09. London, UK @ New River Studios
26.09. Koblenz, DE @ Jam Club
27.09 Nördlingen, DE @ Zone
28.09. Kaufbeuren, DE @ Roundhouse
29.09. Brugg, CH @ Jugend Kulturhaus Picadilly
04.10. Zagreb, HR @ Klaonica
05.10. Budapest, HU @ DRR PNC
06.10. Tabor, CZ @ CESTA
12.10. Berlin, DE @ Kastanienkeller