Features
on
Wednesday, March 27, 2019 - 10:14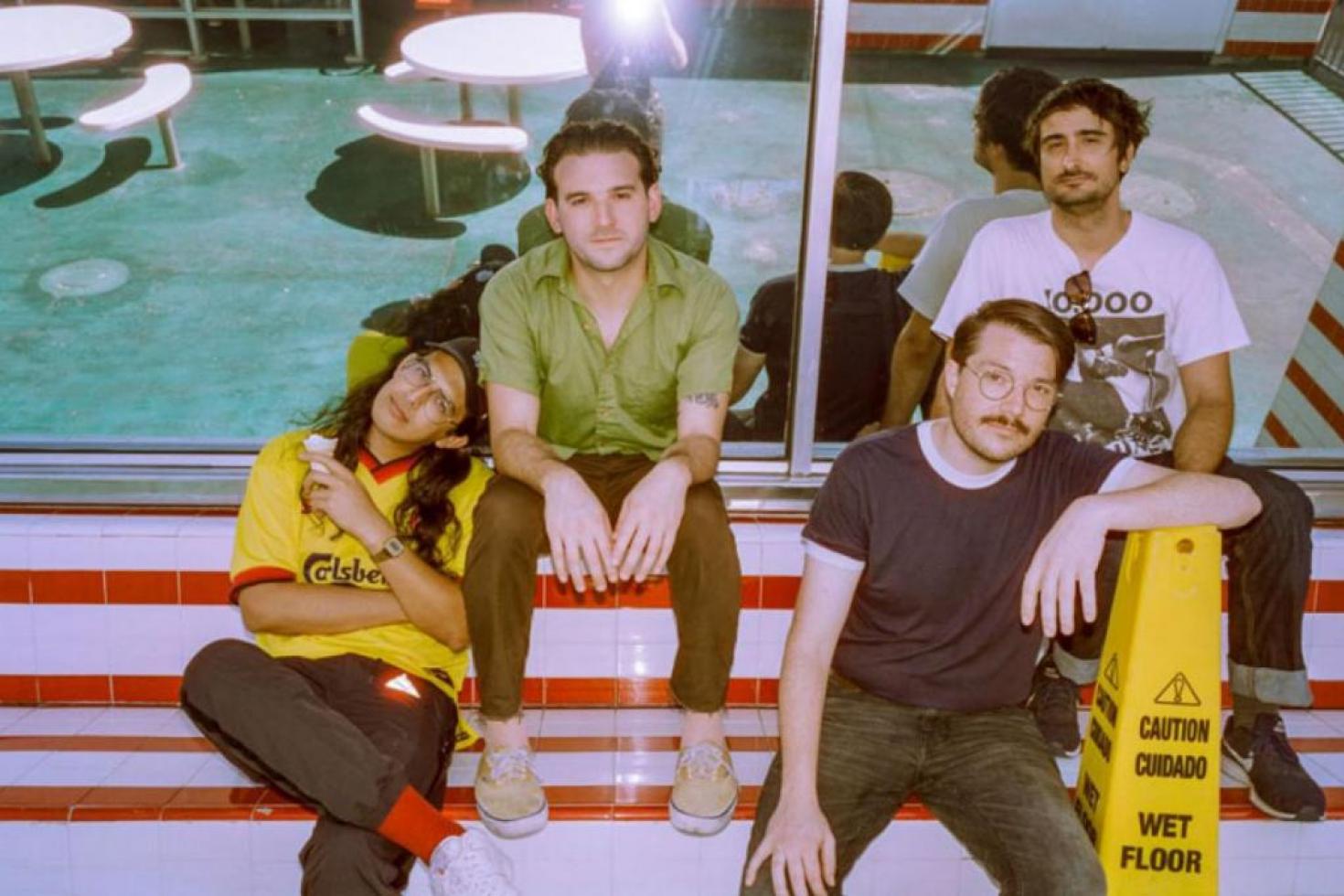 - by Tom Dumarey
If you haven't already checked out NO WIN's debut album 'downey', you are seriously missing out on a solid power pop album. Led by ex-FIDLAR member Danny Nogueiras, the album offers a nostalgic look at the Southern California city Nogueiras grew up in. Written over a six-month period in a Los Angeles apartment, the album was recorded at Balboa Recording Studio in LA, which Nogueiras himself built. 'downey' is out now via Dangerbird Records and the band will be on tour with Failure and Swervedriver in April.
PRT: You started No Win a couple of years ago and in a post from 2016 you already mention recording a full-length. How come it took up until now for the album to come out?
Danny: I did take a stab at beginning work on a full length back then but quickly came to my senses. There was no real reason to push myself into an album format when I hadn't played enough with this (at the time) new project. I decided then that I wanted to just keep making music, playing shows, and wait for the right opportunity/route to a full length. I think once dangerbird presented itself as a possible option for us I knew it would be worth waiting to have our debut LP find a loving supportive home, which it 100% has with the bird.
PRT: NO WIN today sounds different than it did when the EP came out in 2015. Is that you getting a clearer picture of where you wanted to go or growing as a songwriter?
Danny: In its first incarnations I purposely shied away from production value and just wanted to knock out recordings quick and dirty. I spend so much time worrying about production and sounds when I get into it. I think I knew it would get in the way of just starting something new if I jumped into NO WIN that way. I don't know what NO WIN is.
PRT: You originally started No Win as a solo project and from what I have read, you wrote all of the songs for the album. But on the other hand you have a solid line-up... so is No Win still a solo project or a band?
Danny: The way I think of it now is this lineup is made up of THE STARTERS. Juan, David, and Jeff are my absolute first choice and preference for bandmates! However, I know being in a band is demanding on your life and not always a healthy or feasible choice for people. I want to be able to do NO WIN as much as I can and I don't want my friends to feel pressure that they HAVE to say yes to things or NO WIN can't do them. They're the starters, they know that. If they need to sit something out thats cool too. Trying to fit a band into some rigid structure with hard line roles can destroy friendships and make life unbearable for all parties involved.
PRT: Two feelings that are very present on 'downey' are honesty and nostalgia. Do you feel like there is still room for those sentiments today with all the superficiality that is out there?
Danny: There's always going to be room for honesty in the world and it is always going to be worth being honest, even when others aren't. ESPECIALLY when others aren't.
PRT: Not only did you write the songs, you also recorded the songs yourself in a studio that you built yourself. How important is it for you to be able to keep that level of control?
Danny: I think it was super important with the first album to feel like it was something I had a big hand in. I wanted it to feel like me and I wanted to work really hard on it. I don't think it always has to be that way. collaboration is fun! Even though this record is "produced" by me it wouldn't be what it is without David Jerkovich! He and I run a studio together and he's taught me so much. In the future I could see the right producer being a great choice for us. Just needs to be someone we respect and get along with.
PRT: You have already produced records by Together Pangea, No Parents and Mean Jeans... is it difficult to combine your role as an artist and that as a producer?
Danny: I would say the two don't contradict. Being a producer to me is really just trying to best serve the song and help it find a way to being the best version of itself. While an added benefit of producing other people's work is having fresh outside ears, I think I found those ears on downey by having John Goodmanson mix the album. I think I wanted to maintain a certain level of autonomy while making the debut record that I wouldn't have had going with an outside producer.
PRT: 'downey' was mixed by John Goodmanson who has previously worked with the likes of Blonde Redhead, The Posies and Sleater-Kinney. What was it about him that made you want to work with him and what is the biggest thing that you took from working with him?
Danny: His records sound great! I knew at a certain point in the process that the record would benefit from someone else's mind/ears on it and I knew he had made GREAT sounding records. I think his recent work with Cloud Nothings was a big factor. We talked a bit on the phone when he was starting out and it pushed me to vocalize a lot of stylistic goals to him so we could try and get on the same page. That was helpful. Also it taught me that relinquishing control on a creative project can be super freeing! When I got the record back from John I was thrilled. He did an incredible job and I could listen to it without nitpicking every mix decision (like I would have done forever had I mixed it myself). That is a HUGE gift. Thanks John!!!
PRT: If there is one thing you would like people to take away from the album, what would it be?
Danny: Honestly, whatever they want. Whatever they need. I think it's better to let a listener define what a piece of music is good for in their life. I know what it means to me and that is for me to know.
PRT: You are going on tour with Swervedriver and Failure, two awesome bands but bands that sound pretty different from NO WIN. Is that mostly exciting, challenging or fun?
Danny: Exciting! I can't imagine it would be super inspiring to go on a tour with bands that sound too much alike. It's an opportunity to see some great bands every night, learn from them, and maybe play for some people who might not have ever come across us otherwise. Sounds all good to me!
PRT: What's up next after that? More touring throughout 2019?
Danny: We'll be doing more touring in June with Late Bloomer from Charlotte, North Carolina. I would love to announce that now but we're still buttoning up some details. Then we'll see where things go. I'm up for anything!