Features
on
Tuesday, March 22, 2011 - 00:00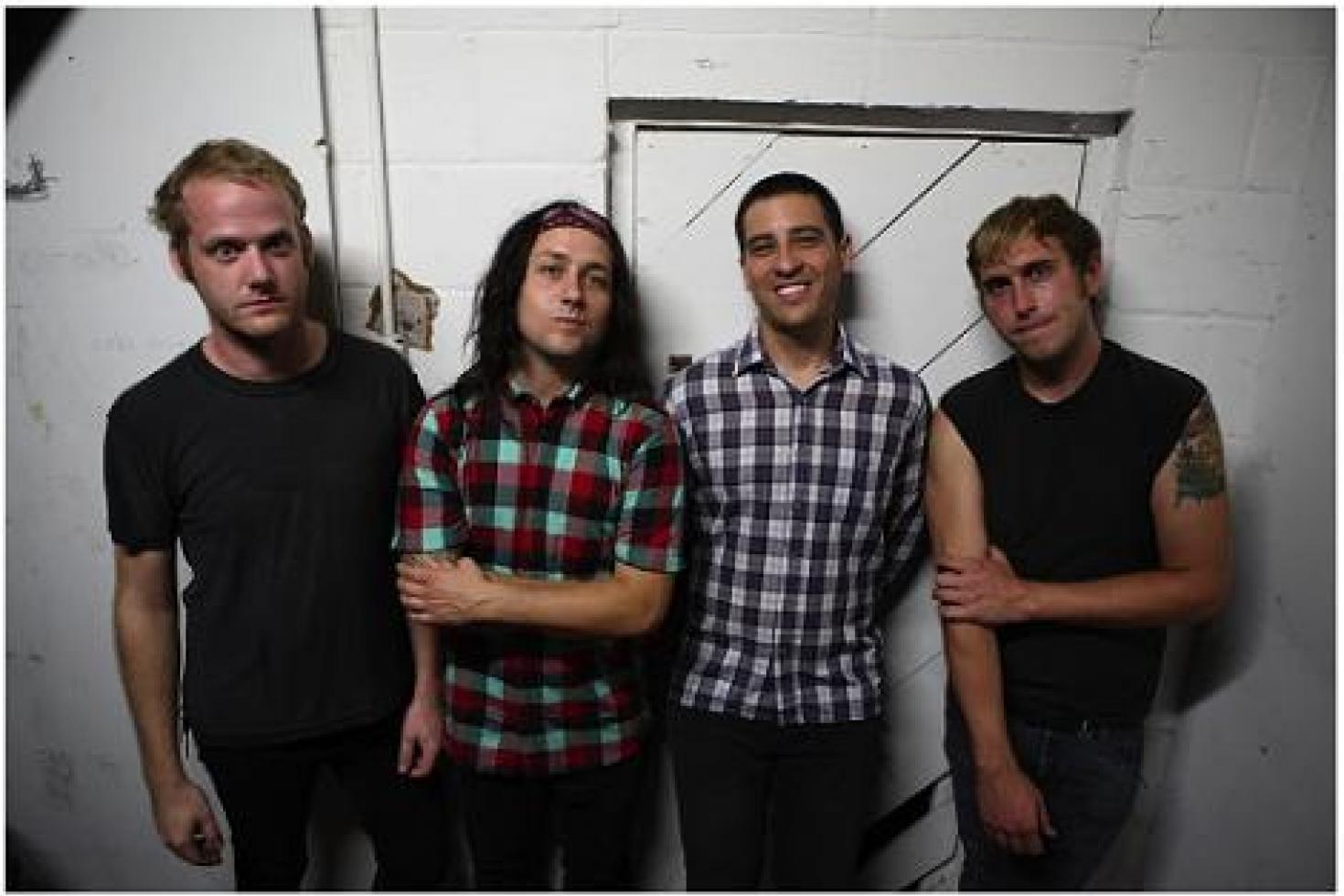 No Friends might not be the most inviting band name, but the guys in the band are actually pretty cool dudes and they do happen to write some friggin' great songs. Not just in No Friends, but in VRGNS, Gatorface and Municipal Waste as well. They're coming over to Europe in a bit for their first tour here ever, a tour that includes a stop at the Groezrock festival. Check them out there and read here to see what vocalist Tony had to tell us.
PRT: Who are you and what would you like to tell us about yourself?
Tony: My name is Tony. I am a binge drinker and I like to collect shot glasses, records and weird paintings.
PRT: You quite recently released an impressive new EP with your side-project, No Friends. Anything particular you'd like to share about that?
Tony: I don't really like to call it my side project. I mean the other guys all have bands too and I never hear them call this a side project. I'd rather it be just my other band. I mean NF tours twice a year and releases something once a year. I'd say that's busier than a lot of "full time" bands going out there. Haha ok maybe not. But we do like to stay pretty productive.
PRT: The main influences of No Friends are, obviously, the early 80s DC-stuff and the early 80s hardcore punk from the West-Coast. With Municipal Waste already being rooted in 80's crossover thrash, why would you think about starting another band that draws inspiration from the 80's? What was so good about punk and metal from the 80's?
Tony: That's a good question. I think it's because that was the most influential time musically me for me and my friends in our lives. I'm
34 years old. Mostly all of my favorite types of music really kicked off in the 80's. Whether you're talking about hardcore punk or crossover metal. I do love that stuff very much but have always tried not to impersonate that style but rather use that as an influence and add my own thing to it. No Friends is still getting used to writing together so I think with the next stuff we write that it will progress even further.
PRT: And what else was good about the 80's apart from the A-Team, Knight Rider, Miami Vice, big hair, Madonna and dudes wearing really short shorts and a mustache and still not being gay... Like Magnum P.I.?
Tony: I liked Police Academy, Break Dancing, Fanny Packs, The 2 Live Crew, The 85 Chicago Bears and those Wendys comercials.
PRT: All kidding aside, what 80's records are, for you personally, the epitome of how loud and intense music such as punk, hardcore or metal should sound?
Tony: Hmmm, I can name a few. The Void/Faith split (that's a big No Friends favorite we all love that one), The Accused "Return of Martha Splatterhead", Corrosion of Conformity "Technocracy", Attitude Adjustment "American Paranoia" and anything by Poison Idea at that time
PRT: With you being from Richmond, Virginia, and the other guys being from Florida, and No Friends being a side project, how hard is it to keep in touch, to keep focused and to keep working on No Friends?
Tony: It's not as hard as you may think. I spend a lot of time in Florida. My family all lives not too far from Orlando so usually after a Waste tour I just fly down to Orlando and rehearse with them and spend time with my family. It's a 12 hour drive apart but Jet Blue usually has pretty reasonable plane flights from RVA to Orlando so it's not super expensive to fly back and forth and the flight is only an hour and a half. We're also really good at keeping in touch and it's pretty easy to write songs with these guys. All it takes is a couple emails back and forth. It's a lot simpler to do a band like this nowadays as opposed to say 10 years ago.
PRT: How different is it to work on a band like this, compared to your other source of income, being The Waste? Which one is more challenging, especially vocally?
Tony: Vocally I would say No Friends because I take it a bit out of my comfort zone and try things that I normally couldn't pull off in The Waste. I think MW is a more challenging band all together due to the insane touring schedules we sometimes do.
PRT: Is it weird to play in a little lesser-known band again, in smaller venues for smaller crowds who don't sing along to all the songs yet?
Tony: It's not really weird, it just makes it more challenging. It's like starting all over again. I think that's a fun part of being in a band.
You never know what to expect from people when you start with something new. I also like the feeling of excitement like when we got our first shirts or when the first record came out. It's a good feeling of accomplishing something new.
PRT: Your first European tour is coming up. Well, at least with No Friends. How do you feel about that? Are you nervous to do this for the first time with a different band?
Tony: I'm more excited than anything. I have a lot of fun touring with these guys and we've never left the country together so I think there are a lot of ridiculous adventures to be had. One of the gigs is the Groezrock festival with the Descendents, CIV, NOFX and tons of other great bands. I'm really stoked to be on that bill.
PRT: Which show are you most looking forward to? The smaller ones, or the huge festival with Descendents and tons of other awesome bands?
Tony: Hmmm, I'm really looking forward to Groezrock from a fan's perspective but I think with No Friends our gigs are way better when it's in a small place and everything is in your up in your face. I know the London gig will be nuts as well as Bristol. I know because they are at small rowdy venues.
PRT: Is there any ambition with No Friends? Are there goals you would like to reach? What seems to be a priority for the other guys, who have some great bands going with Gatorface and VRGNS?
Tony: I think our main goal is to keep steadily releasing good punk records and to be able to tour a few times out of the year. Nothing too crazy.
We're definitely not trying to get rich with this band or make a living off of it. This is something we do for the love of the music and for fun. Although I do make a very modest living off the Waste, I still wouldn't do it if it wasn't fun as hell. I think we feel that way about our other bands too. On a side note: Sam also recently joined Dead to Me. So that should be keeping him busy for a long while.
PRT: Imagine No Friends would take off and become bigger than expected, would you or the other guys consider putting the main bands on hold for a while?
Tony: I doubt it. We may tour a little bit more if there was a huge demand for it but I don't think that's really where we want to take it as a band.
PRT: The latest EP is titled "Traditional Failures". What would you consider a "traditional failure"? Is - as is the case with me – being 30, single, unemployed, playing in sketchy hardcorebands, asking people in different bands dumb questions somewhat of a 'traditional failure'?
Tony: Haha I think you nailed it on the head. I feel it's weird because a lot of people are raised to maybe see you as a failure for living like that. But you're doing what you love right? You're living the way you want to and you're setting your own path. If you're happy and doing what you want to do than how is that being a failure? Some folks just look at success as being who can own the most things and make the most money. But inside they're just fucking a miserable ball of loneliness and stress. I don't want to live like that. I'd rather be a loser in their eyes and live a happy life. People are strange.
PRT: What kind of advice would you give to those kind of people, such as myself?
Tony: Keep failing!
PRT: That's about it. Do you have any last words?
Tony: Thanks a ton for your interest in our band. Looking forward to getting over there. See you soon!