Features
Mickey Rickshaw: the Boston Celtic punk band for people who are sick of the Dropkick Murphys
on
Saturday, February 23, 2019 - 22:14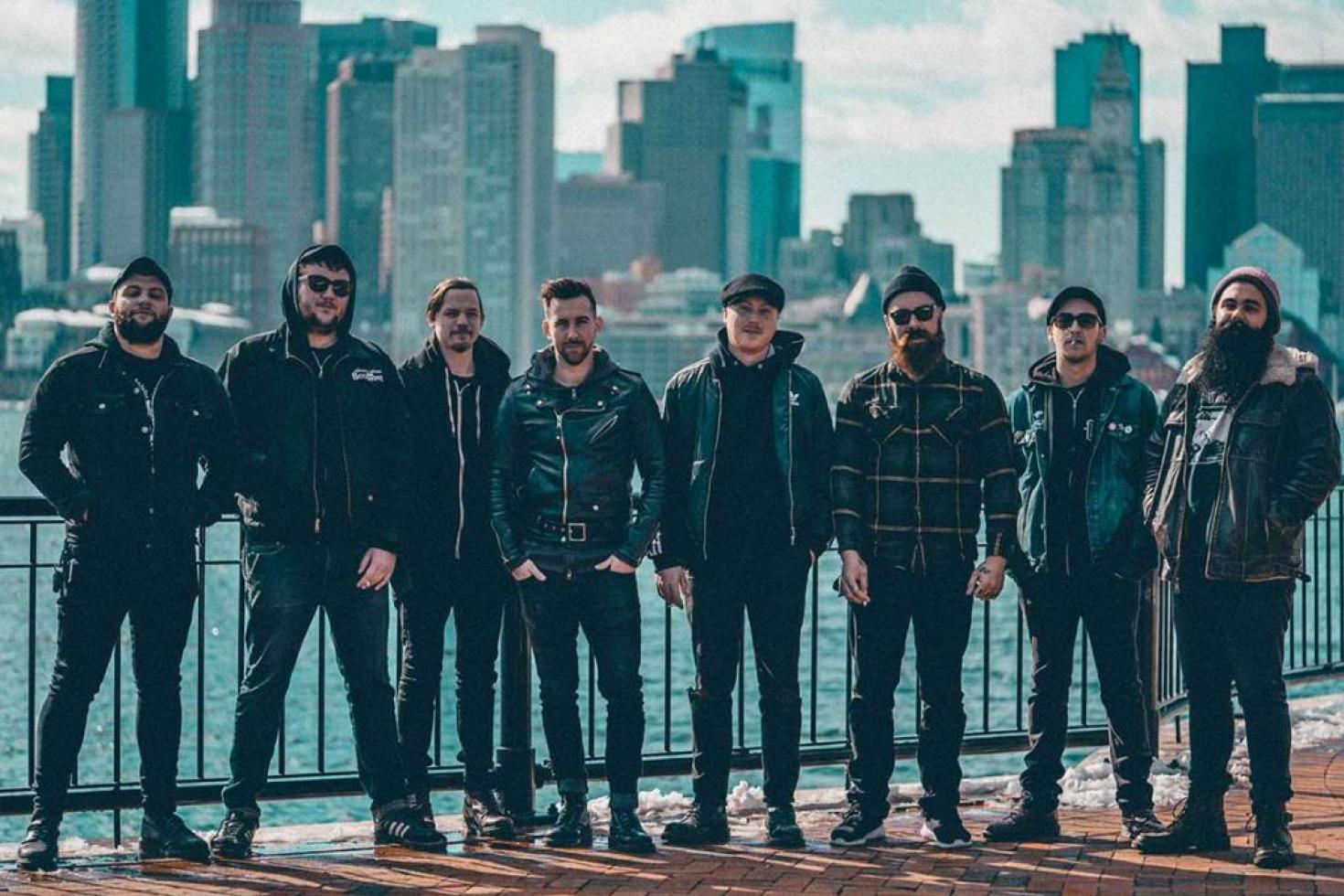 - by Mark Hassenfratz
Every St. Patrick's Day the scene is the same. People decked in green regalia swarm the streets. Green beers are poured, drunk, and inevitably vomited. Somebody requests 'Shipping Up To Boston' on the bar's jukebox, and everyone is Irish for the day. It's Christmas for a Celtic punk fan, and if you've stumbled into a smaller bar in Boston on St. Paddy's day, you may have seen Mickey Rickshaw. They may look and sound like a Celtic punk band, but at their core, they're hardcore kids with folk instruments--more interested in exploring the folk aspects of the Celtic sound and integrating that sound into other aspects of punk, ska, and hardcore.
"The Celtic thing can be super gimmicky," said frontman Mike Rivkees. "We don't sing about St. Patrick's Day, Guinness, or Boston sports." That's what's so refreshing about Mickey Rickshaw's music--it's colored by Celtic elements, not limited by them. That's not to say these aren't fun songs paired well with a jig and a drink--they are, but they're more than that. Their music paints a harsh picture of working class life in modern-day Boston--look no further than the first track of 'Behind the Eight Ball', 'Rats in Allston.'
When the sun goes down on the west in the cold, cold world that we're lost in/You'll be sleeping in the gutter face down with the rats in Allston.
At a live show, this lyric comes screaming at the crowd backed by a wave of roaring guitars that's all threaded together with folk instrumentation. The honesty and intensity of Rivkees' lyrics and the band's seamless composition draws in people who otherwise wouldn't be Celtic punk fans. "People go, 'Yeah, I don't normally listen to like, the Dropkick [Murphys] but you guys are cool!'" noted Rivkees. "How many people are like, 'Ska? I'm never going to go to a ska show. But I love Streetlight Manifesto.' We're trying to be that band for Celtic punk." They've earned a following on their European headlining tours as well as many festival spots, most notably the Flogging Molly Salty Dog Cruise. Rivkees vlogged the whole experience and included commentary from the band in a series called Mickey Rickshow.
Vlogs seem to be an obvious, though underused medium for bands to connect with fans given the prevalence of social media. Fans are in on the band's inside jokes, the king of which is Slim Jims. In a "practical joke that has gone way too far," Rivkees told bagpiper/tin whistler Shane Welch the band was getting sponsored by Slim Jim--Welch immediately got a Slim Jim tattoo. Now wherever the band plays, they can bet fans will have Slim Jims at the ready to pelt them with during their performance.
They hit the ground running this year with the release of their third album 'Home in Song'. Three full-length albums in four years is no easy feat, but Rivkees attributes their success to an aggressive communication strategy. "We just pretty much yell at each other all the time, but it keeps everything super honest and open, and we also stick to weekly practice on Thursdays no matter what." In keeping with their strong DIY ethos, the album is self-released like the previous two.The songs were written by the whole band collaboratively, which really shows--the songs here are more personal and heartfelt without losing their raw energy or experimentation with the Celtic sound. It's a celebration of life--all of it, even the parts you'd rather forget. The track 'Drag' in particular fights to hold onto every breath and live life at costs by remembering a friend's passing. I saw how you lived and I saw how you died, fighting till the end with a thirst for life/You made so much of your time on this earth, I take that with me for what it's worth.
Pete Steinkopf of the Bouncing Souls was instrumental in developing the sound of the album, and working with him was a dream come true for the band. (Guitarist Jimmy Donovan also noted that the band forced Rivkees to show Steinkopf his Bouncing Souls tattoo which was, as Rivkees put it, "wicked embarrassing.") The title track showcases Steinkopf's guiding hand in the catchiest riff they've ever written. Like all Mickey Rickshaw riffs, it sounds like it would be at home were it played as a screaming electric guitar solo, but it gains more texture and stays grounded when played through the combination of bouzouki, fiddle, and tin whistle. 'Home In Song' captures the joy of being a young punk finding that venue where other kids felt the same way you did. It's about reconnecting with your roots, which Rivkees did by filming the music video in the American Legion Hall where he grew up playing his first shows.
'Dacia' on the other hand, deals with those same venues being shut down. It captures that sadness and frustration with a boppy ska rhythm and funky bass line that leads oddly well into the more wistful fiddle tune during the chorus. Wanderlust has been a theme of the band's work since their inception with tracks like 'Australian Sun' and the cover of 'Destitution Road,' and we certainly hear more of that here on 'Vagrant'. Rivkees joyfully shouts about packing his bags and leaving for the road, but it also deals with the consequences of those left behind in a life on the road as the narrator consoles his lover as he leaves.
As for the future, the band is just getting started. Rivkees remains ever optimistic about where the band is headed. "We turned down every label opportunity we had to put this out ourselves. At this state in the band, we just wanted to own it. We wanted just to see where we could drive it on our own...there's a bunch of new opportunities that we don't even know exist yet."