Features
The Menzingers' Tom May on 'From Exile': "We needed to do *something*"
on
Thursday, October 22, 2020 - 11:13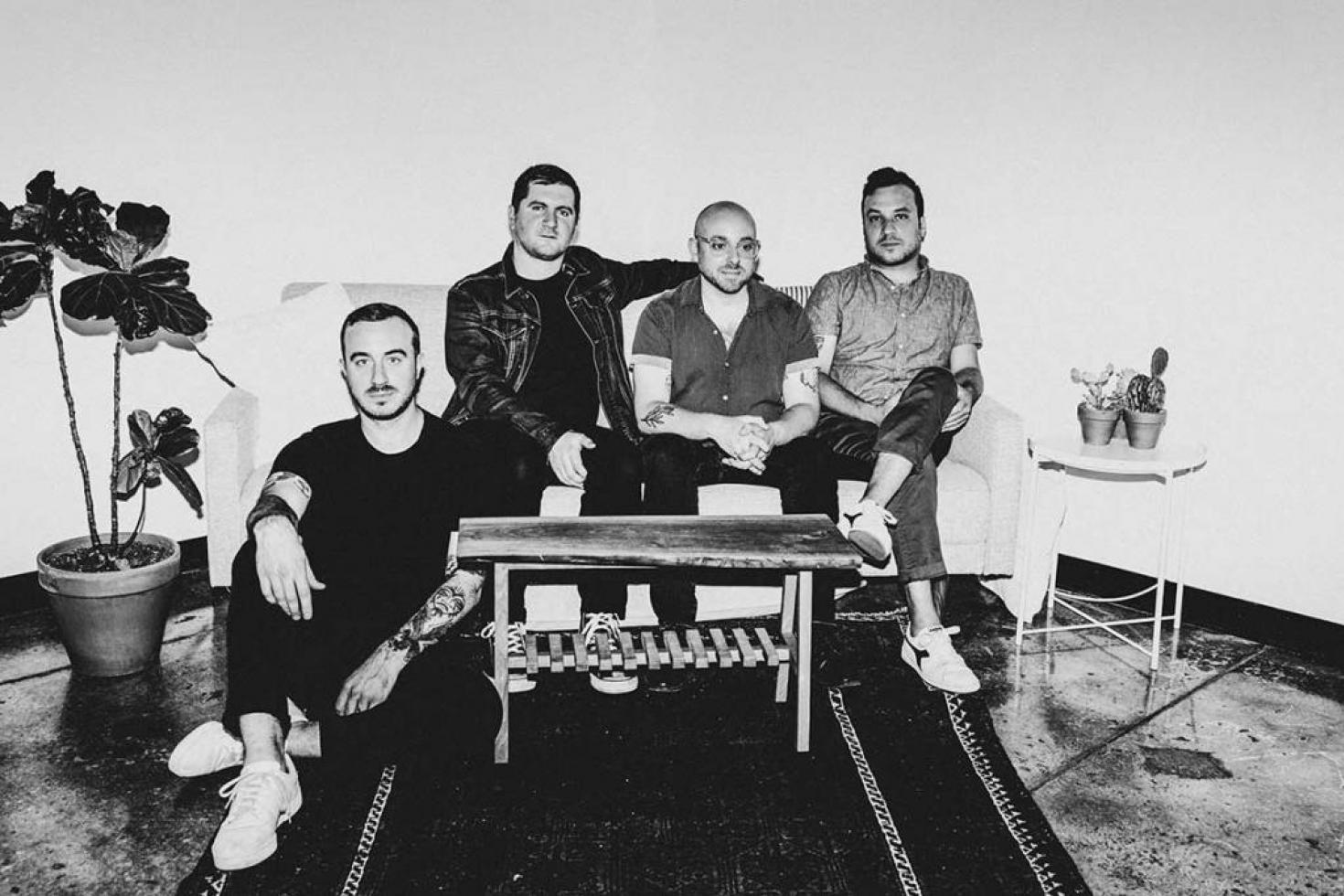 Just like everyone else, The Menzingers saw their plans for 2020 cut short. The band was on tour in Australia when the world seemed to abruptly stop due to COVID-19, forcing them to cut their tour short and make their way back to Philadelphia. Determined to make the most of it, it didn't take them long to get started on something. That something turned into 'From Exile'. Read on to see what vocalist/guitarist Tom May had to tell us out about the beautiful reimagined and stripped down version of their 2019 album 'Hello Exile,' out now on Epitaph.  
PRT: You were only just starting out on your Australian tour when the pandemic hit and you had to return home. That must have been pretty surreal?
Tom: Absolutely surreal. It doesn't seem so out of the ordinary right now, but there was a moment in the men's room at LAX where a man was washing his gloved hands, with two masks on, and a cowboy hat. They basically waived us through customs. Everything was next-level strange. You could smell the anxiety on people. It was very bizarre.
PRT: And then you find yourself back home with the whole world grinding down to a halt and nothing in the books for the immediate future. What was that like for you guys?
Tom: Well, when we immediately got home, we couldn't leave the house at all for 14 days. We had just been to three international airports full of frantic people from all over the world. Allergies and jet lag kicked in and everyone was partially convinced we had it or some form of it. I had my fiancée stock up on some dry goods, and we just followed the news for two weeks. We then knew it was time to start planning.
PRT: When did you first come up with the idea to record a re-imagined version of 'From Exile'?
Tom: Not long after we were done fully isolating we realized we needed to do *something*. Our manager Tim got us all on a phone call together and we came up with ideas. Acoustic social media shows were a no-go. No meetups. No merch bombs. We talked about rescheduling tours and actually rescheduled one for June, then rescheduled it to September. Then we came up with the idea to rework the songs and do a limited online only release, which turned into a full LP.
PRT: Was everyone on board right away or was there some hesitation?
Tom: Everyone was on board from the start. However we did not have a succinct vision for how we were gonna knock this fucker out. We weren't sure of the actually logistics and mechanics of the recording process. There were a lot of options. We could work as hard as we could to make every take painstakingly perfect. We could wing it. What we did was better than all of those. We picked up microphones. We downloaded SLACK. What came out was a collective learning process and a whole new kind of collaboration between us. It was fucking work while we could have sat on our hands and I'm so god damn proud of it.
PRT: When I first heard about 'From Exile', I was like 'oh great, another acoustic album'. But this is not just you guys playing 'Hello Exile' acoustically. You really went all out with the songs. How much of a challenge was it to re-imagine your own songs?
Tom: Ha! I could see why you would say that. We thought "no way we can just crank out another acoustic album, it'll be so boring." It was a big challenge. We didn't have the exact know-how to accomplish certain things. The tools at hand directly shaped the imagination and recording process. The challenge really expanded the possibilities of what we were working with. It was a lot more fun to record drums and things then take the actual performance and plug in different sounds. Sitting and playing with synthesizers for hours was a blast.
PRT: Is there one song you struggled more with than others?
Tom: America pt. II was the biggest challenge. We recorded the first version early on. It sounded nothing like the finished song. We were still in the learning phase of the whole thing and we basically recreated the H.E. version  with acoustic instruments. It was boring. We worked so hard on it though that we didn't want to ditch it. As we got towards the end of the record, and the world around us seemed on fire, we reworked it again and fell in love with it.
PRT: And is there one song that stands out for you personally? One where you feel like the re-imagined version surpasses the original?
Tom: Last to Know was a song that was really close to me on Hello Exile. I felt it was ambitious for us rhythmically and dynamically on Hello Exile. When we started banging out the From Exile version it was uncharted territory with electronic drums and layered synthesizers, a new bass line. It was wild. Then when Kayleigh brought in her violin it was like FUUUUUUUCK
PRT: How much convincing did it take for the rest of the band to let Greg play the harmonica on 'High School Friend'?
Tom: haha it did not take much convincing at all since it sounded so good. The guitar line I play on Hello Exile was actually based on the original harmonica part that Greg played at practice. So the harmonica on From Exile was kind of a come to daddy kind of moment.
PRT: You recorded everything from your respective homes, which has to make for a completely different vibe from when you record together in the studio. What was that like?
Tom: It was incredibly powerful. Hats off to our wives and fiances and girlfriends for supporting us and putting up with the same looped chord progressions for hours. A lot of late nights. Way too much liquor. Some tears. Lot of laughs. It was an extremely fulfilling and informative experience. We are really proud of it.
With that said, being stuck home is fucking dumb and it sucks. It's not nearly as good as working together. Music is language. Talking to other people manifests our real being.
PRT: We are six months into this pandemic now and the end is still not in sight. How do you cope with that as a musician? Just keep on rescheduling everything and hope for the best?
Tom: I think the end is in sight. I'm no epidemiologist, I'm a musician. But whether we can play shows in 4 months,  6 months, a year, or a year and a half it's going to end. There's been pathogens ripping through humans since before music and there will be more after this one.
For now we have nothing scheduled. We're going to keep working on our personal lives, our music, and coming up with ways to make some money while we can't tour, and while our government continues to fuck us. We're just doing the best we can checking on ourselves and our loved ones.
PRT: What do you think the music industry will look like next year?
Tom: I think there will be a semblance of normalcy at some point. People will be ecstatic to get back out. I think it will become more regional than it was before. Maybe we will be able to play Germany before we can play California. Maybe we can only play the north east or the south at first, who knows. I predict, at least in america, there will be an underlying anxiety regarding personal contact. Thats no good for our style of music. But with that caution we will learn just how fragile we are. Sick people won't go to shows anymore, thats for sure haha.
PRT: And to end on a more positive note... Is there something you learned about yourself during the lockdown?
Tom: Oh yeah, for sure. I developed an entire new outlook on my personal worth, and the obstacles to my growth that were just from my mind. It sounds generic, but I have learned more music and creative technical skills than ever. I've had more difficult conversations with friends and family than ever. I just don't care about shit that I used to care about, and I care much more about the things and people that really sit close to my heart.