Features
Evening Shadows (Strike Anywhere, Valient Thorr, ASG,...) share new single 'Karma Snake'
on
Wednesday, May 5, 2021 - 09:04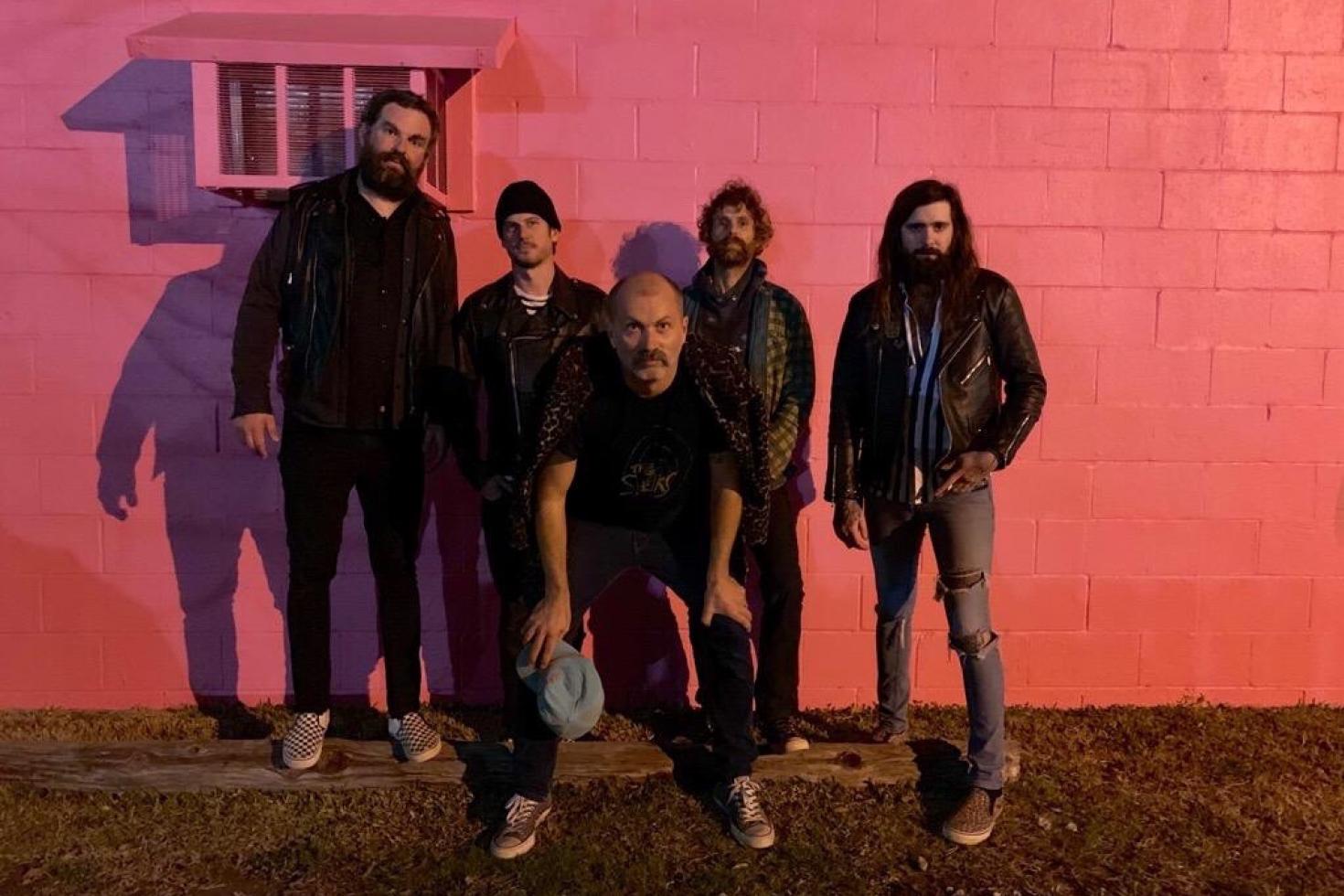 We are psyched to premiere 'Karma Snake,' the latest single by Wilmington, NC's Evening Shadows. Granted, after living through a pandemic for the past year, it doesn't take much to get excited. Evening Shadows though? Next level.
These days, the term 'supergroup' gets tossed around so often that it has lost some of its impact. But f- it... for all intents and purposes, Evening Shadows is a supergroup featuring Valient Thorr's Tyler Wolf on bass, Strike Anywhere's Matt Smith and Toke's Jason "Bronco" Pierce on guitar and vocals, ASG's Scott Key on drums, and White Tiger & the Bed of Roses's Matt Hearn on vocals.
Check your expectations at the door though. There is no crazy shredding here nor are there any whiplash-inducing solos or breakdowns involved. What you do get on the band's self-titled debut album are highly melodic and slightly snotty pop-punk tunes of the Ramones-like variety that are guaranteed to go down as some of 2021's finest. The LP will be out later this month on Eccentric Pop Records (pre-order HERE), but you can already check out new single 'Karma Snake' along with a short interview with Matt Hearn.
PRT: First of all, congrats on the album... it is everything I hoped it would be ever since hearing the 'Psycho Chaperone' single you released last year! Speaking of which, what has it been like sitting on these songs for almost a year? Has it been hard to stay motivated throughout the pandemic?
Matt: Ya know, while it was a bummer sitting on the songs, the real bummer was missing out on playing FEST. Fucking Samiam was doing the 20 year anniversary of 'Astray'. We just started practicing again in the last month or so. We have our finger on a couple new jams so we weren't completely dormant.
PRT: All of you have been or still are active in other bands that sound pretty different from Evening Shadows. When and how did Evening Shadows come to life?
Matt: Matt Smith and I live down the street from one another and I started putting words to some of the shit he'd been coming up with. All the dudes in the band are previous buds so it all just kind of fell together.
PRT: What came first... the sound? Or the five of you wanting to be in a band together?
Matt: The sound came first. We wanted to do simple and straight forward. Smith is great at writing and playing punk stuff, but the rest of the guys are from complete different backgrounds. There was a little learning curve in the beginning, but all the guys are good at what they do. During the recording process everyone got it tight thankfully .
PRT: Maybe it's kinda hard to say at this point, but do you think being 'that new band featuring members of Valient Thorr, Strike Anywhere, ASG and more' will work for or against you? It will probably get you more eyeballs than another band that is just starting out, but people might already have certain expectations of what the band will sound like.
Matt: It wasn't a publicity stunt or anything. I'm guilty of having drinks and starting bands with everyone and this one actually made it to the practice room. All the guys are complete princes so it's just a fun hang
PRT: We are premiering the new single 'Karma Snake,' which is also the album's opening track. Can you tell me a bit more what it's about and how it came to be?
Matt: I was blown away when I found out that black snakes eat copperhead snakes. That's so interesting. The rest of the song is just snake talk like 'wrap around me blah blah blah'. I don't know.
PRT: If people still need some more convincing after having heard 'Karma Snake' (as if!), how would you pitch the album to them?
Matt: If you like Karma Snake listen through a little. Tempo doesn't change much but the songs move well together. I think it's a good summer party album.
PRT: You have only been able to play a handful of shows before everything ground to a halt. Now that it looks like things are finally moving in the right direction, are there already any plans to take Evening Shadows on the road?
Matt: Yeah we have a few things lined up. We're doing a show at the Palm Room with ASG late May, The Cobra Cabana in RVA with Sports Bar and our album release at my bar Reggies in Wilmington NC July 3rd with Mountain Thrower and Seeking Madras (who are also releasing a new album). Hopefully we can piece together some runs in the fall winter.