Features
Custody & Bear Away on their new split
on
Sunday, January 24, 2021 - 09:40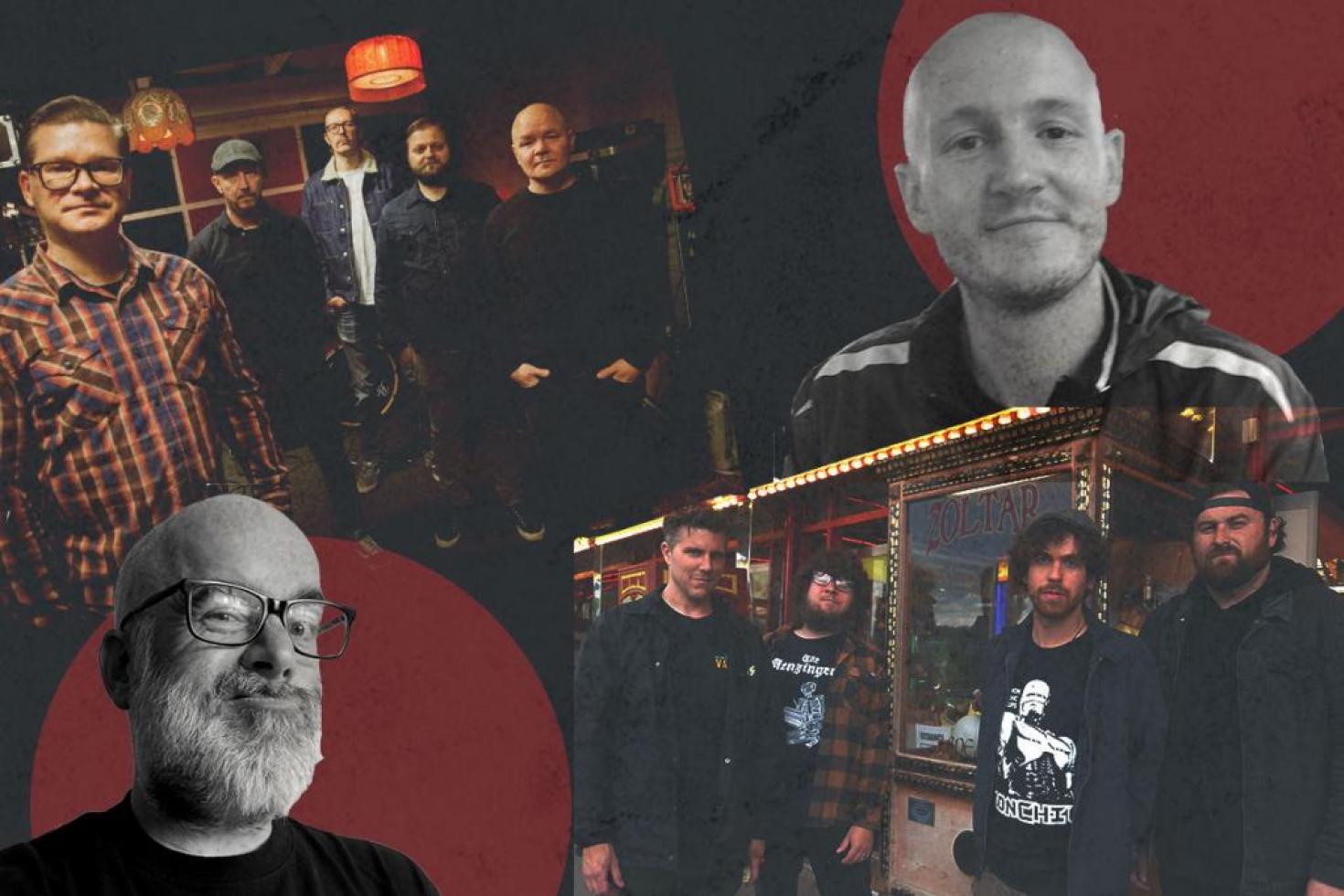 Finally some good news! Finland's 90's emo/punk afficionados Custody and UK melodic punks Bear Away have teamed up for a split 7" that will be out March 15. Pre-save it here or pre-order via Brassneck Records or Disillusioned Records. Instead of asking the questions ourselves like we usually do, we figured we'd get Scott from Brassneck and Wayne from Disillusioned to ask all the hard-hitting questions. Read on to find out more about both bands and the split and stream the whole thing below.
Scott & Wayne: Thanks for releasing a record with us.  Let's start off with you telling us something about yourselves. We know who you are but, if someone's reading this, why should they continue to the end?
Custody: Custody is 5 dad-humans from southern Finland who have been banging on a slowed down version of emotional punk since 2015. Having been in bands for the last 20+ years, Custody is an awesome melting pot of all our various punk and rock endeavours, which has led to a pretty effortless knack at making songs the way we want to make them these days. Think of your favourites from the 90's emo/punk combined with your favourite pop/emo/punk bands from the 10's and that's about where we land
Bear Away: We are a melodic punk band from Scarborough, UK. Bear Away started in 2019, but we all played in various bands together since school. As you can imagine, finding like-minded musicians in a small coastal town is quite a task so we are pretty much stuck with each other!
Scott & Wayne: Custody, you've given us the song "Running In Circles" and Bear Away have provided "Leaving This Behind".  What are these songs about?
Jacob (Bear Away): I wrote it about the future and how shitty last year was becoming and well it's not far off in 2021. It's a really bleak song, because these times aren't the best. Probably stems with my frustration of not be able to play shows, see my band mates, family and friends
Sami (Custody): The song is about a kind of description of the feelings that this past year has brought out.  When  you have to be isolated from others and the days just keep repeating  themselves. There's been a lot of frustration and anxiety in the air.
Scott & Wayne: I know we're biased but each of those songs is great and easily as good as anything you've recorded in the past.  Why did you decide to entrust these songs to Disillusioned and Brassneck? Were the bigger labels busy?
Custody: It was actually Wayne who reached out to us and it just so happened that we had a studio booked with new songs in the bag - so the timing was just perfect! Bigger labels? I always thought Brassneck IS as big as it can get?! Clearly I need to widen my horizons.. No but in reality, I do believe that if those 'bigger labels' you mention would actually want to release something by us, they would have been knocking our doors already. I've never heard of it working the other way around for anyone, have you?
Bear Away: Not busy, just obviously not big fans of good songs! We are fans of both labels and Custody, so we were all very excited when the split got the go ahead!


Scott & Wayne: And we're releasing this as a really limited lathe cut record rather than a "proper" record. Why did you agree to that and not bully us into spending another few hundred quid on you?
Bear Away: We are the puppets of the music industry. You tell us what to do and we'll do it.
Custody: Being somewhat fuzzy about the proper format, lathe is actually something we've never done so why not, let's have it! Also, none of us are expecting to be making the usual record sales in this non touring environment so I reckon this is a perfect fit for the digital times!
Scott & Wayne: And are you all secretly going to keep spare copies and sell them on Discogs in a few years?
Custody: Absolutely!! I'm sure it's only a matter of time before the world realizes what a gem of a band they have in Bear Away – those guys are destined to be huge and all the old stuff will blow up in prices for sure! I'm actually browsing for a new Mercedes from Germany as we speak!
Bear Away: Our 2021 business plan laid bare!
Scott & Wayne: Are these songs a teaser for forthcoming albums? What have you got going on band wise other than this?  Give us something to look forward to...
Custody: We have 2 other 7 inch things planned for 2021, which are just a matter of figuring out the details so something should pop up soon! Both will be released from across the pond and both will be awesome, just you'll see! On top of that we have started to group songs for another album but to make it as good as it needs to be I would imagine another full length will take at least a year or so to come together. We have also been talking about trying to do some shows in mainland Europe this year in unison with Booze Cruise but I'm not holding my breath that Covid will actually let these things happen. If everyone is not fed up with stream shows already, we might do one of those
Bear Away: This song, as well as the last 7" were intended for an album. The start of 2020 we were discussing a tracklist, what should be the album closer etc then the pandemic happened and it made sense to delay it. We've started to record the rest of the songs so we will see if that becomes an EP or the album.
Scott & Wayne: Obviously the absence of live shows has affected us all during lockdown but have you found lockdown has helped or hindered songwriting and band productivity aside from that?
Bear Away: Just before the pandemic we started gaining some momentum and started playing some cool venues, then everything got cancelled! So we all got the gear we needed to be able to record from home and have been sending new song ideas to each other throughout the year. Last years Old Friends/East Coast 7" was a product of this and we've had some nice reviews and picked up some new fans along the way, which is great!
Custody: We've been having weekly practices (every tuesday) now for about 5 years, and not much uplift has happened in that routine BUT not having to practice the 'set' has led to having more time fiddling with new stuff so there's that, slowly but surely more productive times yes! 
Scott & Wayne: Show of hands, how many of you have put on weight since lockdown started?
Ilkka (Custody): I was bouncing up and down in weight for the better part of 2019-2020 but since re-starting my running hobby again proper last April, at 3 times a week – I'm stable now. Definitely not losing any, but not bouncing as much either at least hah!
Bear Away: Don't body shame us!
Scott & Wayne: So, ignoring the obvious negativity in the world, what are you all looking forward to for the rest of 2021, band stuff or otherwise?
Bear Away: Recording new music and hopefully an end in sight of this pandemic so we can start planning to tour. It will be nice to hang out again and to make music in a room together rather than via our laptops! And I imagine more into 2022 now but meeting up somewhere in Europe with the Custody guys for some shows would be lovely stuff
Custody: Think we covered the band stuff up there and other than that it's the same old, hoping to stay healthy and hopefully we get the vaccine shot into enough people so we can start mingling again!