Features
on
Thursday, April 6, 2017 - 15:09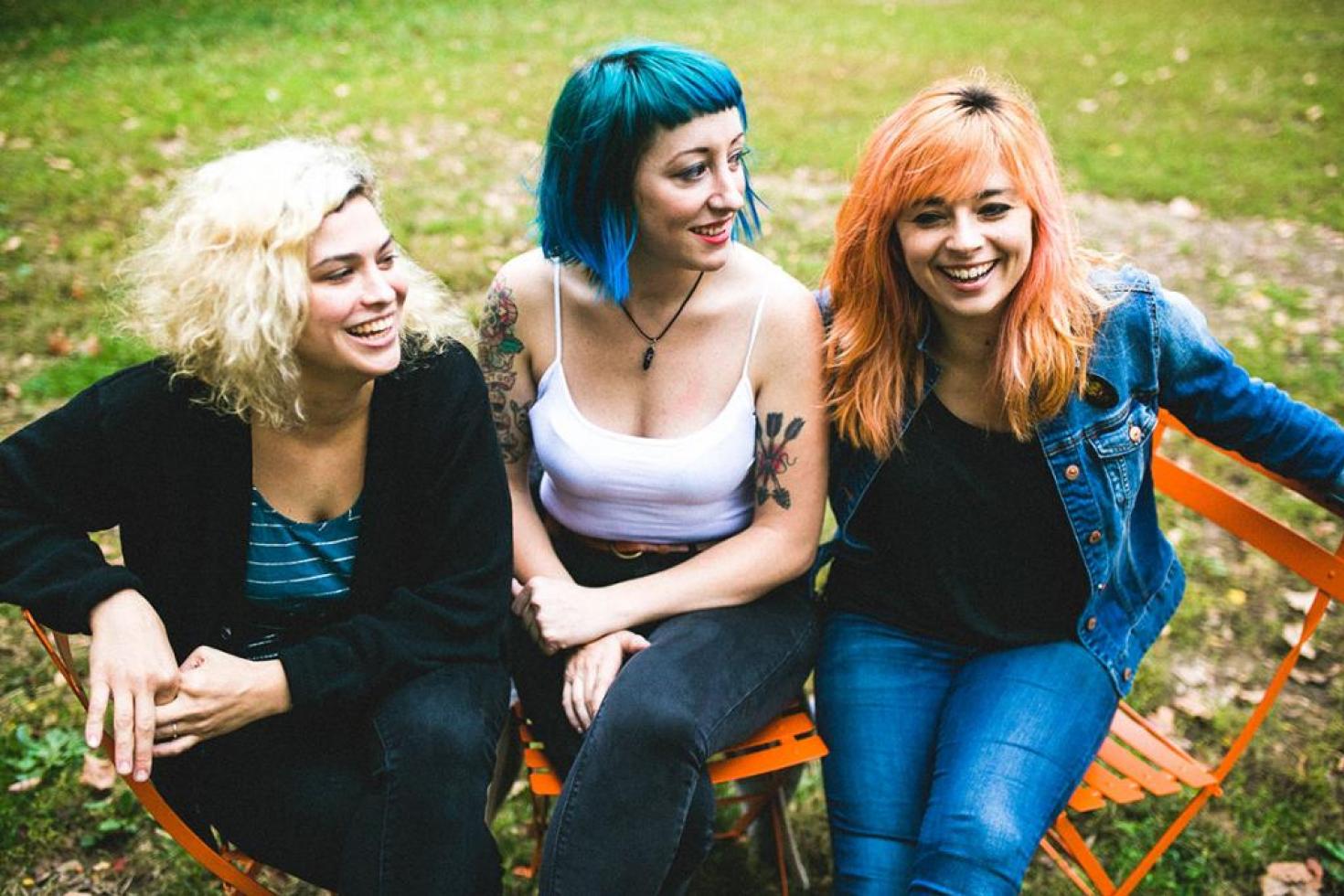 Cayetana won us over as soon as we heard "Hot Dad Calendar" on their first 7". Then there was their debut album "Nervous Like Me", which was even better because... you know, more songs. And because there aren't many bands out there who can discuss mental health issues in songs as catchy as Cayetana's. The Philadelphia-based pop-punk band is now getting ready to roll out their new album, "The New Kind Of Normal". And to make things even more exciting, this will be the first release on their own label, Plum Records!
PRT: On a scale from 1 to 10, how anxious are you to get "New Kind Of Normal" out there?
We're really, really excited to finally share New Kind of Normal with the world!!! So, 10? Haha.
PRT: Looking at the album title, the cover and hearing the songs… is it fair to say you are in a better place now?
I think it's fair to say that we are in a better place as far as looking back on the creation of this record, the creative and decision-making processes, the transitional nature of the year we were having when we wrote and recorded it… We're in a better place in the sense that it was a challenging process filled with setbacks and uncertainty, and we all feel at peace and happy with where we ended up. In regard to much of the subject matter of the record, many of the lyrical themes involve struggling with mental health, loss, grief, forgiveness… which are difficult emotions, but it's meant to be empowering and hopeful. I think we are always continuously striving for that better place – creatively and musically, of course - but also in growing as individuals and in our personal relationships.
PRT: There seems to be an ever-growing number of bands who address mental health issues in their songs, something you have done from the start. Where do you think this change in mentality comes from that all of a sudden it's okay to talk about these things in an open and constructive way rather than something you need to keep to yourself?
Mental health is a topic that is highly stigmatized in both mainstream culture and diy/punk communities. I think the shift in mindset has come about like everything else does: by people starting the hard work of beginning the difficult conversations in their day to day lives, in the work that they do, as well as on a larger scale (bands talking about these issues in their songs and at their shows). Mental health is very important to us, and we want to be part of the conversation that helps to normalize people talking more openly about what they're going through, and reaching out for help when they need it. It's a challenging issue because it's tied to so many realities and contexts beyond the individual. For example, queer and trans people, and people of color, suffer from mental health concerns at disproportionate rates, and generally have more challenges and barriers to accessing healthcare. We can't really begin to fully address the larger picture until we're able to look at how all systems of oppression contribute to and compound marginalization and mental illness. We need to resist and dismantle those systems, as a part of promoting mental wellness in ourselves and in our communities. I would personally like to see the conversation go a step further to address substance abuse (which is also highly stigmatized and closely related to mental illness, and tends to be prevalent among touring musicians) in a more open, forgiving and compassionate way. So there is a lot of work to be done, but it's important that the conversations are happening and that it's becoming easier and more normal to talk about. It's our responsibility as people who care about it to see that it only continues to get better.
PRT: You already had a pretty unique sound before, but this time around it has become even more diverse. Did that happen naturally or do you keep pushing yourself to keep evolving?
A little bit of both? Because we started our band with minimal experience writing music, we've always pushed ourselves, and each other at times, to always strive to be better. I think as we continue to grow we have been able to fully realize the range of sound we actually have, and New Kind of Normal does really represent that range of sound more so than our first record. Through experience writing together, and our experience with the recording process, we had more confidence this time around to push ourselves further in what was possible, and to experiment more in the studio, which was fun.
PRT: You are releasing the new album via your own label, Plum Records. What made you want to take matters into your own hands?
We ultimately decided to start Plum Records because we realized that we function the best when we have more freedom and flexibility to make decisions (creatively, and otherwise) on our own terms.
The music industry is changing rapidly, with technology and the internet, and the spirit of innovation that both bring. There are so many things we used to think you absolutely had to do, rules you had to follow, if you wanted to be successful (and, success can mean so many things). What we've come to realize is that the best possible thing you can do is stay true to yourself and your own mission, and to your own community, and to push limits, and to never stop. That's really it. I'm really into the graphic design legend Paula Scher right now, she's a badass. She said "Creativity isn't about the advantage or disadvantage of a specific time or culture. Creativity is something that comes internally from a human being having a genuine mistrust of rules. And that may be the constant. It's almost like there's some rebellion in it." At the end of the day, making and sharing art should make you feel free. If it doesn't make you feel good, or free, something needs to change. I think that's what we were going for.
PRT: Is it the idea to start releasing other bands' material as well through the label?
That's our hope! We wanted to get our feet wet with our own record but our goal is to start thinking of some fun projects to do with Plum Records and to hopefully release other artists and bands in the future.
PRT: Does it take getting used to that you are in control of both the business part and the creative part?
Sure, it does. We have always been heavily involved in navigating our band so although this is more work for sure, it doesn't feel entirely different. The nice thing too is that we all have super different strengths and interests when it comes to the business side of the band, so the work gets divided pretty evenly. And since there's just three of us it's easy to discuss everything and make decisions together, which we always do. But, we're working hard at learning what it takes to release music and run a label and there's definitely a learning curve there. But it's fun to keep learning, and to be more involved in each step, and it's gratifying and has a different sense of security to be able to do it ourselves.
PRT: Would you at some point want to record and produce everything yourself as well?
We have a wonderful engineer and producer, Matt Schimelfenig, who we've worked with since we started recording. He has recorded everything we've ever done, including our demos which were the first music we put up on Bandcamp. We all work really well together, we have a special relationship with him. I actually can't imagine our recording process without him… he's an integral part of it. He is Augusta's partner, and they've actually built a recording studio together at her childhood home in the Poconos, and I know Augusta has been learning how to record as well. I'm really interested in the overall composition of songs and would love to dabble in producing something someday. It's cool because working with Matt is a great partnership, and we have the freedom to learn as we go and partake in the process differently than maybe if it were someone else. So I guess that's the long way of saying… maybe? Haha.
PRT: In the past you have toured with everyone from Against Me, The Menzingers, Waxahatchee and The Bouncing Souls. Do you ever notice a difference in attitude in the audience?
Sure. There have definitely been audiences where we're more well-received than others, ranging from a large overlap in fans to literally what feels like none. We just got home a little over a month ago from a 7-week US tour with Lemuria for their 10 year anniversary of Get Better (which was super fun and awesome and wonderful and they're the best) and it was great in that it felt like there was a huge overlap in the audience. The shows were great. But we've been pretty lucky - even at shows that feel like we're struggling to relate to an audience, there's usually at least a few nice people that come up afterward and tell us they enjoyed it. And that always means a lot to us.
PRT: If there is one band or artist you could work with, tour with, have them make artwork for you,… who would you pick and why?
We've been fortunate to tour with so many of our favorite bands. It would be really cool to tour with Sleater-Kinney, or Courtney Barnett, both of whom are important, impactful bands that we have endless respect for.
PRT: What's up next for Cayetana once the album is out?
We definitely plan to tour on the new record a bunch. We're planning some fun stuff for the summer, and already thinking about the rest of our year. We'd love to start some Plum Records projects this year… and beyond that we're just excited to stay busy and take things as they come!