Features
Bandaid Brigade list their top 10 influences
on
Wednesday, October 5, 2022 - 21:13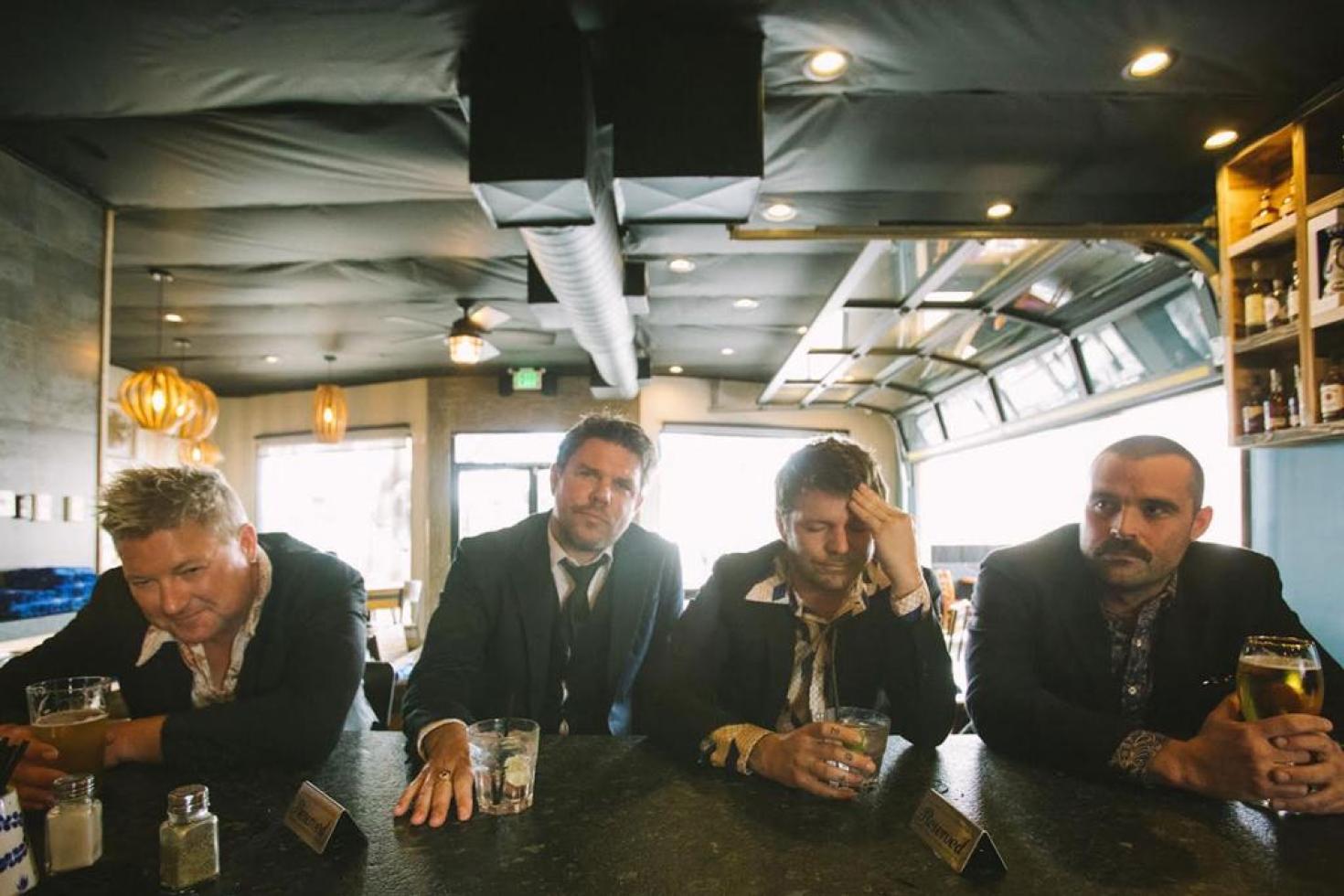 The Yacht Punks of Bandaid Brigade have recently released 'Sex Is Terrifying,' out now on Xtra Mile Recordings. Formed on one of Joey Cape's (Lagwagon) One Week Records tours, the project started by musicians and collaborators Zach Quinn (PEARS) and Brian Wahlstrom (Scorpios, Gods of Mount Olympus) has since evolved into a unique unit producing music with powerful choruses and soaring melodies, all injected with Eighties synths, plaintive punk guitars and self-deprecating but poignantly poetic lyrics. Serving as an outlet for all the music that both Quinn and Wahlstrom personally enjoy, Bandaid Brigade is a refreshing project for both musicians to experiment without the constraints of their affiliations. What it is exactly that they enjoy and are influenced by? Glad you ask. We caught up with Zach and Brian, who were kind enough to list their top 10 influences.
Cypress Hall
Zach: I remember being 12 years old and going to Cypress Hall for the first time. It was something I'd never seen before. It was the first place where I experienced punk live; it went from being abstract to totally tangible. The bands were pretty terrible, but more importantly it felt like a place where everybody had duped their parents into thinking that it was a safe place to be dropped off. In reality it was anything but. Shows were always $5 and it was in a warehouse upstairs from a Fish Market, so it always smelled like rotten seafood. They tore the place down, and it's a police station now. How's that for over-corrections? 
SOMA 
Brian: When I first walked into SOMA, the iconic punk venue in San Diego throughout the 90's, I was equally curious and intimidated. In ninth grade, I was on the smaller side compared to most and had only recently gotten into punk music. My friends were going to see this band called Lagwagon and I didn't want to miss out. From that day on everything changed. Every weekend it seemed a new Fat Wreck or Epitaph band was coming through SOMA, with new San Diego bands popping up and getting to open shows. Pre-internet this was the easiest way to find new music. The owner Len would announce every act with authority and set a tone of: "Oh shit…this is going to be gnarly". Looking back on that first show with irony, the band opening for Lagwagon that night was Armchair Martian; 25 years later I play in a band with the first punk drummer I ever saw play live, Paul Rucker. 
$3 Comps
Zach: Long before streaming services, even before dial up internet as a luxury, this was how I found new bands. Every once in a while my Mom would give me $5, and I would go to my local record store "the Barnes and Noble" and buy the most interesting looking $3 comp. Sometimes I'd recognize a couple bands on one, but most of the time you'd spend $3 and discover 18 more bands. A few notable comps: Survival of The Fattest and Punk-O-Rama IV.
Billy Joel
Brian: My first album and live concert. Billy Joel was not marketed as a punk, but for me he defines punk in his life story, music, lyrics and attitude. My mom took me to see him at Jack Murphy stadium when I was 10 years old. He ended the show as he often does with  "Don't take shit from nobody!" Beautifully composed songs juxtaposed against sometimes uncomfortable and meaningful subject matter; songs dealing with poverty, war, mental illness, addiction, infidelity, and of course some rich girl from uptown. 
The Police
Zach: 'Outlandos D'amour' was a revelation to me soon after Ramones and Sex Pistols had functioned as gateways to early punk. Unsurprisingly, Sting's musicality was far more impressive than the likes of Johnny Rotten. It was mean, but still tight. Before I heard that album, I might have thought 'Synchronicity' was whack. I was 13 years old and still trying to figure out what I thought was cool. And that album was cool. 
Joey Cape
Brian: It wasn't long after the aforementioned Lagwagon show, I had every lyric of every album memorized. 'Hoss' was the soundtrack to my life in 10th grade. Obviously, the band itself was and continues to be influential, and to have met and collaborated with Joey Cape is something else entirely. Joey is an encyclopedia of music, media and literature. Throughout many years of tours and recording projects, he's introduced me to a lifetime's worth of important albums, bands, people and philosophies that have undoubtedly affected my life as a musician. I'm lucky to call him a friend. Unfortunately, he thinks Bandaid Brigade sucks. 
Not Having a Cell Phone
Zach: I remember disappearing for days during the summer, unreachable and free. My friends and I would survive on each other's family's snack cabinets and have many adventures. Maybe one day we'd find an unlocked ladder at the back of a K-Mart or sit on the newspaper stand and ask adults to buy us cigarettes. Knowing all of our numbers by heart, and where every pay phone was located in the city. We were really kings when we had enough D batteries to power a Boombox so we could listen to a CD-R with "Punk Mix" scribbled in sharpie across the top. We spent a lot of time in a drainage ditch at the edge of a park.
Propagandhi, specifically Today's Empires
Brian: It was that CD for me, the one where you remember the first playthrough for the rest of your life, and it staying in the CD player for 3 months. I recall buying TETA on a Tuesday at the Poway Music Trader, and being completely floored by what I heard. There's something about the music, both melodically and lyrically. It felt like Chris Hannah was speaking to me directly, like an older brother would, saying "it's okay to think different, it's okay to be different, you should challenge ideas, challenge authority, and do it in a clever, conscientious way."
Sex Pistols
Zach: Everything about the Sex Pistols blew my mind. The music, their attitude, the lore, the fashion,... At the time it was something like I'd never heard nor seen. It's funny to think in a world now, where Disney+ made a Sex Pistols biopic series (fantastic btw), that there was something about their music and aesthetic that felt truly dangerous and confrontational.
KJ Jansen 
Brian: I first heard of Chixdiggit from a friend my senior year. I fell in love with the band on both a musical and - of course - a comedic level. Around 2014 on a Scorpios tour, I met KJ Jansen for the first time. We were playing at the Ship and Anchor in Calgary, and I see him standing in the back of the venue with a bright laser blue button-up shirt. We ended up sitting at a booth for hours talking about life, our jobs and everything besides music. At the time I was struggling with my place in all of this. Essentially I've picked up many things from KJ that have helped me sustain a life as a musician - don't take yourself too seriously, have a job, be nice to people, make them laugh, and don't be afraid to speak your mind.