Upcoming Releases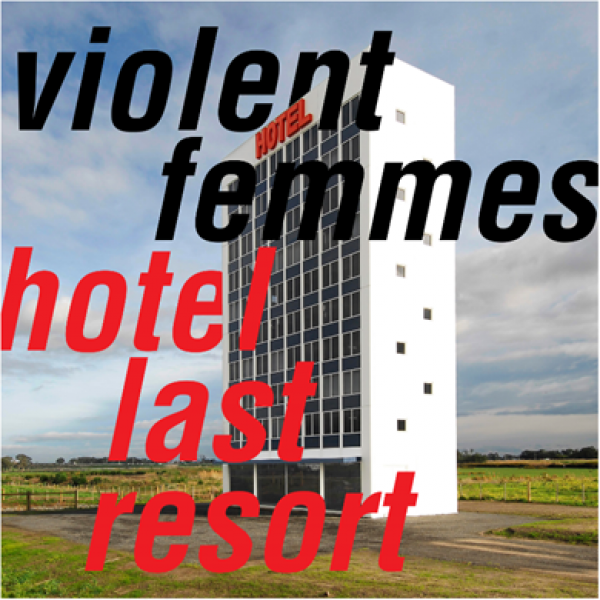 on
Wednesday, May 1, 2019 - 11:20
Violent Femmes announced details of their much-anticipated new LP, HOTEL LAST RESORT. Released through [PIAS] on July 26th, the album's plaintive and powerful title track is the first to be unveiled and features Television's legendary guitarist Tom Verlaine.
Bassist Brian Ritchie – who first met Verlaine as a young rock journalist during Television's final tour in 1978 – reached out to the guitarist and received an affirmative response literally within minutes. "We didn't really give him much instruction," Ritchie says, "but he did exactly what we hoped he'd do. He clearly has an affinity for the song. He must've really clued in on the lyrics and he really interpreted them with a guitar."
"One of the greatest thrills of a long recording career is getting Tom Verlaine to play on one of our songs," singer/guitarist Gordon Gano says. "It's just amazing to hear that sound."
The groundbreaking band's tenth studio album, HOTEL LAST RESORT resides among Violent Femmes' finest work, simultaneously refining / redefining their one-of-a-kind take on American music, mingling front porch folk, post-punk, spiritual jazz, country blues, avant-garde improvisation, and golden age rock 'n' roll. Founded and fronted by Gano and Ritchie, the group remains as warm, wise and weird as ever before, with new favorites such as Another Chorus and Everlasting You continuing to mine the vast range of ideas, melodic complexity, and organic sonic craftsmanship that has characterized the band's body of work since their landmark 1983 debut.
Ever eager to push their musical boundaries, Violent Femmes have expanded their ranks over the past decade-and-a-half, bringing percussionist John Sparrow and multi-instrumentalist Blaise Garza into the fold. Both longtime members of The Horns of Dilemma – the ever-evolving cabal of multi-instrumentalist backing musicians that have toured with the band over the past fifteen years. Sparrow's novel use of a Weber Grill as a rhythm instrument along with the extreme tones of Garza's central instrument, the massive contrabass saxophone, bring a stunning depth to the Femmes' famous sound, imbuing songs like Paris To Sleep and Adam Was A Man with a striking richness and imaginative edge.
Besides Verlaine, the album includes an appearance by pro skateboarder Stefan Janoski – a lifelong Femmes fan who lends vocals to a rambunctious new rendition of the band's classic I'm Nothing, originally on their 1994 album New Times. Meanwhile,  Janoski is also collaborating with the band as part of their newly formed partnership with Nike to create the Zoom Janoski RM 'Violent Femmes' – a one-of-a-kind exclusive shoe designed by the legendary skateboarder. The inspiration for the shoe's design comes from the song "I'm Nothing," one of Janoski's favorite Violent Femmes songs, as he has always been inspired by the power of the lyrics.
The words "I'm Nothing" in Janoski's handwriting will be screen printed on the tongue of the shoe, while his artwork will be included on the custom sockliner. Chain stitched on the left shoe will be the word "VIOLENT" and on the right shoe, the word "FEMMES," with a vulc tape mirror applique in Tour Yellow.
Along with Gano's ever-original songbook, HOTEL LAST RESORT features a pair of truly stunning interpretations, including I'm Not Gonna Cry, originally performed by Greek rock superstars Pyx Lax and now adapted and translated from the original Greek by Gano himself. The album concludes with the Femmes'  stripped down new arrangement of Irving Berlin's God Bless America, replete with a fresh interpretation of the melody by Gano, whilst also including improvised free jazz coda that serves as an ideal encapsulation of both the  original's American spirit and Violent Femmes' own remarkable contribution to the country's musical canon.
"I think it's probably the best one we've made since HALLOWED GROUND," Ritchie says. "Which is a long time. It's just a very focused album, the songs all hold together. It's a classic album, in the sense that people should actually sit down and listen to the whole thing. It's not too long. It's short, it's punchy, it's solid, it's to the point, goes a few different directions but it always comes back to the core approach and then it's over. Hopefully you'll think 'I want to hear that again."
HOTEL LAST RESORT was recorded at Mighty Fine Productions in Denver, Colorado with Grammy Award-winning duo, producer Ted Hutt (The Gaslight Anthem, Old Crow Medicine Show) and engineer Ryan Mall whilst the album's striking cover art features the remarkable 'Hotel' a large-scale model situated on the Eastlink motorway outside of Melbourne, created by Canadian-born, Australia-based sculptor/installation artist Callum Morton.