Upcoming Releases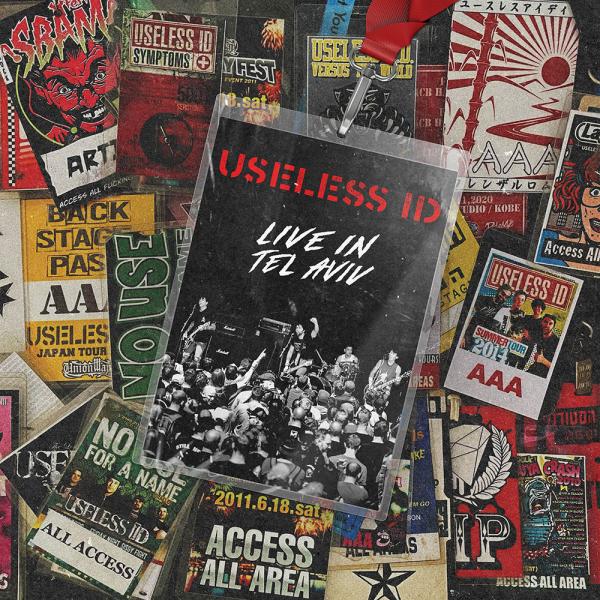 on
Monday, March 13, 2023 - 17:46
If live performance remains as the great leveler in the world of rock and roll, then USELESS ID floats above the rest with their forthcoming set, Live in Tel Aviv (release date: April 21, 2023 via Double Helix Records). You can pre-order the double album here.
"Live In Tel Aviv is a recording from our 25th anniversary tour in our hometown of Israel, where we normally celebrate the milestones of the band with a special show," explains vocalist/bassist and central songwriter Yotam Ben Horin. "Though we had no idea it would be at the time, it was our last show in Israel before lockdown. We were at the top of our game, so I really felt we caught some lightning in a bottle with the recording."
He's not just blowing smoke. Boasting 'no edits,' the set serves as all the documentation anyone could ever possibly need of the quartet's melodic-but-sinewy punk chops. Live in Tel Aviv captures the raw energy of the band's stage show, spread over a staggering 28 songs and shot through with an addictive dose of musical rocket fuel. From the urgent opening notes of "Land Of Idiocracy" to the poignant politicism of album closer, "State Of Fear," the torrential onslaught refuses to let up.
"The band always works towards a tight live show," adds guitarist Ishay Berger, commenting on the raging fire that Live in Tel Aviv so effectively documents. "We take the studio experience and try to recreate the passion and energy of the albums when we hit the stage, and on that night we were kind of at our best."
"I first met [the folks from] Double Helix when we were talking about my solo album Young Forever, which was released in May of 2022," Yotam says, reflecting on merging forces with the Arizona based label. "I kept thinking back to this live show—which I had a rough mix of—thinking that one day it should be released. I'd had such a wonderful experience working with them that I asked if by any chance they would be into releasing a Useless ID live album, and I sent them all 28 songs. They quickly replied, 'We'll make it a double LP!' What could be better than a Double LP on Double Helix? So we have 28 songs for our 28th year as a band," he adds, laughing about the double dose of duplicates.
"We play the songs a bit faster here and there, and some of them have morphed into different versions over the years, which can be felt in the live recordings," Yotam continues. "Most of all, Jason Livermore, (Descendents, Propaghandi, NOFX, Hot Water Music) mixed the recording in a way that makes you really feel you're at a Useless ID show when listening."
Songs may change over time, but the band's core remains committed to the quintessential punk ideal: radical freedom of expression. From dealing with getting dumped to avoiding interpersonal catastrophes to socio-political calls to arms, Useless ID showcases all of their various inspirations on their first official live album. It's a reminder of the breadth of quality material they've released (spanning eight full-length albums, myriad EPs, splits, singles, and compilations) and that they've never shied away from speaking their collective minds.
"'Stopwatch' to me feels more relevant than ever these days since it's about how Israel is becoming more and more of a right-wing state as time goes by," Yotam points out. "The fanatic religious members of the population have this master plan to take over and force their beliefs on others. If, through our music, we can play any part in helping someone follow their own path and not fall into certain norms and patterns that they were born into, then we've done plenty."
When Useless ID took the stage at Tel Aviv's The Barby in August of 2019, they were already poised to bring a little something extra for their hometown show, coming at the end of a 25th Anniversary tour. Now fans can experience the magnetic feel of the gig 'on demand,' and they won't want to stop: Live in Tel Aviv sounds and feels like we're right there, in the room, a sweaty enthusiastic mob seeing some old pros show everyone how it's done.  
Live In Tel Aviv track list:
Land Of Idiocracy
Stopwatch
Deny It
Borrowed Time
Mouse In A Maze
Turn Up The Stereo
Unhappy Hour
How To Dismantle An Atom Bomb
Genetic
Before It Kills
Pink Stars And Magazines
Punx On The Other Side
Local Expert
Too Bad You Don't Get It
Tour Song #2
Night Shift
At The Stadium
Before I Go
Dying Love
At Least I Tried
Always The Same
Bring Me Down
Blood Pressure
It's Alright
Kiss Me Kill Me
Night Stalker
Isolate Me
State Of Fear