Upcoming Releases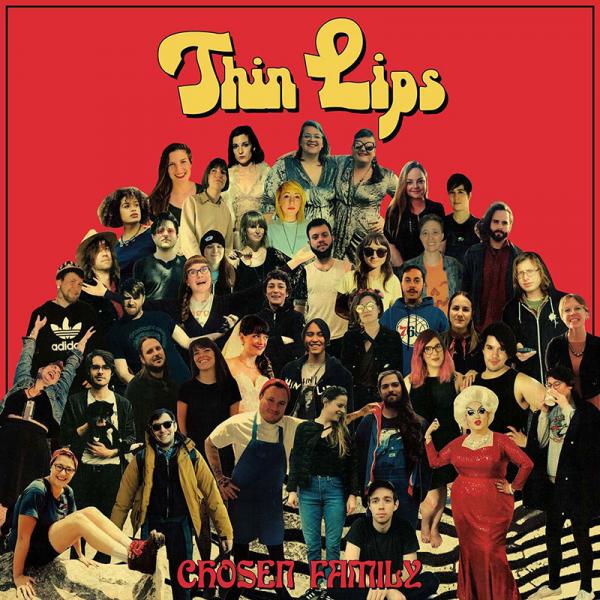 on
Saturday, June 23, 2018 - 20:44
Philadelphia's Thin Lips have just announced the release of their sophomore record Chosen Family, set to be released on July 27th via Lame-O Records.
The album was recorded at The Headroom in Philadelphia with production help from Frances Quinlain and Joe Reinhart of Hop Along. 
Only two members of Philadelphia trio Thin Lips are related by blood. Nevertheless, when three people stick together for over a decade through endless tours, countless band incarnations, and hundreds of recording sessions, they may as well be considered family. At the very least, they will be seen together on major holidays; but instead of hiding presents under a tree, they'll probably be playing a basement show in Duluth. This is the case for Chrissy Tashjian, Kyle Pulley, and Mikey Tashjian, known collectively as Thin Lips.
Spend some time with the Tashjian siblings individually and you will quickly notice their admiration for one another. They're a long way from covering Korn songs in their parents' basement after school, and now the pair in their early thirties can't stop talking about how proud they are of the adults they've become--Chrissy ever the admirer of Mikey's sympathetic heart and boundless goodwill, Mikey continually praising his sister for her relentless support of the queer community, as heard on the opening track of 'Chosen Family.'
Enter Kyle Pulley, Thin Lips' in-house recording engineer and lifelong Tashjian tourmate. Pulley grew close to the Tashjians during an extended stint at Big Mama's Warehouse in North Philadelphia, a music collective that functioned as the original location of his burgeoning recording studio, The Headroom, and as a home base for Kyle, Chrissy, and Mikey's first band. It was here that the trio learned to live together, cook together, and write together.
Naturally, the next step was touring. Eventually, as Chrissy, Kyle, and Mikey's laps across America became more frequent, they realized that their once modestly-sized chosen family was growing across state lines. The love and tolerance they had learned in the warehouse was not insular; in fact, the trio began discovering like-minded communities of queer artists and musicians tucked into every corner of the country.
Fast forward to 2017, and Chrissy and Kyle are demoing songs for Thin Lips' second LP 'Chosen Family' on a laptop, chopping up pre-recorded drum samples and arranging guitar parts. Whereas the songs on Thin Lips' first album 'Riff Hard' were raucous, punk-driven affairs, this new batch of songs sees Chrissy focusing on purposeful, sharp guitar hooks; stripping away the gutsy solos and leaving more room for Kyle and Mikey to add thoughtful details to their expertly calculated rhythms. Chrissy and Kyle's extended pre-production also led to the addition of some tasteful keyboard and synth lines throughout the record, most notably on the enormous chorus of "Smoking Is For Quitters."
The recording process for 'Chosen Family' included assistance from longtime Tashjian co-conspirators Frances Quinlan and Joe Reinhart. The addition of Quinlan in the studio saw Chrissy, Mikey, and Kyle adding some unique flourishes to their rock-solid arrangements, like layered slide guitars on "Gaslight Anthem" and casually operatic background vocals on "So Stoned." Reinhart, who mixed the album, helped the band create their most dynamic record yet by shaving off the rougher edges of their past releases and facilitating a clear, detailed sound.
Thin Lips show their age on 'Chosen Family,' perhaps most on "A Song For Those Who Miss You All The Time." You can hear their decade of experience in the playful precision of Mikey and Kyle's rhythms, in the clever push and pull of Chrissy's singular guitar lead against the vocal melody, but also in Chrissy's weariness as she reflects on the death of her younger brother Billy: "You were free of everything that holds us in our place." There is a special power in the ability to name and identify life's daily barriers, and to believe in the possibility of freedom from those barriers. Chrissy and Thin Lips have that power, and they use it to keep moving. They write songs, they make records, they go on tour, and they keep moving. And on 'Chosen Family,' they sound free.
Track listing:
Chosen Family
Gaslight Anthem (The Song Not The Band)
A Song For Those Who Miss You All The Time
Smoking's For Quitters
South America
I Know I'm The Asshole
Saying Yes
What's So Bad About Being Lonely
Sex Is Complicated
So Stoned
It's Hard To Tell The Difference When You're Literally Afraid Of Everything
What If I Saw You On The Street
The Kate Escape