Upcoming Releases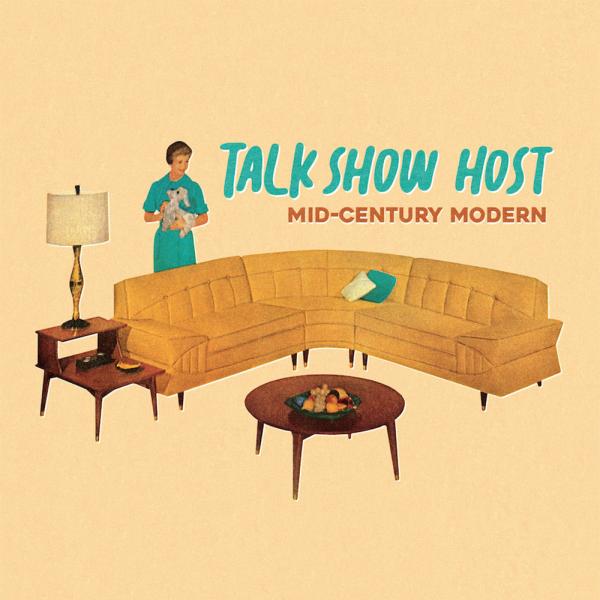 on
Saturday, April 3, 2021 - 11:04
Toronto power-pop punk trio Talk Show Host will release 'Mid-Century Modern,' its debut full-length, on June via Wiretap Records & Disconnect Disconnect Records.
The lead single "Blood In The Sand" is now streaming everywhere, along with a new music video.
Lead singer & guitar player Chris Veinot says, "The video has nothing to do with the song and everything to do with the fact that we are still under lockdown and all we have footage of is cats. Sincere apologies to all the dog persons.
It started life as a surf-inspired track but we couldn't resist the ever-present urge to turn it into a power-pop singalong. The lyrics recount the plot of a non-existent delinquent teen movie I dreamed about during a full moon, something from the mid-to-late 60s that could've been directed by Al Adamson or Ray Dennis Steckler. The title doesn't sound like what the song sounds like, but it was the name of the picture in the dream. We might have destroyed the fabric of space & time if we'd changed it, y'know?"
Talk Show Host have spent their life building to this moment. Since 2015, the Toronto trio have been steadily releasing hit after hit, starting with 2016's Disunion Tour EP and culminating in 2017's 'Not Here To Make Friends' EP (recorded by John Dinsmore). With over 100 shows under their belt locally and in sojourns overseas in places like France, Belgium, Italy and Germany, as well as opening slots for bands like Planes Mistaken For Stars and Pet Symmetry, Talk Show Host are ready for their moment.
Their spotlight has arrived with 'Mid-Century Modern', the band's first full length record. Over 10 songs, the band, consisting of Chris Veinot (guitar & vocals), Fabien Rivenet (bass & pastry) and Sean Woolven (drums & backup vocals), takes us through a cavalcade of pop-punk hits. Lead single "Blood In The Sand" is the sort of anthemic sing-along masterpiece that will find you with fists in the air singing along by the chorus, "Crisis Actors" is the three-piece channeling their inner Anti-Flag while "Warmest Condolences" finds the band exploring new sonic playgrounds, deftly shifting to a more indie-rock laden arena. This is the sound of a band that has taught themselves all the tricks in the power-pop playbook and left notes in the margins.
Working once again with producer John Dinsmore (PUP, Single Mothers) in his studio the Lincoln County Social Club, the band worked tirelessly to see their vision fulfilled. On 'Mid-Century Modern', bear witness to the crystallization of punk rock perfection, honed and refined in the DIY trenches and masterfully polished by superlative skill and striking songwriting.
Track listing:
U A$Shole!
Blood in the Sand
Crisis Actors
Warmest Condolences
Sorry, My Mistake
Syntax Error OK
Up to No Good
Too Many Problems
The Ballad of Jack Nance
Lame Duck