Upcoming Releases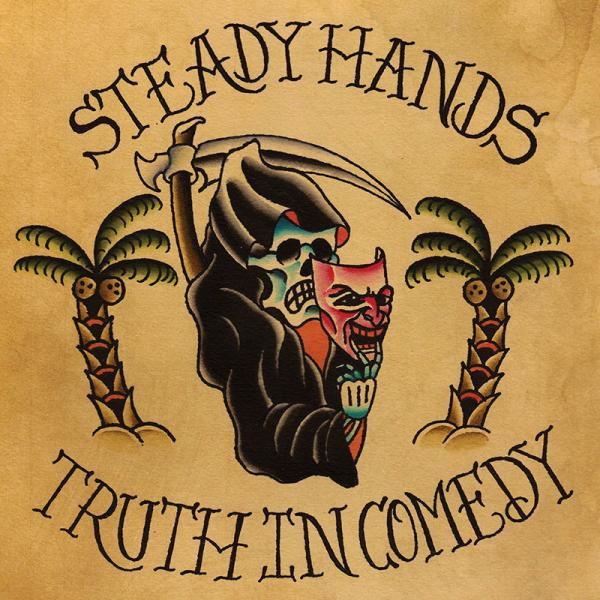 on
Thursday, September 13, 2018 - 10:33
Steady Hands have announced the release of their debut LP Truth In Comedy, out October 19th on Lame-O Records. The Americana-Punk project from Sean Huber (ex-Modern Baseball), has existed in various forms since 2012, and is now getting ready to release their first ever full length album.
 
"Since the very beginning, Steady Hands has been more of a social club, a collective, and a collaborative effort than a solo project" says founding member and leader Sean Huber. "The most important thing was always the positive experiences we could create with the gifts we had, and I wanted to include as many people in that as possible." And that is how Steady Hands molded from a solo act born in the basements of North Philadelphia to an Americana-Punk powerhouse. Always reaching for a bigger sound, Steady Hands has made a name for themselves by creating massive, polished arrangements with an honest, unpretentious songwriting at the backbone. The band excels in anthemic songs meant to be sang at full volume with your best friends in whatever haunt you most call home.
From its inception in 2012, Steady Hands has managed to keep the journey alive while all grinding in multiple full time musical projects, most notably Huber's non-stop years of touring with Philadelphia's Modern Baseball. "We wouldn't see each other for months at points, but then reunite in a room and start playing these songs and it felt like being home again." The band has collaborated with a slew of different friends and musicians over the years, but its core has been the current lineup of Sean Huber, William Lindsay, George Legatos, Andrew Kirnan and Richard Straub. In 2017, the band bookended the first 5 years by releasing Rude Boys Of Bar Rock, a 20 track double album of previously released music spanning their entire career and many iterations of the Steady Hands social club.
In the winter of 2018, the band went into the studio with long-time collaborator Brian McTear (Dr. Dog, Mewithoutyou, The War On Drugs) to create their first proper full-length record over the course of the next few months. With years of performing and collaborating together in their back pockets, the band created some of the most anthemic music of their career, taking creative risks while still proving what they do best. Truth In Comedy lyrically follows Huber through the last decade of his life, and showcases Steady Hands as a band at their very peak of performing. From punk forward tracks like "40x" and "Magazines" to the almost showtune-y "Indifferent Belushi" and grunge influenced "Christmas at The 'Vous," the band offers you 10 honest rock and roll tracks that feel at home over the jukebox of whichever dive bar or backyard where you choose to gather.
Steady Hands has performed all over the US, UK & Ireland since first plugging in at those basements in Philly, but regardless of the destination, the journey has always been more important to Huber. Brian McTear puts it best when describing the years of collaboration with Steady Hands, "it's not about what he achieves with the music, it's about how music speaks for a certain side of his heart. It's not about being a huge band touring the world, It's about the friends and relationships he has within that band or because of that band." This record is testament to that. Truth In Comedy comes out October 19th on Lame-O Records.
Track listing:
40x
No More Funerals
New Tattoo
Saint Lucas
Indifferent Belushi
Drop D and Dance Beats
Old House
Magazines
Better Days
Christmas at the 'Vous