Upcoming Releases
Law of Karma Live: Fake Shit Wins But Not Tonight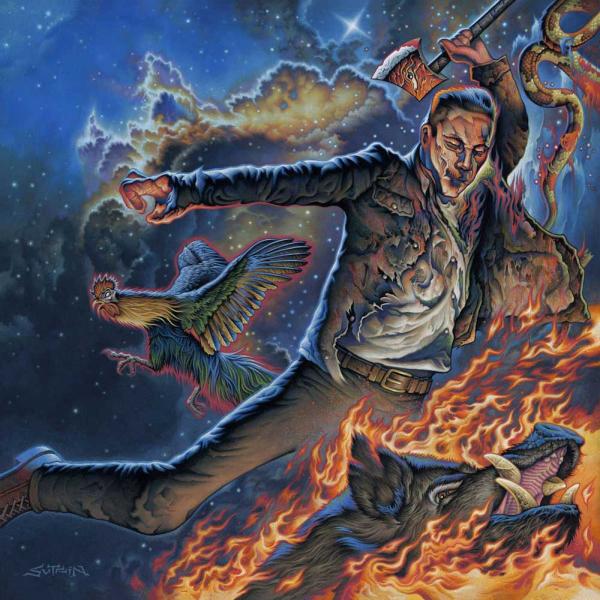 on
Wednesday, July 12, 2023 - 18:07
Self Defense Family have announced their first ever live album, Law of Karma Live: Fake Shit Wins But Not Tonight. Due out August 4th via Landland Colportage (pre-order), the album documents three revelatory 2019 performances in Brooklyn, Boston, and Philadelphia.
Like all great live records, Law of Karma Live: Fake Shit Wins But Not Tonight captures a moment in time, offering a glimpse of the unique energy of this nine-piece Self Defense Family lineup at their best. Recorded across three shows, then mixed by Jon Markson (Drug Church, Drain, Koyo, One Step Closer), the album draws on 11 songs from across their sprawling catalog, along with a cover of Neil Young's "On The Beach," and plenty of endearing stage banter from vocalist Patrick Kindlon (also of Drug Church).
Kindlon discussed the live album, saying:
"We'd been playing as a six-piece-sometimes-seven-piece-sometimes-more for awhile. It was an ambitious time. Very few of us are technically great musicians, reso tthere was a problem-solving element to the whole thing. And we made it work, sometimes fantastically. We thought it important to document that. Otherwise, nobody would believe we pulled it off."
Formed in 2003 as End of a Year and then eventually changing their name in 2010, Self Defense Family have charted a path unlike any other band. Led by Kindlon with a revolving lineup of talented players, the band feels like a cross between a creative collective and one man's deeply personal lifelong project. Available as a limited edition double LP with stunning artwork from Mike Sutfin, Law of Karma Live: Fake Shit Wins But Not Tonight is a must-have for longtime SDF fans and the perfect jumping on point for the uninitiated.
Law of Karma Live: Fake Shit Wins But Not Tonight track list:
I'm Going Through Some Shit
Indoor Wind Chimes
(that oligarch chant)
Taxying
Talia
(the men's bathroom)
Watcher At The Wall
Have You Considered Anything Else
Make Me A Pallet Fire On Your Floor
(then the details start)
Turn The Fan On
Good Idea Machine
(warm or approachable or even friendly)
When The Barn Caves In
On The Beach (Neil Young)
Have You Considered Punk Music