Upcoming Releases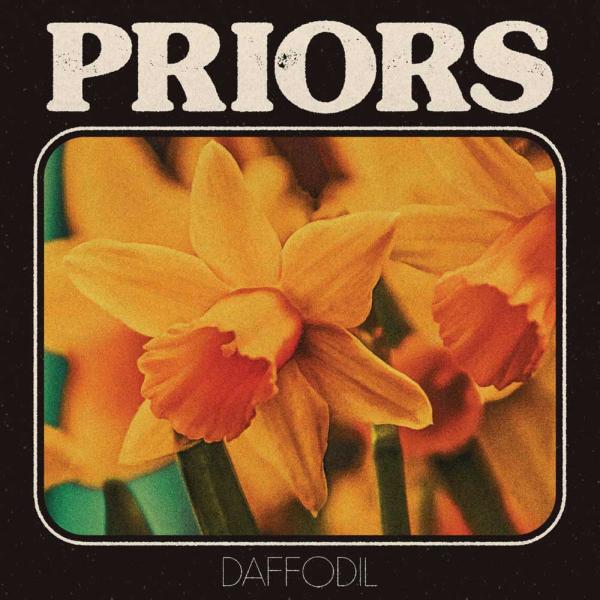 on
Monday, April 10, 2023 - 16:00
"Daffodil", the lead single and title track of PRIORS' forthcoming full-length (June 2nd, 2023 via Mothland) introduces a new direction for the punk outfit, one that challenges the "sex, drug and rock & roll" way of life, while maintaining fierce energy through acute songwriting. The piece features a unique blend of acoustic and electric guitars, touches of Farfisa organ, a bombastic backbeat and distorted vocals… "Whatcha think about that?"
"Daffodil" is one of those songs that happened very quickly. All the parts just kind of wrote themselves including the vocal ideas. In the studio we opened it up a little more with the Vox Jaguar and acoustic guitar and Max added that wild "beach sound" ending with the birds which I really feel pulls it all together.
– Chance Hutchison from PRIORS
Daffodil – the seventh release and fourth full-length since 2017 from prolific outfit PRIORS (Montréal, QC) – delivers on all counts, spewing an absolute onslaught of manic, yet witty punk. Singer-songwriter Chance Hutchison stares deep into his blind spot, offering spunk-fueled spittings gift-wrapped within melodic rock & roll that threatens to leave an emotional mark. From the onset, this collection of genuine songs tight-ropes both "vintage" and "modern" gusts of sonic winds amidst a headbanging storm of blood, sweat and tears.
Helped by longtime friend, co-producer and guitarist Max Desharnais (New Vogue, Sonic Avenues, etc.), as well as by a motley ensemble of seasoned musicians, Hutchison presents loyal fans, as well as unsuspecting fast and loud music aficionados, with 22 minutes of sheer punk ingenuity, where purposely crossed wires result in a soothing, if polarizing, strand of incendiary rock. Incisive rhythms serve as the basis for clever arrangements centered around fuzzed-out guitars, patented basslines, analog synthesizers, Hutchison's signature tightly crushed-out vocals, as well as occasional saxophone flurries by guest musician Dave Forcier (CIVIC, The Steve Adamyk Band).


I'd say Daffodil is a pop-heavy punk record with a lot of positive outlooks. I have spent the last six releases kicking the shit out of myself and it was time for a new vibe. A little sprinkle of positivity amongst the angst.
– Chance Hutchison from PRIORS
Also featuring guitar player Sebastien Godin (Sonic Avenues), drummer Andrew Demers (The Famines) and bass player Alan Hildebrandt (Tabarnak), the hopeful and uplifting Daffodil (June 2nd, 2023 via Mothland) should no doubt please fans of Jay Reatard, The Buzzcocks, The Spits, The Saints or Wire.
PRIORS (Montréal, QC), led by prolific singer-songwriter and producer Chance Hutchison (Sonic Avenues, New Vogue, Private Lives, etc.), have been busy multiplying their raw, dynamic and oh-so! melodic punk releases. Though the catalog speaks for itself, the five-piece has eloquently transcended mere recording-artist status, and is now widely-considered a mainstay in the modern punk scene. Their shows erupt with blissfully brutal musicality, while also carrying the substantial ethos of a booming community. Over the years, this formidable subversive hit factory has toured Canada, The United States and Europe, sharing the stage with the likes of The Mummies, Oblivians, Quintron and Simply Saucer, amongst others, while also taking part in a slew of festivals such as M for Montreal and Goner Fest. The angular rock & roll outfit's new album Daffodil is set to drop via Mothland on June 2nd, 2023.
Daffodil track list:
Pursuit Of Happiness
Daffodil
Narcolepsy
Optimizer
Fresh Start
Burgundy
Taste For Blood
Separation Anxiety