Upcoming Releases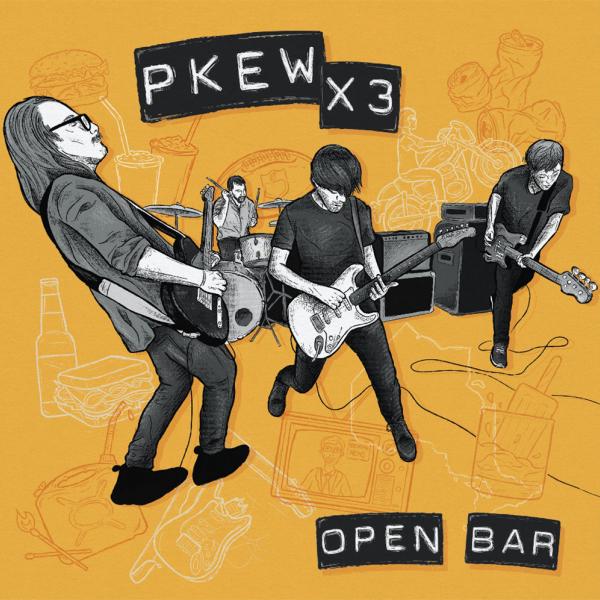 on
Wednesday, March 16, 2022 - 16:31
Pass the aux cord and grab a cold one––Pkew Pkew Pkew is back with Open Bar, their new album out May 13 from Dine Alone Records. Produced by Jon Drew (Tokyo Police Club, Fucked Up) and with songwriting guidance-and-support from Craig Finn (The Hold Steady), Open Bar is full of tight, rowdy modern punk songs with the heart and soul of classic rock.
Open Bar's first single out today, "Maybe Someday," captures a pivotal moment in any relationship: moving in together. But this love story isn't quite as it seems, as vocalist Mike Warne reflects on his at-the-time roomie. "This song is about sharing a bedroom with [guitarist] Ryan to save money on rent. It worked for a few months because we both stayed at our partners' houses, but when Ryan's fiance moved to Edmonton, suddenly he was home all the time."'
As a band that lives and dies by touring, it's been a while since they could say fuck it, we're taking a year off to make something. That decision wasn't entirely theirs, but 2020 handed them an opportunity. Open Bar doesn't navigate any of the tired pandemic tropes. Instead, Pkew is celebrating the things that make their lives awesome, even if those things suck sometimes.
The band was forced to take a step back and use a slower approach. Mike Warne (guitars/vocals), Ryan McKinley (guitars/vocals), Emmett O'Reilly (bass/vocals) and David Laino (drums) bounced song ideas off Craig Finn of The Hold Steady, and went into the studio with Jon Drew, who produced their first album.
"Since we didn't have a hard deadline to finish, we felt a lot more freedom to take our time and mess around in the studio. Jon is the kind of producer that is down to try anything, so we had lots of fun playing with trumpets, old moog synths, glockenspiels," says Warne.
In a weird year, the familiar Pkew themes—navigating life's small daily troubles with a sardonic grin and your friends by your side—are comforting and nostalgic.
Open Bar track list:
Let The Bridges We Burn Light The Way
Mom's Dime
Maybe Someday
Mr. Meowers
Fresh Pope
Beer Stick 'n' Ched
Safety Last
A Different Jimmy
Stick To Your Guns, Pookie
Drinking In The Park
Young Pro