Upcoming Releases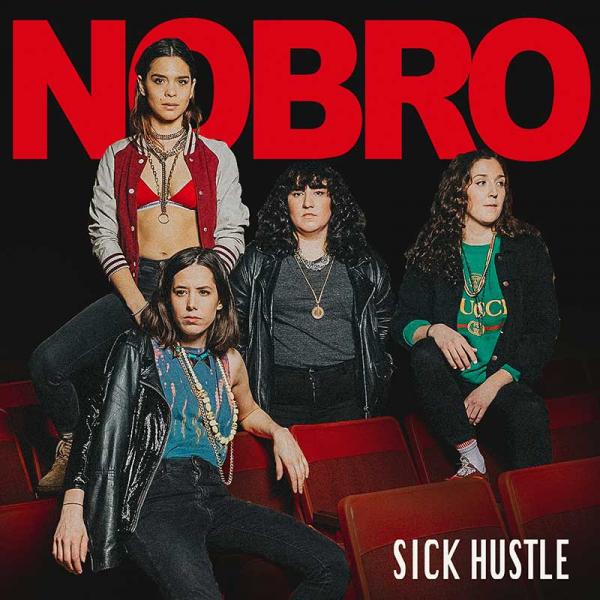 on
Friday, January 17, 2020 - 16:16
Having cut their teeth on the road with the likes of FIDLAR, PUP and Charly Bliss, Montreal's NOBRO are releasing their highly anticipated new EP Sick Hustle on April 3rd on Dine Alone Records. Today, they are sharing the lead single, "Marianna", a total banger of track that contains not one but two key changes, along with a ripping bongo solo. On the track, vocalist/bassist Kathryn McCaughey explains, "It's a song about a girl named Marianna. She is my best friend and the OG guitar player in NOBRO. We thought we were going to take over the world with our "onslaught of shred and grit" but before we were about to play our biggest show to date, Marianna told me she was moving away to live on a goat farm in northern BC. I was heartbroken—absolutely devastated. But as they say "the show must go on" and it did and it still does. I wrote her a song so at least when we play shows she can still be there with me, always."
"I wanted to play this type of music but there wasn't a lot of women who wanted to play it. I wanted to be in the most kick-ass all female band ever," raves Kathryn McCaughey, vocalist and bassist. Inspired by the likes of Jay Reatard, The Damned and Royal Trux to name a few, NOBRO are unafraid to wear their influences on their sleeve.
With co-writes with members of METZ and Fast Friends under their belts, as well as a new EP called Sick Hustle out April 3rd on Dine Alone Records, NOBRO are well on their way to achieving their goal. They cut their teeth on the road with bands like FIDLAR and PUP, and will be playing their biggest venues to date on their upcoming arena tour with Alexisonfire and The Distillers.
With pounding drums (McCaughey claims drummer Sarah Dion will "go down in history as one of the best drummers in the entire world"), shredding riffs from guitarist Karolane Carbonneau and bongo solos and keyboard licks from master of percussion Lisandre Bourdages - all topped with McCaughey's confident, cocky yell and blistering bass lines - NOBRO are showing they are a rock and roll force to be reckoned with. They are not ashamed to admit that they have had their fair share of struggle, but they are resilient and tough.
They are aware that they will face skepticism as part of the omnipresent sexism in the scene they inhabit, but that only spurs them on. "We said we would do it one way, and so we made sure that we were always doing it that way."
Track listing:
Don't Die
Til I Get It All
Don't Wanna Talk About It
Marianna