Upcoming Releases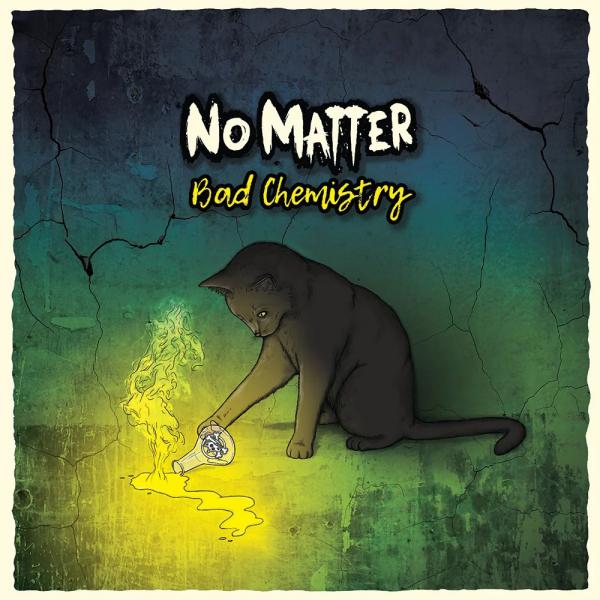 on
Saturday, June 11, 2022 - 17:35
No Matter has a new album, due for release on July 1st, which is entitled "Bad Chemistry", and will be released on 2 vinyl variants by Brassneck Records (UK), on CD by Waterslide Records (Japan) and online across all digital media outlets.
Northern Irish based No Matter are a fast-paced, energetic pop punk band, mixing skate and melodic punk rock, with catchy three part melodies and varying main vocalists.
They've gained a reputation for being extremely hardworking, having toured extensively across the UK, Ireland and Europe, with several multiple country tours under their belts and have begun reaching outside Europe, playing shows in Canada with dates elsewhere worldwide on the cards. They have also made appearances at several acclaimed punk festivals, including two appearances at Punk Rock Holiday in Slovenia (in '16 and '19), Pouzza Fest in Montreal, Canada, and Manchester Punk Fest in the UK, which were headlined by numerous legendary punk rock bands including Nofx, The Descendents, and Propagandhi.
Their last full release, "Excess Baggage" was reviewed on punknews.org as being ranked #8 in a "Best of 2019" list, among bands such as Bad Religion, Sum 41, blink 182 and Lagwagon, whilst their previous release "Ill Advised" was also reviewed by punknews.org, with one of their editors calling it his "favourite pop-punk album of the last twenty-five years", giving it a 9 out of 10 rating. The first track of this release 'Migraine' has now reached over 70,000 organic plays on Apple Music whilst another track El Bait received airplay on BBC ATL.
Bad Chemistry track list:
Brickwall
It's Boring
In Spite of You
Shitegeist
Hope It's Hell
Canola
Gravity
Crowd Pleaser
Fine Print
Otherside
The Machine Stops
Tinfoil
Unsaid
Like A Masochist