Upcoming Releases
Quitters Never Win (Remastered)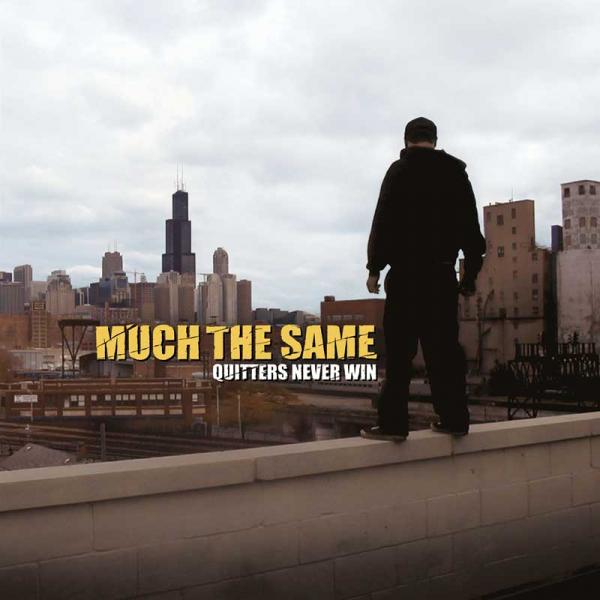 on
Wednesday, June 3, 2020 - 19:31
2019 saw the return of Much The Same, 13 years after their sophomore album Survive was released on Nitro Records.
 
Everything is Fine, their latest album released in 2019, consisted of 9 belting new tracks combining more melodic hooks and darker lyric subjects than the band had previously explored. The record was released on vinyl in 6 variations and was met with high praise from old and new fans alike.
 
Based on the hugely positive reaction to both the new record and the vinyl pressing of Survive, the band felt it was a good time to offer the fans a chance to get hold of their debut album Quitters Never Win, for the first time on vinyl.  
"It's strange to think that we wrote some of these songs when we were teenagers. I'm still really proud of many of them, especially for how inexperienced we were at the time. There are at least three of them that have come to take on a very new life in adulthood as I have lived and experienced much more. The stories of how the songs have affected people over the years really give them a special place in our hearts." says Chris 'Gunner' McGrath vocalist-guitarist.
 
A Message from a Younger Self
"Songs like Wish, Liar, and Quitters Never Win were written about the struggles I was having internally, angry about the man I was turning out to be. They all turned into these anthems that I wrote to myself to keep myself motivated to keep growing and trying because it's always been my natural inclination to give up on things if they don't come easily. It's been really valuable to have these words from my younger self still pushing me toward becoming the man I want to be.
I'm also very proud of Father & Son. It's one of the first songs I ever wrote, about a father who is doing his best for his kids but missing the fact that what they really need is him. I remember working really hard on those lyrics and I'm still kind of surprised I was able to come up with a song like that just out of high school."
 
Remixed for a New Era
"We were very fortunate to record Quitters Never Win with the great Dan Precision (Guitarist of 88 Finger Louie and Rise Against), and he did a fantastic job helping us refine the songs and make the best record we could on the tiny budget we had at the time. 17 years later, recording and mixing technology have come a long way and we felt the record could benefit from some fresh attention. We knew there would be an improvement but I think we've all been surprised by how much better it sounds now!" continues Chris.
Quitters Never Win has been remixed and mastered by Mark Michalik (The Swellers, We Are The Union, Counterpunch, Fireworks) and will be available on vinyl in 4 variants: 2 available via Lockjaw Records, and 2 others from 'Thousand Island (CA) and Pee Records (AUS).
Track listing:
Wish
Conclusion
New Years
Liar
Masquerade
Hits Home
Quitters Never Win
One Of A Kind
Miss The Pain
Someday Not Soon
Still Falling?
Father & Son