Upcoming Releases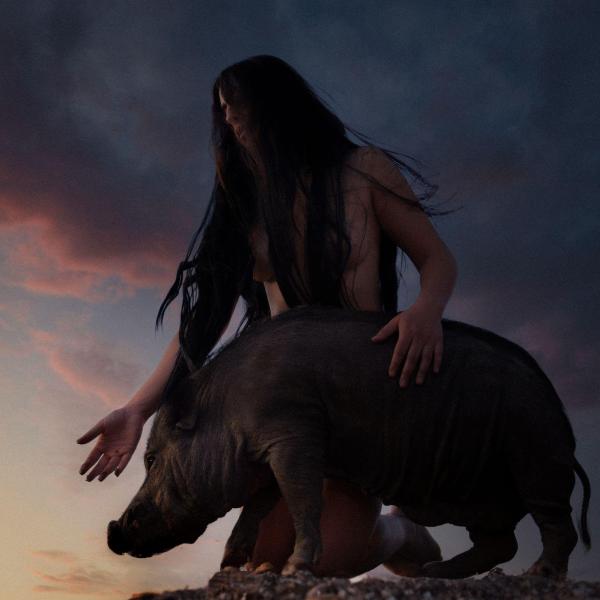 on
Tuesday, October 17, 2023 - 19:26
Mannequin Pussy announce their anticipated new album, I Got Heaven, with a video for "I Don't Know You." The album, produced by John Congleton, is due March 1st via Epitaph Records.
Of "I Don't Know You" Marisa Dabice says, "This is simply a song about having a crush. About the excitement and playful fantasy that can come from meeting someone unexpectedly at a festival, or on the street, or in line at the grocery store. You don't know when you'll see them again but the rush of their possibility lingers, making you yearn to know more about them."
Mannequin Pussy's music feels like a resilient and galvanizing shout that demands to be heard. Across four albums, the Philadelphia rock band has made cathartic tunes about despairing times. "There's just so much constantly going on that feels intentionally evil that trying to make something beautiful feels like a radical act ," says Dabice. "The ethos of this band has always been to bring people together." Their latest I Got Heaven is the band's most fully realized LP yet. Over 10 ambitious tracks which abruptly turn from searing punk to inviting pop, the album is deeply concerned with desire, the power in being alone, and how to live in an unfeeling and unkind world. It's a document of a band doubling down on their unshakable bond to make something furious, thrilling, and wholly alive.
Following the 2019 release of their critically acclaimed third album Patience, Mannequin Pussy returned in 2021 for their EP Perfect. They toured that release relentlessly and added guitarist Maxine Steen to the band's official lineup. Where the band members' personal lives were in transition with breakups, changing living situations, and periods of self-reevaluation, their time together on the road was a grounding and clarifying force. "There was so much going on in our lives that it was the perfect opportunity to recalibrate who we were as people and musicians," says Regisford. The band changed their entire formula, choosing to write together in Los Angeles with producer John Congleton over slowly crafting tracks at home. "When I've written songs, it's usually a very solitary process," says Dabice. "So this was shedding a lot of those hermit-like qualities to do something intensively collaborative. Your best work comes when you allow other people into it."
By December 2022, the band had 17 new songs written with Congleton in Los Angeles. "Everyone felt empowered to speak up about their own ideas to make this thing the best it could possibly be," says Regisford. New member Maxine Steen, who has made music with Dabice for years including their side project Rosie Thorne, was especially essential to the writing sessions.
The album opener "I Got Heaven" initially started as one of Steen's demos. "When she showed it to me I knew it was going to be fun because the verses have this hard-hitting and aggressive approach but the chorus allows for a really soaring melody," says Dabice. The result is electric. Over walloping guitar riffs, Dabice defiantly yells, "And what if I'm an angel? Oh what if I'm a bore? And what if I was confident would you just hate me more?
The song with its righteous lyrical blending of the sacred and profane is an unapologetic look at Christian hypocrisy. "I don't think there's ever been anything in need of a spiritual revolution more than modern-day Christianity," says Dabice. "It sickens me the way that people use it as a way to do the worst things imaginable, say the worst things imaginable, and pass the worst imaginable legislation that directly harms people." Instead of judgment, greed, and avarice, the songs on I Got Heaven ask what it really means to genuinely care about the people around you and help your communities in ways you can. "The world that we live in is heaven," says Dabice. "We live on the most beautiful planet in the solar system, just by a chance and we are continuingly destroying it."
This sentiment is mirrored by the album's cover art: a figure and a pig in nature. There's an intentional ambiguity there that makes you wonder if this person is leading the animal to slaughter or its protector. "We should really be the shepherds and the protectors of everything that we have and the world we live in," says Dabice. I Got Heaven is an album that understands the stakes of its message: there are countless references to fire, hunger, and holiness. Here, teeth gnash and bodies are temples that ache with desire.
Even when the songs on I Got Heaven don't deal with fundamental human questions about how to live, Mannequin Pussy still finds ways to add urgency and resonance. Just take the buoyant and playful single "I Don't Know You," which slowly builds to a hair-raising peak with Reading's brushed percussion, Steen's enveloping synths, and a thoughtful groove from Regisford. "On that song, I changed the tuning last minute which transformed the song but everyone instinctively knew what to do," says Dabice. "It was really cool to watch a song come alive in real-time. It's such a gift to meet other people who are creatively on the same wavelength as you, where there's no judgment in sharing ideas."
I Got Heaven is a visceral and stunning album for people who aren't content with the status quo, made by people who challenged themselves and got out of their comfort zone. "We're supposed to be living in the freest era ever so what it means to be a young person in this society is the freedom to challenge these systems that have been put on to us," says Dabice. "It makes sense to ask, what ultimately am I living for? What is it that makes me want to live?"
I Got Heaven track list:
I Got Heaven
Loud Bark
Nothing Like
I Don't Know You
Sometimes
OK? OK! OK? OK!
Tell Me Softly
Of Her
Aching
Split Me Open