Upcoming Releases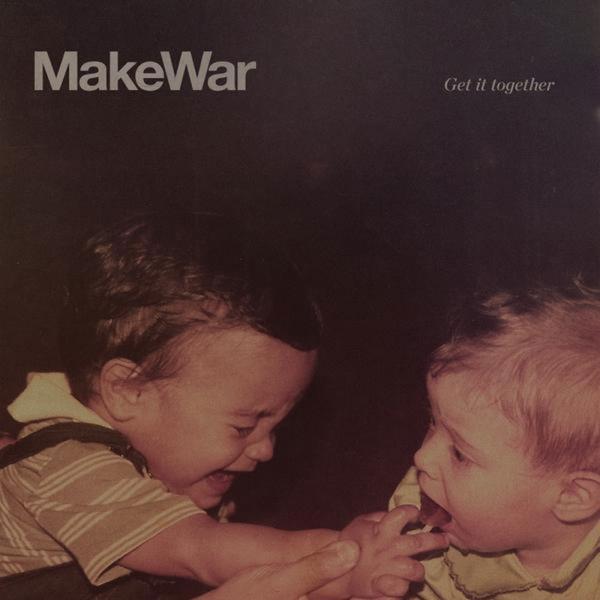 on
Tuesday, September 10, 2019 - 09:14
MakeWar first burst through the Southern Border Wall and onto the national stage from such shithole countries as Venezuela, Colombia and Florida in 2016 when Brendan Kelly: failed tastemaker, member of the Lawrence Arms and co-founder of Red Scare Industries played a show with Jose in Bushwick during a blizzard and was so impressed by his acoustic troubadourship that he decided, with the most discerning of tastes, that whatever Jose's band was, if they played those songs, shit, it was good enough for Red Scare.
 
They put out Developing A Theory of Integrity on Red Scare in 2016 , which was a ripping skatepunk/Brooklyn Emo Night hybrid that caught everyone off guard with its unabashed dynamism and brass balls while somehow effortlessly still remaining faithful to MakeWar's influences. Based on the chops showcased on DATOI, they were tapped to tour and play shows with such legendary bands as Strung Out, Teenage Bottlerocket, The Flatliners and more. See a pattern here? Well, apropos of nothing, turns out next thing you know, Old Jed's a millionaire! The iconic Fat Wreck Chords (home to such great bands as Strung Out, Teenage Bottlerocket and The Flatliners, to name a few) tapped MakeWar to join their already impressive roster which led to the creation of Get It Together, a uniquely fresh eyed and youthful rallying cry, somehow made by seasoned punks, tempered with anger, heartache, a dash of Latinx hardcore rage and a virtuosity that belies their relatively short tenure as a band. Fat will drop this multi-lingual, multi-genre, multigrain slab of fury, beers, tears and what-have-we-here's on the world on November 1st, 2019.
 
So, first things first: MakeWar is a mighty Voltron that's equal parts Venezuela (Jose: Guitar, vocals), Colombia (Edwin: Bass, Vocals) and Florida (Greg: drums). These are dudes that have overcome the third world poverty and squalor of Brooklyn and Florida to forge one of the most dynamic punk records in years, which they did at Hopatcong NJ's own Barbershop studios with the help of Brett "The Ratt" Romnes of I am the Avalanche and The Movielife fame. After shipping demos back and forth from Brooklyn to Portland to New Jersey, they finally got it all together and wrapped Get It Together in February of 2019, and get it together they certainly did. In fact, after they finished writing and recording Get It Together, Greg got it so together that he took off to become a doctor of the mind. No mind, though. They enlisted the more than capable Matty Stolpe on the skins and now, MakeWar is re-Voltron'd and charging harder than ever.
 
Look no further than their premiere video for "Oh, Brother" (written and directed by Chris Kent), where the Make War boys adopt a Tarantino-esqe timeless aesthetic to rail against the idea of falling in line with what's expected of you by your parents and culture at large and so forth. That's pretty universal. I mean, many seminal works, from 1000 Years Of Solitude to Das Klown to Transpotting to the Marine Biologist episode of Seinfeld were about that same theme, BUUUUUT, not to get too Anderson Cooper with this shit or anything, but that's a lot heavier coming from a buncha refugees thriving and partying in Trump's America, no?
 
Oh shit! Almost forgot! Speaking of Trump's America, two of the most blistering tracks on Get It Together are helmed by second vocalist and bassist, Edwin. They're hardcore, and they're entirely in Spanish. If you can imagine the untouchable and unfuckwithable Los Crudos SOMEHOW having brothers in arms, these two tracks are about as close as you're gonna get. Full disclosure, I have no idea what Edwin is screaming in these songs, but I'm almost positive he's not asking to talk to the manager because they didn't remember to put the low-carb salad dressing on the side.
To summarize here, MakeWar is THE punk band for today's increasingly polarized MAGA world: Furious, multicultural, packed with revolutionaries, friends to those in the cages, behind the walls and trapped in Florida, lovers and repurposers of classic art and style, from punk, to aughts-era-emo to art film to Los Fucking Crudos. When Get It Together drops on November 1st, 2019 hold onto your hats. They'll be touring extensively with Lagwagon, face to face and NOFX. These guys may not be the ones to personally usher in the revolution, but they're damn sure gonna be the soundtrack.
(Brendan Kelly)
Track listing:
Hopeless Dreamers
My Bones
No Excuses
Squeeze
No Mas
American Futbol
Sails
Inmunda Realidad
Oh, Brother
Hands on the Tyrant
Get It Together