Upcoming Releases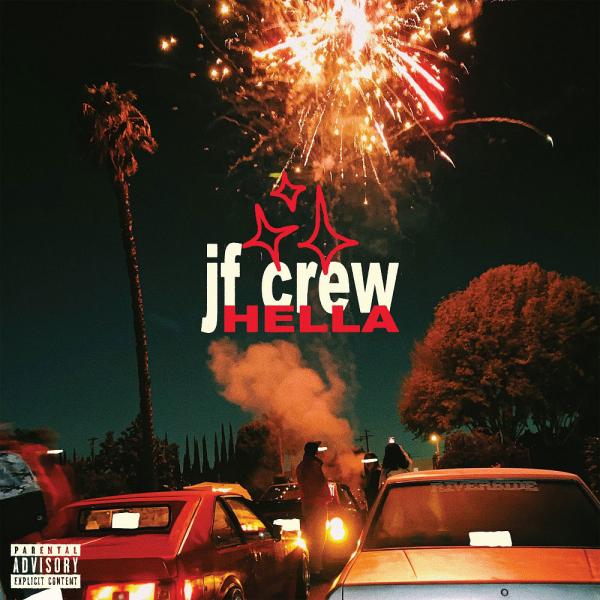 on
Saturday, January 29, 2022 - 11:24
Leave it to Just Friends to make being called "basic" cool. The Bay Area crew's highly-anticipated new album, HELLA, will finally arrive on March 4 from Pure Noise Records.
From its triumphant opening and an impossibly catchy hook to the image of Lil B and Hobo Johnson "at the mooooo-vies," the song finds these Northern California superheroes embracing all the things they love about their crew. In a time where close-knit groups are more encouraged than ever, "Basic" is an anthem about the simple life and spending time with your best friends doing whatever.
"This song happened by accident!" laughs vocalist Samuel Kless (he/him). After a chance encounter during a protest last summer led to Lil B's verse on the song "Stupid," an unlikely collaborative kinship began to form and the Based God asked if there were any more tracks he could jump on.
"Basic caught me by surprise, it's so funny and silly, it makes me laugh and lifts my spirit," vocalist Brianda aka Brond (she/her) shares. "That's super valuable for the times we're living through, the growing pains JF overcame recently as a band, and for me as a songwriter and human being."
Gamechanger. The term probably doesn't fit any album better than HELLA, a jam-packed spectacle of rhythmic funk, riotous punk, and just about everything in between. With nearly as much character as the band members themselves, the time, dedication, and growth Just Friends went through to create HELLA bursts through the speakers.

Then there's Honey TV — the band-operated and owned clothing line that not only distributes their own limited merch as well as some of their peers, but has also grown to sell to customers all over the world. Their unique design style incorporates street and skate culture with a mission to make the world they leave behind a better place.
The love this band has for one another and their community is obvious. Every inch of HELLA and whatever Just Friends puts their stamp on is drenched in sincerity, and while that can often lead to being misunderstood, as they sing on "Basic," this crew couldn't care less.
Hella track list:
Love Letter
Shine
Honey (feat. Nate Curry)
Fever
Basic (feat. Lil B & Hobo Johnson)
Hollerbox
Hot
Sizzle
Stupid (feat. Lil B)
Bad Boy
Big Money Power Music
Sunflower