Upcoming Releases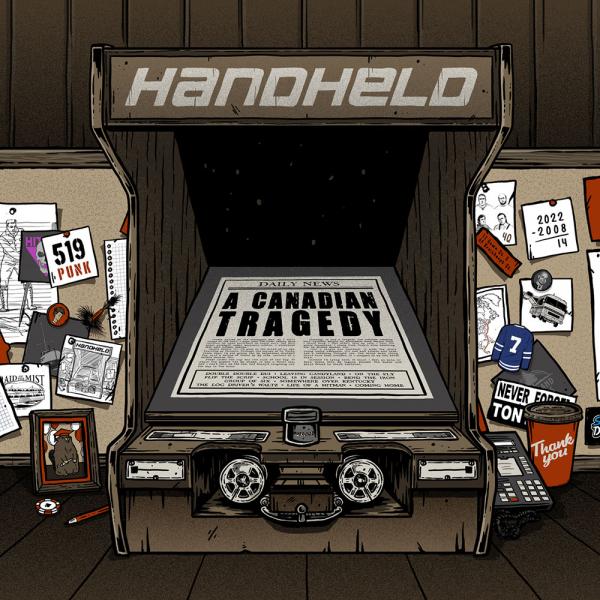 on
Tuesday, May 17, 2022 - 22:04
Canada-based skatepunk band Handheld has returned after a 14-year hiatus with a new LP titled "A Canadian Tragedy", due out June 14, Digi/LP/CD on Canada's Thousand Islands Records. The third single "Leaving Candyland" is out now.
Of the single, the band says, "Certain people can leave a lasting impression on you and make you laugh. Leaving Candyland is about Thanksgiving, travel, sales, coaching, polka, family, a radio dj, being your own friend, Christmas, and more polka, oh… and eating a giant steak."
Handheld formed in 1998 in Ontario, Canada. Fast punk rock, CHECK. Sing along melodies, CHECK. Single kick pedal, CHECK. For fans of Face To Face, Bad Religion, NOFX, and Millencolin. Handheld released 6 Albums/EPs from 1998-2008 and then took a 10 year hiatus. A few members went on to form Curbside. Handheld reformed with the same line-up +1 in 2018 with the goal of playing a few reunion shows. Cue the Pandemic and the inability to play live shows, so the band wrote and recorded a new album. Look for 'A Canadian Tragedy' in 2022 wherever you buy or stream your music.
Of the upcoming album, the band says, "Yes, Sorry we know we are friendly folk full of maple syrup and cheese curds. But Canada is not without its fair share of issues. A Canadian Tragedy is full of songs about love, irony, coverup, scandal, folklore and tradition all with a Canadian twist. 11 Fast melodic punk songs written with sing-along melodies and lyrics that make you go hmmm."
A Canadian Tragedy track list:
Double Double DUI
Leaving Candyland
On the Fly
Flip the Scrip
School is in Session
Bend the Iron
Group of Six
Somewhere Over Kentucky
The Log Driver's Waltz
Life of a Hitman
Coming Home