Upcoming Releases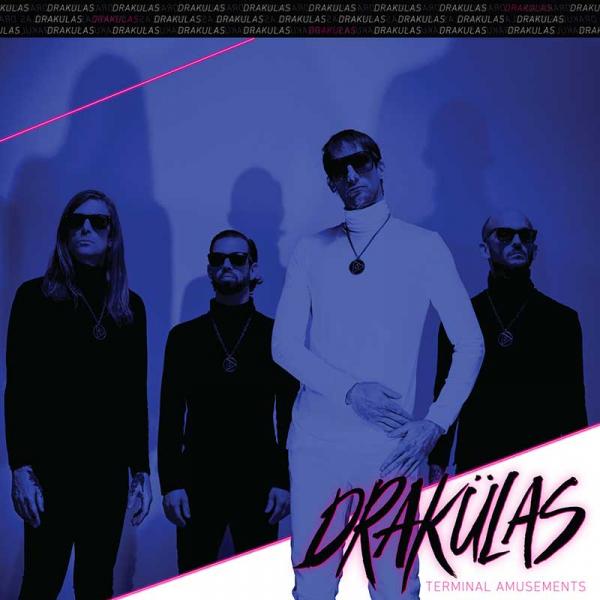 on
Friday, January 17, 2020 - 16:41
Drakulas, the art-rock quartet from Austin, TX, are pleased to announce Terminal Amusements, the band's brand new Stuart Sikes (The White Stripes, Rocket From The Crypt)-produced full-length album that will be released via Dine Alone Records on Friday, April 3. A sonic marriage of proto-punk, garage, 1980's synth and new wave with lyrical content to match, Terminal Amusements exists in a fictionalized, late-'70s metropolis soundtracked by drugs, pornography, video games, nightclubs, art movements and a little bit of a occult esoterica to spare. Musically, the album evokes everyone from the Dead Boys to The Dickies and recalls a time when punk and new wave skirted a blurred sonic line.    
    
We open on a wide-angle shot of what appears to be Times Square in the late seventies before Giuliani turned it into a Disneyland for tourists. The streets are teeming with back-alley deals, random acts of violence and seedy dive bars. This setting, which shall be known as The City, is the backdrop for Drakulas' second full-length Terminal Amusements, titled after the illicit video game arcade where we find our protagonist. This isn't a rock opera exactly, but it is a teenage wasteland.
"It's a made-up world that's an amalgam of old New York movies that I saw when I was a little kid," Drakulas' frontman Mike Wiebe (Riverboat Gamblers, High Tension Wires) explains. "I'd never been to New York so my perception of the place was influenced by everything from 'The Warriors' and 'Taxi Driver' to the opening credits of 'Welcome Back, Kotter'." Created alongside longtime co-conspirator, guitarist Zach Blair (Rise Against, Hagfish) and a cast of Texas musicians including bassist Rob Marchant and drummer Ian Walling from Riverboat Gamblers as well as Mark Ryan from The Marked Men, Terminal Amusements isn't a side-project but a fully realized musical idea years in the making. In many ways, Wiebe views the current incarnation of Drakulas as a collective similar to Queens Of the Stone Age with him and Blair conceptualizing the ideas from their headquarters in Austin. From the fuzzed-out pop of "Level Up" to the synth-heavy hooks of "Cafe Hiroshima" and infectious guitar riff on "Fashion Forward," the album sees the band exploring a wider range of influences this time around while still sounding inherently like Drakulas.
Track listing:
Sin Will Find You
Level Up
Dark Black
More Of The Same
Electric Eliminators
Fashion Foward
Stained Mattress
Cafe Hiroshima
Pretty Tommy
Panther
Pissing Off The Edge Of The World
Terminal Amusements