Upcoming Releases
Drive It Like It's Stolen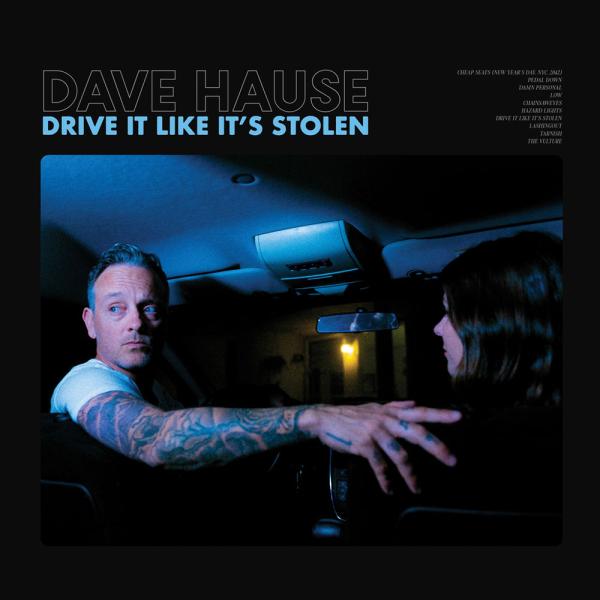 on
Wednesday, January 18, 2023 - 18:21
Blood Harmony Records, Soundly Music and acclaimed Philadelphia-bred singer-songwriter Dave Hause are excited to announce the Friday, April 28 release of Drive It Like It's Stolen, Hause's sixth full-length solo album (pre-order). Produced by Will Hoge, Drive It Like It's Stolen features 10 songs that overflow with Hause's trademark urgency and passion, shimmering with a truth that reflects the harsh realities of life as well the intermittent jolts of joy that punctuate it. Earnest and heartfelt, raw and real as anything he's ever written before, there's also a subtle yet significant difference on this LP — here, Hause delves into a more fictional type of storytelling to create what he terms "post-apocalyptic Americana."  
Leading the collection is the breezy "Hazard Lights," which ruminates on Hause's sobriety and the temptation that exists when he's around friends who still imbibe. Though there's a specificity to those lyrics, they're easily applicable to other situations as well. "That feeling of having the hazard lights on," says Hause, "it's just uncertainty. I'm kind of just pulled over here. I don't know where I'm going, I know where I've been, the hazard lights are blinking, so please don't hit me because I've got to figure out what to do next." You can stream the song below.
The third release on the Hause brothers' own Blood Harmony Records label, the forthcoming Drive It Like It's Stolen, Dave Hause's sixth solo LP, shakes up expectations while at the same time builds off the sound and reputation the celebrated songwriter has established for himself over the past decade or so and presents a new, creative shift in songwriting and scope.
2013's Devour was a response to his divorce from his first wife, while 2019's Kick saw him tackle hope, depression, global warming and a crumbling American democracy with the news that he was to become a father. Most recently, on 2021's Blood Harmony, Hause wrote and sang about the positive impact of having twins, and of the joy and excitement of being able to be at home with them for the first couple of years of the pandemic. With Drive It Like It's Stolen, however, Hause's fears and anxiety of being a parent in modern day America — along with his ever-developing worldview — is explored throughout its 10 moving songs.
From the album's haunting and ominous opener, "Cheap Seats (New Year's Day, NYC, 2042)," a dream of escape from a ravaged New York City set two decades in the future and "Damn Personal," a boisterous blue collar anthem about lost friends that's charged with electric emotion to "chainsaweyes" and "lashingout," two tracks that merge personal anxieties with universal horrors, Drive It Like It's Stolen presents a weary and apocalyptic quasi-reality that examines the new American city, parenthood, and our individual places in society, post-pandemic.
Elsewhere, "Tarnish," a song about both a life lived and one still being lived and "The Vulture," a song that harks back to the defiance that dominated Kick but which is recast with his children in mind, cements the thematic shift Hause is making on this record. These songs may still be for Hause, but they're increasingly less about him.
"My life is getting increasingly less interesting," he smiles. "And that's by design. You want to be steady, you want to be at a baseball practice or taking your kids to gymnastics or whatever it is. You don't want to necessarily be staring into the abyss all the time and trying to determine your existential weight. I don't want my life to become fodder for songs — I want my creativity to be the fodder for songs."
With this particular car ride, then, Hause is en route to a whole new world. Whether real or imagined or a combination of both, it's time to buckle up for the ride.
Drive It Like It's Stolen track list:
Cheap Seats (New Years Day, NYC, 2042)
Pedal Down
Damn Personal
Low
chainsaweyes
Hazard Lights
Drive It Like It's Stolen
lashingout
Tarnish
The Vulture