Upcoming Releases
Until Your Heart Stops (Deluxe Edition)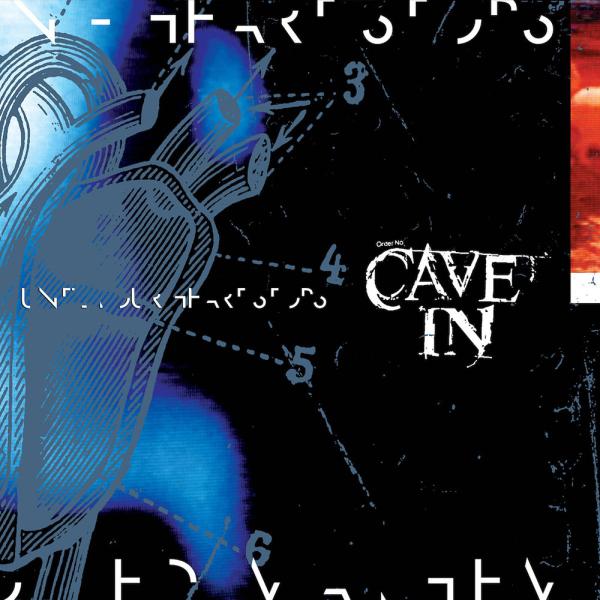 on
Sunday, February 19, 2023 - 10:35
Boston legends CAVE IN announce the Until Your Heart Stops (Deluxe Edition) reissues! The classic genre-defining album is now remastered with the originally intended track sequence, and features previously unreleased bonus material including demos and renvisioned artwork with a lenticular print!
"Really excited to have an 25 year-old MVHC (Merrimack Valley Hardcore) metalcore favorite back with a remaster and restored artwork for all to enjoy into the apocalypse." - Adam McGrath
"Clear a spot on your record shelf cuz Relapse gave us the green light to dig through the vaults and smash together every blueprint we could find for this sonic monstrosity. Enjoy!" - Stephen Brodsky
"It's crazy to think that an album my friends and I made when we were just out of high school would still resonate in such a way as to warrant such a bad ass reissue. I'm deeply honored to be in such a position. Thank you." - John-Robert Conners
The one-time pressing deluxe 4LP boxset features the core album on LPs 1 and 2 remastered from the original tapes plus 2 bonus LPs featuring never before released demos and alternate takes. Housed in a custom designed hardcover 4xLP book sheathed in a rigid board slipcase. Only available through Relapse.com.
DELUXE UNTIL YOUR HEART STOPS 3CD
Limited to 1,000, one-time pressing deluxe 3xCD contains the core album remastered from the original tapes on disc 1, never before released 4-track demos on disc 2, plus a bonus 3rd disc containing unearthed demos recorded at God City and alternate takes.
FULL UNTIL YOUR HEART STOPS (DELUXE) 4LP/2LP PRESSING
4LP *Core Album & Bonus Material*
LTD to 340 x

LP1: Sea Blue and Cloudy Clear Half 'n Half with Black, Red and Blue Splatter

LP2: Blood Red and Cloudy Clear Half 'n Half with Black, Blue and Aqua Blue Splatter

LP3: Electric Blue and Cloudy Clear Half 'n Half with Black, Red and Aqua Blue Splatter

LP4: Blood Red and Royal Blue Half 'n Half with Black, White and Aqua Blue Splatter

(Only available in deluxe package with lenticular print)
LTD to 748 x

Blood Red and Sea Blue Quad Effect with Metallic Silver, Black and White Splatter *Relapse.com Exclusive*
LTD to 1503 x

Black, White and Blue Tri Color Merge with White, Red and Aqua Blue Splatter *Relapse.com Exclusive*
2LP *Core Album Only*
LTD to 553 x

LP1: Black and Red Merge with White Splatter Standard Gram | LP2: Black and Cyan Blue Merge with White Splatter *Relapse.com Exclusive*
LTD To 497 x

LP1: White with Aqua Blue Splatter Standard Gram | LP2: Aqua Blue with White Splatter *Band Exclusive*
Standard:

LP1: Blood Red | LP2: Sea Blue
Until Your Heart Stops (Deluxe Edition) track list:
Moral Eclipse (2023 Remaster)
Terminal Deity (2023 Remaster)
Juggernaut (2023 Remaster)
The End of Our Rope is a Noose (2023 Remaster)
Segue 1 (2023 Remaster)
Until Your Heart Stops (2023 Remaster)
Halo of Flies (2023 Remaster)
Bottom Feeder (2023 Remaster)
Ebola (2023 Remaster)
Controlled Mayhem Then Erupts (2023 Remaster)
Moral Eclipse (4 Track Demo)
Terminal Deity (4 Track Demo)
Juggernaut (4 Track Demo)
The End of Our Rope is a Noose (4 Track Demo)
Until Your Heart Stops (4 Track Demo)
Bottom Feeder (4 Track Demo)
Halo of Flies (4 Track Demo)
Controlled Mayhem Then Erupts (4 Track Demo)
Terminal Deity (God City Demo)
Juggernaut (God City Demo)
Until Your Heart Stops (God City Demo)
Ebola (God City Demo)
N.I.B. - Dave Scrod Lead Vox (God City Demo)
N.I.B. - Steve Brodsky Lead Vox (God City Demo)
Casio Killtoy (2023 Remaster)
Millipede (2023 Remaster)
Informing the Octopus - Part I (2023 Remaster)
Informing the Octopus - Part II (2023 Remaster)
Juggernaut (Stereo Test)
Mr. Co-Dexterity (4 Track Demo)