Features
Track-by-track: The Dwarves' Blag Dahlia about 'Blood, Guts & Pussy'
on
Tuesday, December 13, 2022 - 10:52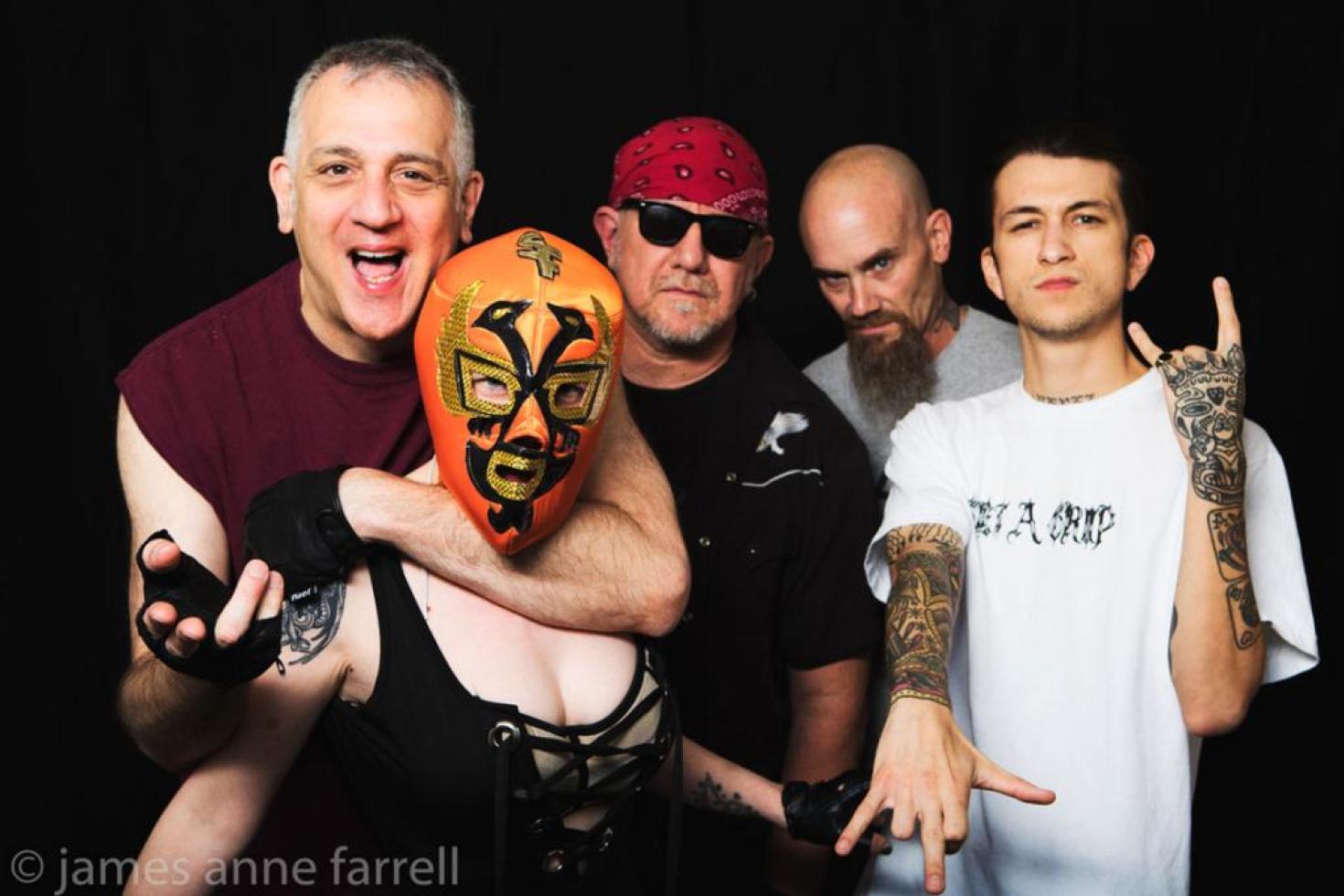 For over four decades, The Dwarves have been going hard. Along the way, they have not only blown out eardrums and offended… well, pretty much everyone, they also released quite a number of solid albums. Up until now though, those albums have never all been in print at the same time. A grave injustice that has now been rectified by the people over at Greedy Media. Before you run along to order your copies of 'Sugarfix', 'Thank Heaven For Little Girls' and 'Come Clean' - all of which are remastered with extra bonus tracks and fancy new artwork - check out vocalist Blag Dahlia's deep dive in the band's 1990 album, 'Blood, Guts & Pussy.'
At the time The Dwarves were Sgt. Saltpeter (bass), HeWHoCanNotBeNamed (guitar), Vadge Moore (drums) and of course Blag Jesus on vocals. Produced by the band and recorded by Jack Endino at Reciprocal Recording in Seattle, 'Blood, Guts & Pussy' was a 15-minute long kick in the balls. Or as Blag humbly puts it, 'the best punk rock record ever'.
Blag: How the sessions went down, who did the heavy lifting and where the bodies are buried? We're not going to tell you any of that. But I will run down the songs that made a tiny segment of the whole world sing way back in 1990.
"Back Seat of My Car"
Blag: In the summer of 1986, HeWhoCanNotBeNamed decided that he didn't want to pay rent anymore. So he and his girlfriend moved into their car! The riff is mine, based off a 60's garage tune out of Texas. The lyrics sum up Dwarves' simplicity masquerading as stupidity. "I'm living in the backseat of my car, and I hope I get fucked in the back seat of my car!"
"Detention Girl"
Blag: The chords were from HeWho, the lyrics by me as I describe the most horrible girlfriend ever. This was our first song with a 'mosh' part in the middle, "It hurts so bad and I'm so glad". As we transitioned from garage to hardcore we needed a way to fool punks into thinking we liked their music. Meanwhile, the detention girl is still alive, if you call that living.
"Let's Fuck"
Blag: Stealing the 'beat' of 'Green Hell' by the Misfits, I concocted this little gem while in my car delivering business cards in downtown San Francisco. It's one chord and a bunch of clichés, but just titling a song "Let's Fuck" was so ingenious it still makes me laugh every time I sing it. The porno movie sound effects came from a cassette and made us feel like we were using samples like the hip hop records we had been obsessed with for the last few years. Though "Blood ,Guts & Pussy" is pure punk, we were listening to "Eazy Duz It" and "Straight Outta Compton" when we created it. At least I was. HeWho liked classical records and Saltpeter was a recovering Mod, while Vadge liked any kind of music as long as he didn't have to rehearse it. One of the many reasons he remains my favorite Dwarf of all time.
"Drugstore"
Blag: This was as close to 'pop' as we were capable of doing so 'Drugstore' was chosen as the first single. The music is pure Ramones, the lyrics come from a Cheech & Chong skit where a guy describes hanging out in front of the drugstore until someone gives him a job hanging out in front of the drugstore. It describes the infinite possibilities of a limited world. And naturally it steals another Misfits riff.
"Skin Poppin Slut"
Blag: Another inspiration from the worst girlfriend ever, this one describes the lure of injectable drugs to the unimaginative. I can't believe we got the fake ending part right as it seems to follow no discernable time signature. My father, a big music fan himself, once charitably described Dwarves music by saying he couldn't quite figure out what the words, melody or rhythm of the songs was. Skin Poppin Slut is a perfect example of this and the end of side one.
"Fuck You Up and Get High"
Blag: Written by original drummer Sigh Moan, this might be the perfect Dwarves song. In fact, yes, it is the perfect Dwarves song. (Kudos to noted pansexual and one time record mogul Bruce what's-his-name for including a "Fuck You Up and Get High" button in the Drugstore single.)
"Insect Whore"
Blag: Saltpeter's contribution to "Blood, Guts & Pussy", this song fuses horror movie sensibility with actual chord changes which we managed to destroy by playing it too fast. Saltpeter went on to have an actual career and family while I continued making offensive records and telling everyone to fuck off for several decades after his retirement. Of course, now he's back!
"Flesh Tantrum"
Blag: Written around a HeWho riff, this was our first attempt at a primitive form of 'grunge'. No one recognized it as such.
"SFVD"
Blag: HeWho had both the music and words on this one, though I must take credit for the "Everybody is an Antibody" outro. This represents the most mean spirited nasty song the masked genius ever came up with as he emerged from his Emerson, Lake and Palmer influenced musical youth. His relentless guitar playing and unparalleled showmanship often made up for the musical chaos that characterized early Dwarves performances. You just couldn't keep your eyes off of him, until he made you barf.
"What Hit You"
Blag: Yet another HeWho song, this one sounded like his 80's side project Gaping Wounds. Violence was always a big part of the Dwarves, though none of us could fight. That didn't matter, because like the Special Olympians we admire, we were "brave in the attempt".
"Gash Wagon"
Blag: This song is basically an off brand version of Astroboy that involves cars, vaginas and nostalgia. It ended the original vinyl release, as back then it was essential to keep some extra tracks exclusive for the single that weren't on the LP.
"Bitch"
Blag: Only released as a CD bonus track at the time, it's the Dwarves shortest song.
"Motherfucker"
The most famous track from "Blood, Guts & Pussy" that only appeared on the Drugstore 7".  Jim Carrey sang it while driving in the film "Me, Myself & Irene". The Surfin' Bird inspired outro comes from Blagland, but this song was written by die hard Cheap Trick fan Sgt. Saltpeter and it is included in the new reissue.
"Astroboy"
Once again ripping off the Misfits 'Green Hell', here we celebrate the retro Japanese superhero by completely ignoring him and singing about sex, death and outer space. This song only appeared on the Drugstore 7", but it anchors the new 'Blood, Guts' reissue available now!